Film 2009-10: Boo for Hollywood |

reviews, news & interviews
Film 2009-10: Boo for Hollywood
Film 2009-10: Boo for Hollywood
The cinematic peaks and troughs of 2009, and the heights to scale in 2010
Tuesday, 29 December 2009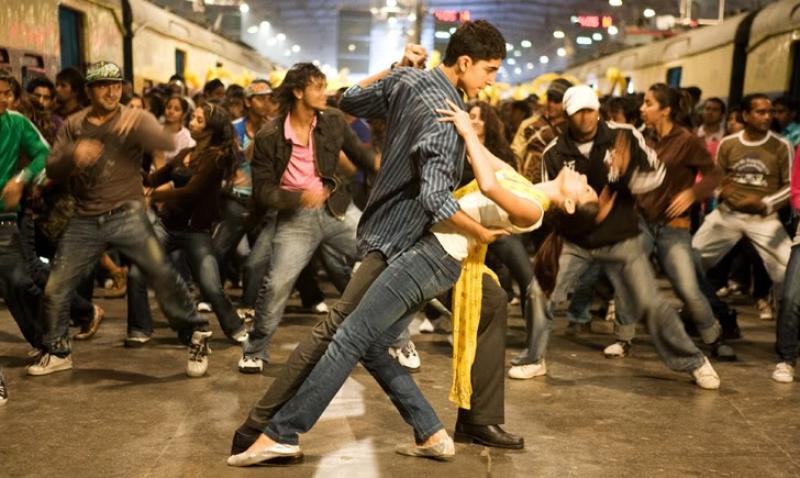 Britpics met Bollywood in Danny Boyle's Slumdog Millionaire, the 2009 Oscar-winner
In 2009 Hollywood sank deeper into the trough that it has busily been colonising over the last decade.
The year's twin peaks, the most keenly analysed awards, each seen as a bellwether of international cinema, were firstly Danny Boyle's Britpic-meets-Bollywood fable
, Slumdog Millionaire,
the Oscar laureate; and secondly a paradigm of European art cinema at its most austere, Michael Haneke's
The White Ribbon,
which took the Palme D'Or in Cannes. In America, by contrast, horror - notably torture porn - lame action franchises and lamer comedies held sway, as the marketing of movies eclipsed the movies themselves.
The dream machine was broken
, or at least badly malfunctioning.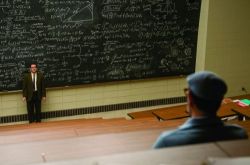 Which is not to say that individual American directors weren't producing extremely interesting work. The Coen brothers made one of the most personal, original and bleakest films of their careers in the shape of A Serious Man, pictured left (and have been rewarded for their pains by being virtually shut out of the end-of-year awards jamboree). Steven Soderbergh had new four features released in the UK, his Che Guevara diptych, The Informant! and The Girlfriend Experience, all fascinating and provocative in their very different ways.
Other directors, having come a cropper with overweeningly ambitious works, reinvented themselves triumphantly. Darren Aronowsky's touching, grungily humorousThe Wrestler gave Mickey Rourke his best role in years and an Academy Award nomination. Francis Coppola continued to explore a low-budget, semi-experimental aesthetic with the mysterious and brooding Tetro, a lo-fi version of The Godfather which, lamentably, has yet to be released in Britain. Quentin Tarantino's revisionist World War Two dramedy Inglourious Basterds, just out on DVD and pictured above, contained some stupendous setpieces and performances: Christoph Waltz, playing a silkily sadistic Nazi is a dead cert for the Oscar shortlist.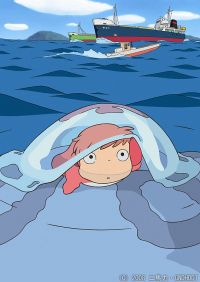 It has also been an incredible banner year for animation. 3D is the fashion du jour (though, to my mind, it's still unclear whether this is, as some have been claiming, the future of cinema). But the genre has blossomed in all its guises, usually blending several processes at once: model animation (Coraline, Fantastic Mr Fox) , CGI (Monsters vs Aliens, 9, Cloudy With a Chance of Meatballs, Up), huge puppets (Spike Jonze's Where the Wild Things Are) and traditional hand-drawn cels: Hayao Miyazaki's new film Ponyo, pictured left, is waiting in the wings as one of the early highlights of 2010, as is The Princess and the Frog, with which even Disney returns to the cel animation it once abandoned. The soulless motion capture approach continued too this year, with Robert Zemeckis' A Christmas Carol. Few counted that one as a triumph, though James Cameron's Avatar was a more auspicious, well, avatar of the technique.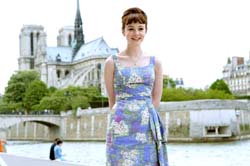 It was tremendously good to see a spread of world-class work from female directors: among the films that can hold their own in a "year's best" pantheon without a trace of special pleading are Claire Denis' 35 Shots of Rum, Andrea Arnold's Fish Tank and Jane Campion's Bright Star, while Kathryn Bigelow's remarkable men-at-war thriller The Hurt Locker, just released on DVD, is dominating the American end-of-year awards season and looks unstoppably Oscar-bound. There has also been some very fine work from women in the American low-budget sector, including Lynn Shelton's Humpday and Kelly Reichardt's grittily exquisite Wendy and Lucy, and in Britain Lone Scherfig's An Education, pictured above right, and Sam Taylor Wood's Nowhere Boy are creditable (if a little workwomanlike) examples of commercial narrative cinema.
Less edifyingly, the commercial American cinema still remains virtually closed to female directing talent. Apart from Bigelow, and a handful of women working in the safe rom-com arena, it continues cheerily to propose overwhelmingly negative and patronising images of women, no matter that they have been asserting themselves as an increasingly significant sector of the film-going demographic.
The documentary boom of the Noughties, spearheaded by Michael Moore and encompassing such diverse and trenchant fare as Man on Wire, Supersize Me, Enron and An Inconvenient Truth, lost a degree of momentum, though such events as the Sheffield Doc/Fest indicate that reports of its death are greatly exaggerated. The September Issue and This Is It did sterling business and smaller films like Burma VJ (pictured left), a chronicle of the guerrilla film-makers secretly recording the excesses of one of the world's most oppressive regimes, shone out as beacons of an extraordinary courage and determination.
Slumdog Millionaire did not, as was widely predicted at the beginning of this year, usher in a revival of subcontinental cinema, with the honourable part-exception of the British/Sri Lankan comedy Machan. No single national film movement held sway, though we continued to watch movies from France, such as A Christmas Tale, The Class, Coco Before Chanel and Mesrine, the minor Italian renaissance continued with Il Divo and Mid-August Lunch, and there was a steady stream of interesting work from Latin America, especially Mexico, and the Far East, in particular South Korea.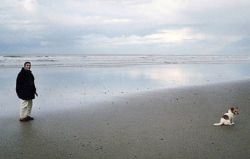 Though as eagerly bruited, a UK cinema boom did not come snapping at the heels of Slumdog. To my mind, the most exciting work was to be found on the far outer fringes of British film culture: Gideon Koppel's Sleep Furiously (picture right), a poetic essay-film in the noble tradition pioneered by Chris Marker, Patrick Keiller and, latterly Terence Davies; Eran Creevy's Shifty, one of the first, promising fruits of the "Microwave" ultra-low-budget movement; and Joe Lawlor and Christine Molloy's Helen, which applied an elegant European arthouse aesthetic to a intimate and very provincial British subject.
The continuing decline in DVD sales (though partly offset by a boom in Blu-Ray) found producers looking for alternative ways of making money from their work via the simultaneous multi-platform distribution of films such as Sally Potter's Rage or Jonathan Couette's All Tomorrow's Parties, and directors seeking new ways, primarily via online distribution, of getting it seen via such P2P sites as stealthisfilm. Sadly, the two objectives didn't always coincide.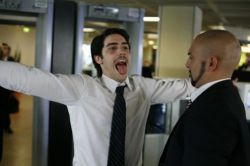 Going forward, one of the must-see films of early 2010 is Jacques Audiard's exhilarating prison drama A Prophet (pictured left), which won the hotly contested Best Film award at the London Film Festival this autumn after bagging the Grand Prix in Cannes: watch out here next month for an illustrated Audiard masterclass on directing some of the most thrilling sequences. Of the Oscar front-runners, Lee Daniels' ghetto drama Precious and the acidic satire Up in the Air, starring George Clooney as a charming commitmentphobe, also open here in January.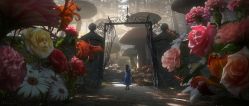 Martin Scorsese's Shutter Island and Roman Polanski's The Ghost Writer, adapted from the novel by Robert Harris, have both been announced for the Berlin Film Festival in February, when Clint Eastwood's Nelson Mandela movie Invictus opens in the UK. Later in the spring, Tim Burton has a new Alice in Wonderland, pictured above (which, sharp-eyed readers may have noticed, supplies the wallpaper for the film area of this site) while Oliver Stone's Wall Street 2 has Gordon ("Greed is good") Gekko, played again by Michael Douglas, confronting the economic crash of 2008.
Explore topics
Share this article