Rage, BFI Southbank |

reviews, news & interviews
Rage, BFI Southbank
Rage, BFI Southbank
Fashionistas skewered at the first ever social networking premiere
Friday, 25 September 2009
Mobile phones aren't usually allowed at film previews. Usually, hard-working hacks trying to earn a crust are relieved of such items at the cinema door lest they record the movie and pirate it on the Internet. But at last night's British premiere of Rage, Sally Potter's satirical thriller about the fashion industry, Blackberries and laptops were positively welcomed. Especially if they were switched on.
There was a bid to make the evening a bit of a conventional do, with champagne first, an after-party afterwards, a scattering of stars, both corporeal and virtual (more of this shortly) and the indispensable phalanx of panicking publicists with seven different guest lists, none of which I appeared to be on. Problem resolved, I'm grabbed by an eager American executive who wants to hard-sell what he calls the film's ground-breaking multi-territory, cross-platform distribution strategy. "It's going to be a fun evening," he concludes earnestly. And so it proved.

To call this a British premiere is actually a misnomer. You could have started watching Rage on your mobile phone, iPod or computer on Monday, when it became available to download - free - in seven daily instalments through babelgum.com. It will be released on DVD next week. The one place it won't be seen is in cinemas (though it had a brief, frostily received airing at the Berlin Film Festival in February). Apart from tonight, when it is being screened simultaneously at 35 cinemas around the country.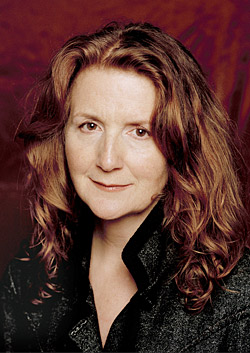 Afterwards audiences at the BFI Southbank and the other 34 venues, and on the internet, were invited to ask questions in person, on Skype or via text messages and Twitter. Present to field them on stage in London were Potter (pictured right), Simon Abkarian and the hip-hop artist turned actor Riz Ahmed. Jude Law, Lily Cole and Eddie Izzard chipped in on the Skype feed. The Q&A itself was the predictable mixed bag (people stepped forward to ply Potter with questions such as "How do you feel about the human race?") but the session itself was a riot.

In New York (where he is appearing on stage in Hamlet) but filmed against a blank brick wall, Law kept getting caught on the webcam inspecting his fingernails in between questions; Cole, also in the Apple for a fashion shoot, was as adorably rumpled as though she has come straight from a student rave in Cambridge; and Izzard, who was who knows where, swigged from a Coke bottle as his sound feed kept fragmenting into a cacophony of overlapping echoes - a snafu which he immediately turned into one of his meandering situationist stand-up comedy routines."I love it when things go wrong!" Potter enthuses to me later.

Everyone, from the audience members at venues from Aberystwyth to Glasgow to the celebrity guests, seemed mesmerised by the lumbering, imperfect technology. You felt a bit as our forefathers must have done when they marvelled at the gramophone record or bellowed down the new-fangled telephone. Still, there was something rather exciting about what the film-makers called the "first ever social networking premiere" and we all sat there feeling snug and smug as citizens of the global village.
But what of Rage itself, you ask? Well, it's based on the conceit of a nerdy, overweight, black 12-year-old kid named Michelangelo (who is never seen or heard) who, somewhat implausibly, gets amazing behind-the-scenes access for a whole week to all the key players involved in a top New York fashion show. He interviews them at length and posts his footage on the internet; his quiet, non-judgmental approach gets them to open up about the nasty side of the business with uncommon candour. Grafted on to this is a murder mystery hinging on a series of suspicious deaths on the catwalk.

Film and fashion have enjoyed a long, passionate love-hate relationship. On the one hand, the camera loves haute couture glamour, and celebrates it in movies like Funny Face. On the other, the vanitas and excesses of the fashion industry (what used, in humbler days to be called "the garment trade", as one character observes in Rage) is prime for caustic satire, as seen in Robert Altman's Prêt-à-Porter, The Devil Wears Prada and, of course, most recently, Brüno. It's an easy target, a too-easy target, and Rage doesn't altogether avoid the pitfalls of the obvious. The thriller element is unsatisfactory as well and characters like a philosophical cop who keeps quoting Shakespeare are not quite as original as Potter seems to think they are.

But this might just be Britain's most iconoclastic director (Potter is also one of the select few to have sustained a decades-long career). Her work divides people but it's unfailingly provocative and original, whether it's a musical about capitalism starring Julie Christie (The Gold Diggers, 1979), an exotic re-imagining of Virginia Woolf's gender-bending novel (Orlando, 1992) or a contemporary romantic drama told entirely in rhymed iambic pentameter (Yes, 2004).

Instead of lingering, as you would expect, on the fabulous costumes (though from what you can see of them, the threads are pretty sharp), Rage is, with typical perversity, a film of talking heads. It's primarily a performance piece - the powerhouse cast members deliver their straight-to-camera monologues with obvious relish. And what a set of handsome heads have been bagged here.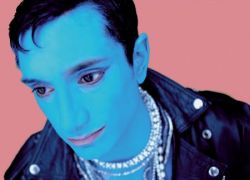 Apart from Cole's preternaturally perfect china doll pout, Law growls minxily as a transvestite model called, well, Minx; Judi Dench plays a brittle, world-weary fashion critic; and Ahmed (pictured right), blue and beautiful as a Hindu god, is a pizza delivery boy recruited for the show as a deadly fashion accessory. Not forgetting the magnificently baggy, bug-eyed, snaggle-toothed Steve Buscemi as a paparazzo (a role in which this actor has frequently been cast). His, truly, is a visage that belongs up there on Mount Rushmore.
Subscribe to theartsdesk.com
Thank you for continuing to read our work on theartsdesk.com. For unlimited access to every article in its entirety, including our archive of more than 10,000 pieces, we're asking for £3.95 per month or £30 per year. We feel it's a very good deal, and hope you do too.
To take an annual subscription now simply click here.
And if you're looking for that extra gift for a friend or family member, why not treat them to a theartsdesk.com gift subscription?