In Fear |

reviews, news & interviews
In Fear
In Fear
Low-budget British horror aims for the bone-chilling bullseye
Lucy (Alice Englert) and Tom (Iain De Caestecker) take a wrong turn
Raw fear is horror's ideal state. The vertiginous drop through a trapdoor into primordial, gasping helplessness usually only lasts for the split-second length of a cinema-seat jolt. Jeremy Lovering's debut aims to scare us for much longer. Unusually, he wanted to scare his actors too, feeding them just enough script to get by as they filmed on Cornwall's Bodmin Moor (standing in for rural Ireland) at night, and he threw shocks at them out of the dark. Fear is his theme and method.
The set-up is brutally simple. Tom (Iain De Caestecker) surprises new girlfriend Lucy (Alice Englert) with a detour from meeting friends at an Irish rock festival, first to spend the night at a remote hotel. Just how remote becomes a troubling question, as signposts send them down winding country lanes in repeating circles of what becomes a claustrophobic hell. Darkness inexorably falls, petrol drops in a car seeming more fragile by the second as refuge or escape. Glimpsed in headlights or behind Lucy, gloatingly close, malicious figures flit. The outside world falls away. They are more lost in the woods than Hansel and Gretel. And Lucy thinks there are wolves in there with them.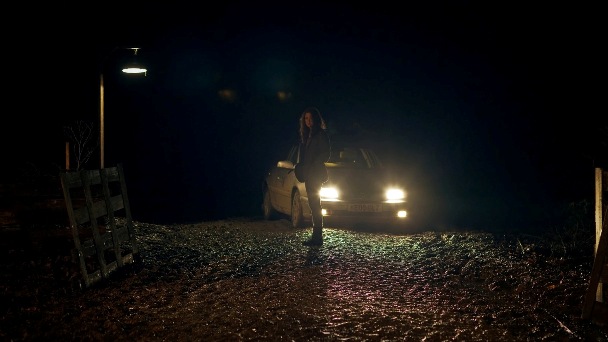 In Fear rests firmly on its young actors' shoulders, and they carry it. De Caestecker captures the macho bluster of a young man affronted and frustrated by his inability to get his girlfriend to a night of passion as planned, condescending to her growing dread, which he's too proud to share. Englert, Jane Campion's 18-year-old daughter, who has already starred in Ginger and Rosa and failed fantasy franchise Beautiful Creatures, veers between terror which pleased her director by being all too real, and resentment at her boyfriend's newly apparent failings. On one level, this is about a man's insistence to a woman that he knows how to read a bloody map, thank you. On another, it's about safety the majority of Westerners wake up to disappearing with distressing speed. The cameras stay close on dashboard-lit eyes, putting you in the car as its loudly turning engine starts to sound like whistling in the dark, and shadows and thumps envelop it.
There's a touch of the great Outback horror film Wolf Creek in the stripping of hope from personable young people in the alien, leering countryside. It's a real shame that Lovering can't match that film in sustaining his spell to the end. The late appearance of a third character, Max (Allen Leech), is disquieting. But two's company here. When the nature of the threat is revealed, it tests their superficial love terribly. But that can't compensate for the uncanny devilment that's lost. In Fear finally feels disappointingly conventional, losing faith in its primitive method. For its first hour, though: buckle up.