Marvel's Agents of S H I E L D , Channel 4 |

reviews, news & interviews
Marvel's Agents of S.H.I.E.L.D., Channel 4
Marvel's Agents of S.H.I.E.L.D., Channel 4
Agent Coulson is back from the dead, and bringing a whole new team to the smaller screen
Saturday, 28 September 2013
Misfits assemble: Marvel's Agents of S.H.I.E.L.D. don't play well with others
There are two schools of critical thought when it comes to stories set in fantastical worlds. The first implies that it's difficult to argue for realism and consistency in something that's supposed to be a bit of fluff, where not only have aliens invaded New York but those aliens have been defeated by "among others: a giant green monster, a costumed superhero from the 1940s, and a god".
But if that argument is to hold any water, why do you suppose approximately 93% of the internet is devoted to debating gaps in canonicity in the likes of
Doctor Who
?
At this stage, it's hardly a spoiler to point out that Agent Coulson, Clark Gregg's softly-spoken yet authoritative Agent of S.H.I.E.L.D., somehow survived the dramatic, game-changing death by stabbing that brought that mismatched group of superheroes together in time to save New York in last year's cinematic adaptation of The Avengers. His was a death that not only spurred Iron Man, Thor, Captain America et al into action but that shocked the millions of fans who had grown to love his small but significant part in those films.
This first episode seemed more concerned with world-building than plot
Joss Whedon, co-creator and executive producer of Agents of S.H.I.E.L.D. (it's getting annoying to type already) has never been the type to pull punches or back-track on an untimely death - his most famous television creation, Buffy the Vampire Slayer, broke fans' hearts at least once a series. Isn't bringing back Coulson, providing a link between this new TV series and Marvel's big screen properties, a little too cynical?
Well, yes and no: Coulson might believe that he was only dead for eight seconds, and has spent the time between The Avengers and his return to S.H.I.E.L.D. headquarters recuperating in Tahiti, but colleagues including Agent Maria Hill (Cobie Smulders, below, briefly reprising her role from The Avengers) hint that his return is a little more complicated. That secret will likely be what will keep fans of the franchise tuning in, by which time the new characters who make up the team at the centre of the series will hopefully have bedded in a little.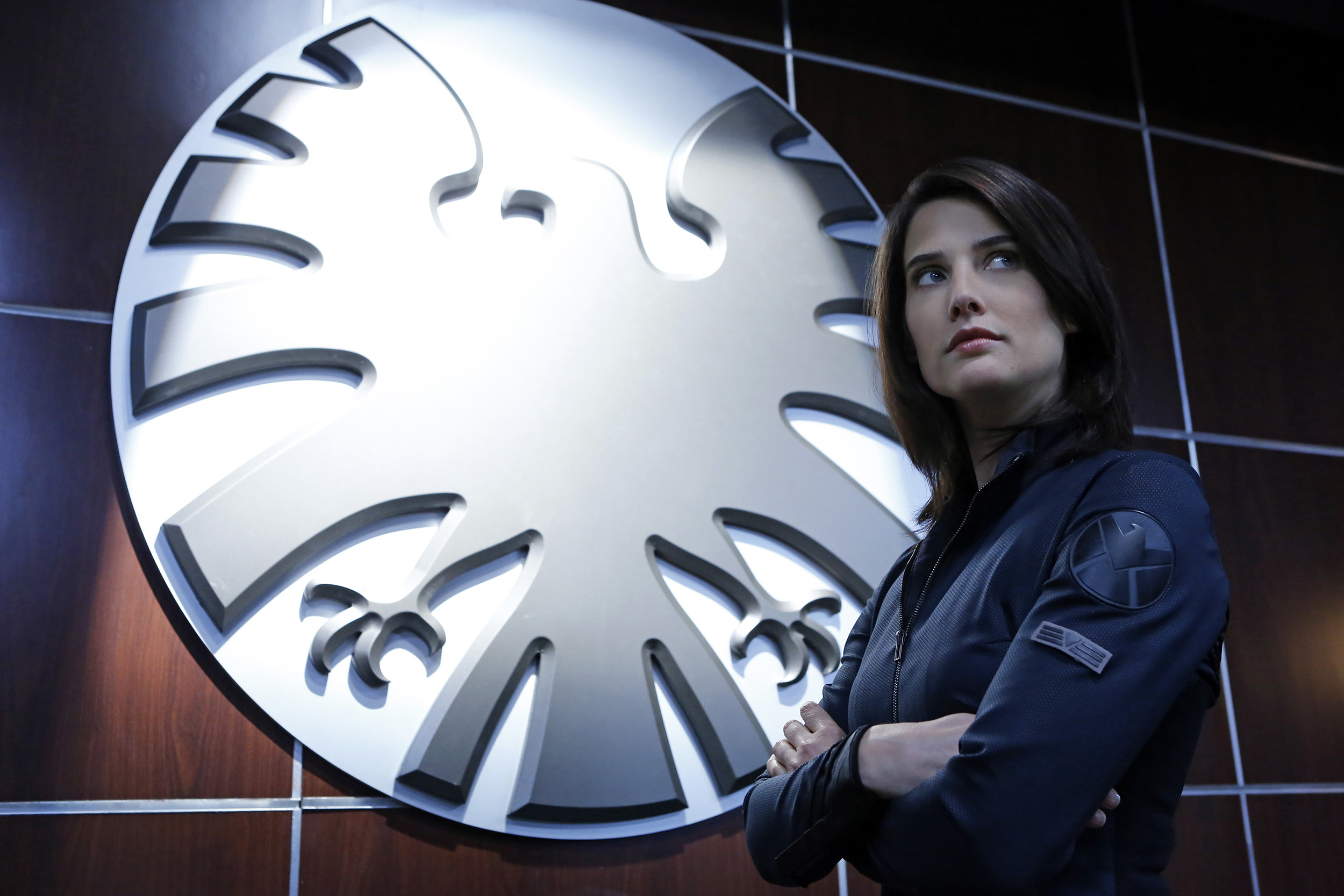 Each of the titular Agents seems to be chipped from a block labeled Does Not Play With Others - apart from the very Scottish Fitz (Iain de Caestecker) and the very English Simmons (Elizabeth Henstridge), the science focused part of the team who only seem to play with each other to the point that they are referred to collectively as "Fitzsimmons". We have the gruff, brooding Agent Ward (Brett Dalton) and the sullen, brooding Agent May (Ming-Na Wen); who may or may not yet be joined by one-woman scourge of S.H.I.E.L.D. Skye (Chloe Bennet), who doesn't really brood at all but whose motives are no less inscrutable. Together they aim to protect the public from other-worldly threats and events linked to the newly-emergent superheroes.
This first episode seemed more concerned with world-building than plot, although it did so entertainingly enough for that rare viewer who might be tuning in for reasons not related to the show's role in a multi-billion dollar franchise (Ward was asked what the phrase "Strategic Homeland Intervention, Enforcement and Logistics Division" means to him; he replied "that somebody really wanted our initials to spell out S.H.I.E.L.D."). Some doctor had been given the means to turn ordinary people into superheroes, and our team had to track their latest subject - a down-on-his-luck factory worker played by J August Richards - before he exploded. Although the episode had some great moments of dialogue, much as you'd expect from something from the pen of Whedon, the packed hour had little time for the moments of bombastic fun that made the more ludicrous bits of the films worth it. Still, with a creative team that has proved it can write for television behind it, Agents of S.H.I.E.L.D. can only improve.