Effie Gray |

reviews, news & interviews
Effie Gray
Effie Gray
Thompson family venture leans towards the turgid
Wednesday, 08 October 2014
No sex please, we're British? Dakota Fanning as the haplessly virginal Effie Gray
A peculiar slice of 19th-century cultural life is mined to minimal effect in Effie Gray, a stillborn labour of love that doesn't justify the long slog from screenwriter and supporting player Emma Thompson required to bring this tale to the screen. It's not just that her husband, Greg Wise, is miscast in a part - that of the visionary critic, educator and sometime-painter John Ruskin - for which he's several decades too old.
But the saga of the famously unconsummated marriage between Ruskin and his Scottish wife, Effie, in this telling raises more questions than it answers, and one can imagine viewers tiring of this Ruskin's emotional constipation long before Effie finally does.
"Marriage is all about learning how to wait," says David Suchet in a gnomic pronouncement that ought to have sent Effie fleeing homewards to the nearest kilt. Instead, Suchet, playing Ruskin père and gussied up alongside a scowling Julie Walters as his wife to resemble a pair of Dickensian also-rans, hints at the yawning chasm that is going to develop between his own literary-minded son (why have sex when you can spend the day scribbling?) and the all-too-trusting bride that Wise's ever-dour if amply coiffed Ruskin comes close to destroying.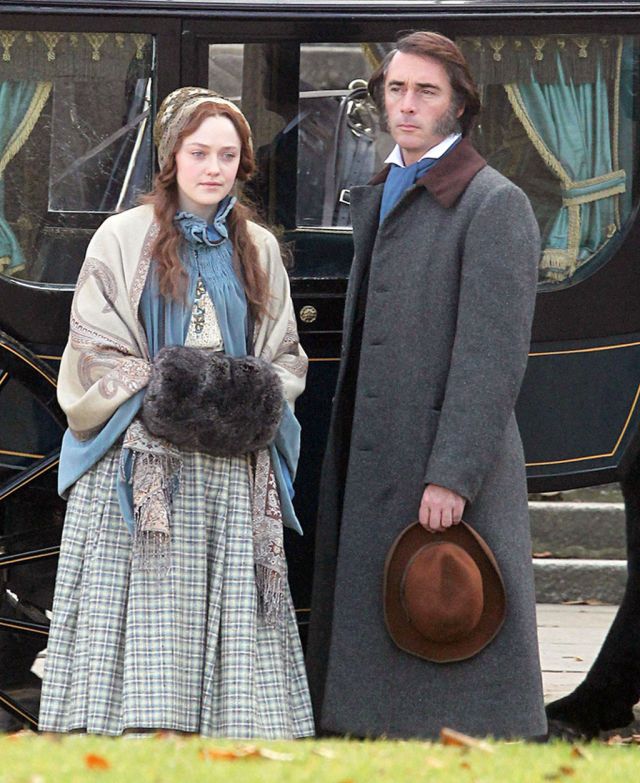 You could argue that Effie was doomed from the start given the hyper-possessive mother-in-law that exists in the form of a catarrh-laden Walters. But whatever it was that so shocked Ruskin about seeing Effie naked, this film either doesn't know or isn't saying. Small wonder that "was he gay?" was the question doing the rounds immediately following the screening I attended. (Wise and Fanning are pictured right)
Dampened-down sexuality can make for paradoxically vibrant cinema, as Thompson knows first-hand from her (superb) contribution to The Remains of the Day, playing opposite an indrawn Anthony Hopkins as a manservant who exists somewhere on the self-denying spectrum that we find Ruskin occupying here. But that film possessed all the glancing wit that neither Thompson's screenplay nor Richard Laxton's direction can locate on this occasion. The writing consists largely of self-dramatising guff ("the pains of eternal torment" and the like) and Downton Abbey-style pomposity ("breakfasted" as a verb). That said, Walters does get one laugh-out-loud moment late on when she demands to know "what on earth is wrong with Peckham!" At least, I think the line was intended to elicit a chuckle, but maybe not.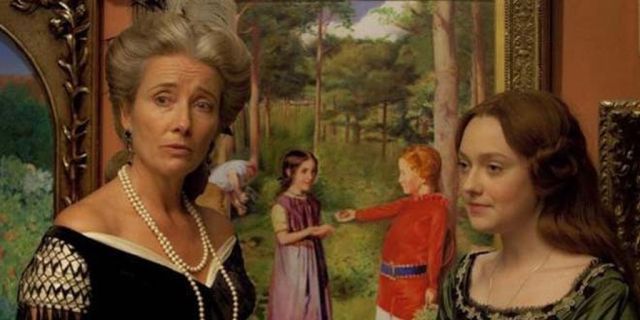 Thompson (pictured left with Fanning) has given herself the supporting part of a kindly and well-heeled confidante of sorts to Effie, an aristo whose own woebegone marriage has been put right in a way that Effie's will never manage to be; alas, the part is memorable chiefly for the two-time Oscar-winner's extraordinary brioche-like hairstyle. Relief both for Effie and the spectator arrives in the form of the artist John Everett Millais, who possesses both the energy and empathy that Effie isn't finding elsewhere. (And, evidently, the stamina: in reality he and Effie went on to have eight children.) That role is taken by an unusually animated Tom Sturridge, an actor whose own recessive qualities might have made him ideal casting for Ruskin but who instead plays Millais like some hirsute figure of intrigue out of an Ibsen play; it's a hugely welcome and welcoming performance.
Andrew Dunn's camerawork finds beauty both in Effie's lowering native Scotland and in the contrasting vitality of Venice, to which she and Ruskin repair only for Effie to end up pursued by a horny gondolier - which, under the circumstances, must have been good fun. Fanning walks through the whole thing as if in a permanent if English-accented glaze, and who can blame her? By the time a stern Derek Jacobi shows up to set the Ruskins straight on matters anatomical so that the film can grind to a halt, you, too, may have adopted much the same glaze.
Overleaf: watch the trailer for Effie Gray