DVD: Man of Marble |

reviews, news & interviews
DVD: Man of Marble
DVD: Man of Marble
Andrzej Wajda's Seventies Polish cinema landmark restored, with exemplary extras
Building a new Poland: hero-bricklayer Mateusz Birkut, played by Jerzy Radziwilowicz, centre
Andrzej Wajda's Man of Marble may well be the film that foretold the end of Communism in Poland. Its script gestation period lasted almost 14 years, starting from 1962, and though its official release in 1977 was kept to a minimal level by the authorities, even in that form it's believed that almost a fifth of the nation's population saw the work.
Aleksander Scibor-Rylski's script plays loosely with the Citizen Kane narrative device of hunting down the personal truth behind a past legend. In this case it's a socialist hero bricklayer, Mateusz Birkut (played by Jerzy Radziwilowicz, centre, main image), who set records in the 1950s in his trade, and was feted by the Communist regime (he was based on a real life figure). Trying to discover the reality behind the myth is a tyro documentary filmmaker, Agnieszka (Krystyna Janda); she blazes furiously down the television corridors with inimitable energy, finding more and more newsreel material that has previously been concealed.
She also criss-crosses the country to talk to those who had known her now-vanished subject, including his wife, ex-colleagues, and, crucially, a now internationally-feted film director (one wonders whether Wajda was in some way parodying his own image at the time), who had shot contemporary documentary work of the bricklayer at the height of his fame. There's a final encounter, at the Gdansk shipyards, with Birkut's son (Radziwilowicz, again), with a hint, but little more, as to what really happened to him.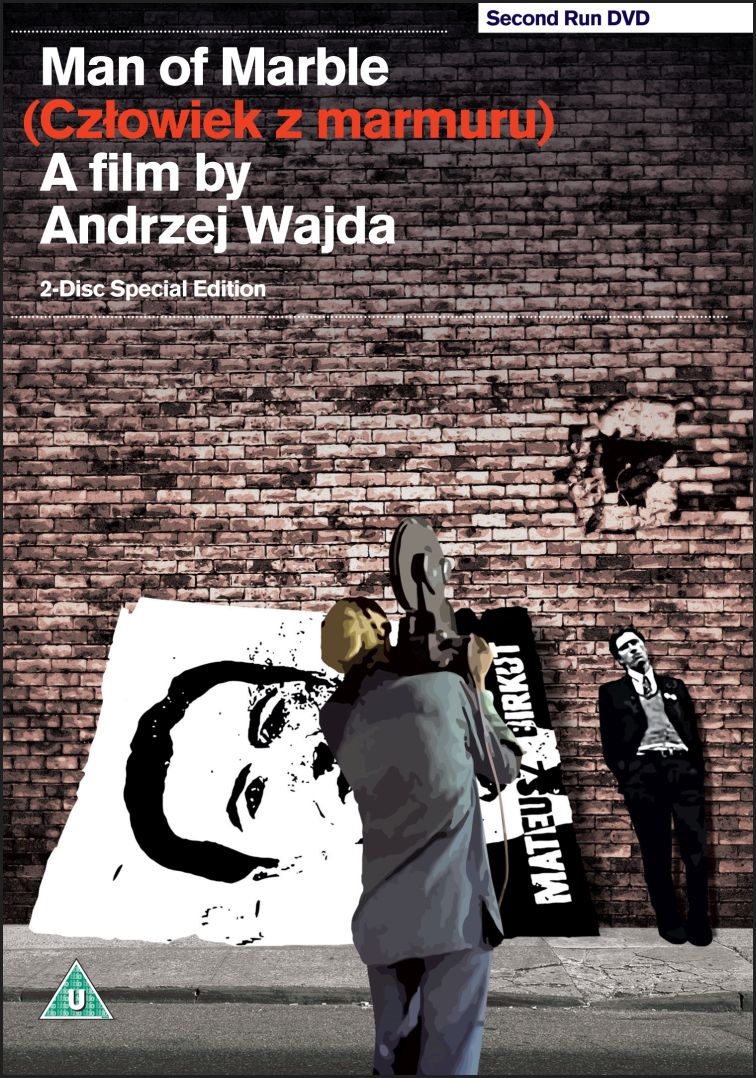 Birkut, we learn, went far beyond the stereotypical Stakhanovite hero worker of Communist legend, and became a genuine pioneer in his attempts to build housing for the people (his achievements were associated with the new town of Nowa Huta, outside Krakow, which was a real heroic project for post-war Poland). Demolishing (in the literal sense in Man of Marble, given that the statues and placards that once glorified Birkut have been taken down – dvd cover, pictured right) the heroes of Stalinism may have been acceptable in Poland after the Fifties, but not the suggestion that the system itself was corrupt, and ultimately not creating a brave new world. Janda frequently improvised around the script (and Wajda never showed her the rushes, fearing she might be fearful of their radical nature), and her portrayal of the energy of a new, denim-clad generation is striking. Four years later Wajda returned to the story with his Man of Iron, bringing Radziwilowicz and Janda back to the Gdansk shipyards at the beginning of the Solidarity movement. By then, the writing was on the wall (and we learn what really happened to Birkut).
This double-disc DVD release is immaculately restored; as well as a booklet essay by Michael Brooke which gives full context on how the film was received in official circles at the time, there are exemplary extras, three specially-filmed lengthy interviews from the end of 2013 with Janda, Wajda, and his assistant director (never credited, out of concern for possible damage to her future career), Agnieszka Holland, who was herself the loose prototype for the figure of Agnieszka in the film. Wajda remembers how, back in 1977, Man of Marble was refused any official prize at Poland's national film festival, which led 30 of the country's leading critics to step out of line and present the director with an inscribed brick in an unofficial tribute. Speaking in English, Holland is particularly fascinating. Wajda's work in those days, she tells us, was never just about movies – it comprised, instead, very important political acts. Its power remains as palpable today.