DVD: The Long Good Friday/Mona Lisa
DVD: The Long Good Friday/Mona Lisa
London gangster greatness from Bob Hoskins
King of crime: Harold Shand (Bob Hoskins) considers his options
"No other city has in its centre such an opportunity for profitable progress." Anyone depressed and outraged by London's gentrification plague will find this the most chilling statement by visionary gangster Harold Shand (Bob Hoskins), as his criminal guests sip champagne and his boat eases down the Thames, where Docklands cranes stand in stilled salute, and he sketches his plans for East London's redevelopment around a 1988 Olympic stadium.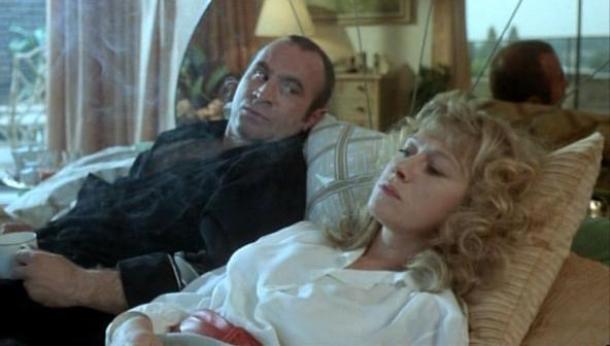 The apparently prophetic nature of this 1979 gangster film is merely symptomatic of its greatness. John Mackenzie's direction and Barrie Keeffe's script were ambitious and attuned enough to pick up the live, sparking currents around them in the year of Thatcher's election. As co-star Helen Mirren notes in the extras, an "inner energy" on-set has stopped this movie dating, centred around Hoskins' rampaging yet intuitively sensitive performance. With the bull head that later let him play Mussolini, and a combustible mix of charm, black wit and violence, he makes Shand one of cinema's most memorable star-crowning roles.
Mirren (pictured above with Hoskins) fought to make her initially sexist part as his posh girlfriend his equal, importantly balancing a superb cast which includes Pierce Brosnan's debut as a sleek, cockily menacing IRA killer. Visionary, bloodily ruthless capitalist though he is, Shand also finds his old-school mob of Kray-era lags (largely played by the real thing) outmoded as he grapples with both the Provos and the Mafia.
Also available separately, The Long Good Friday's box-set pairing with Hoskins' other gangster classic, Mona Lisa, makes a fine tribute to an actor Mirren called one of London's "best and most loving sons" on his death in 2014. It's notable how much closer to his characters he sounds in the extras' interviews than his directors do, a proud working-class asset rare in British cinema now. Neil Jordan's 1986 film makes Hoskins' ex-con George a gentler, innocent, half-tough guy closely modelled on the actor, after first choice Sean Connery fell through. Working for Michael Caine's oily, coiled-snake Soho gangster (pictured above) as a driver for Cathy Tyson's obsessed prostitute, he navigates lost, seedy London back-streets (and Brighton Pier) in a subtly surreal, tragic romance during which he finds his soul.
Both films' prints have been thoroughly scrubbed up, with new interviews (Keeffe and Jordan included) complementing earlier releases' extras.
The apparently prophetic nature of this 1979 gangster film is merely symptomatic of its greatness
rating
Explore topics
Share this article