DVD: Fairy Tales, Early Colour Stencil Films From Pathé |

reviews, news & interviews
DVD: Fairy Tales, Early Colour Stencil Films From Pathé
DVD: Fairy Tales, Early Colour Stencil Films From Pathé
Bewitching and startlingly hued silent-era shorts with arresting new music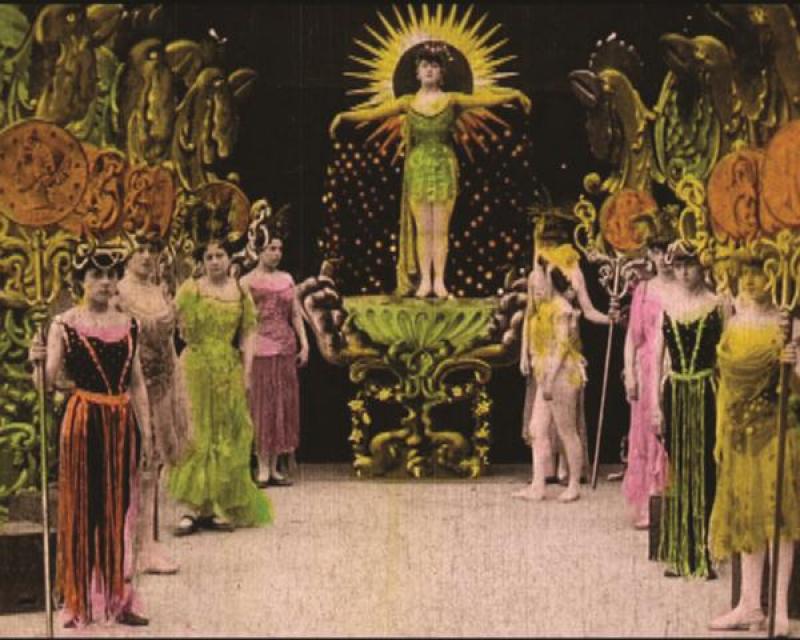 'La poule aux oeufs d'or': as surreal as Bunuel
Although it's impossible to place yourself in the shoes of audiences seeing these other-worldly short films at the dawn of the 20th century, the reaction they provoke now cannot be that different. Delight, surprise and then amazement. These films were meant to be magical, and remain so. Taking 19th century theatre in all its forms, capturing it on film and making it even more unreal with hand tinting and editing resulted in a unique strand of cinema.
Fairy Tales collects 25, chronologically sequenced, films made by the Pathé Frères between 1901 and 1908. Most are feéries, or fairy films, but all draw from the stage. The four extras include a 1901 Barbe-bleu by Georges Méliès and British director Anson Dyer's 1922 Little Red Riding Hood. Each film is presented as is, without restoration and sometimes in the fragmentary form it survives in. What's seen here is what would have been seen by an audience watching a well-worn print battered after being exhibited repeatedly. What's heard here, however, is new. Fresh scores for each film have been commissioned from Marcus Davidson, Hildur Guðnadóttir, Philip Jeck and more. The extras include the opportunity to select alternative soundtracks. In all cases, the new compositions are sympathetic, meshing seamlessly with these startling images.
The images leave an indelible impression. Ballet fans have much to thrill to: a one-minute 1902 snatch of Ballet les sylphides, performed by dancers perhaps more familiar with the cabaret stage than those more elevated; an Arabian–style sequence in Ali baba et les quarante voleurs. But it's the whole that thrills. The fabulous La danse du diable (1904) is hallucinogenic and intense, 1905's La Fontaine adaptation La poule aux oeufs d'or is as surreal as Bunuel. Set the table with Martin Scorsese's Hugo, then gorge on this.
Watch Valse excentrique (1903) from Fairy Tales, Early Colour Stencil Films From Pathé, featuring Boldoni and Solinski, the dancers at Paris's Eldorado cabaret
Set the table with Martin Scorsese's 'Hugo', then gorge on this
rating
Share this article