Diana |

reviews, news & interviews
Diana
Diana
Film biography about - well, who do you think? - is laughably banal
Wednesday, 18 September 2013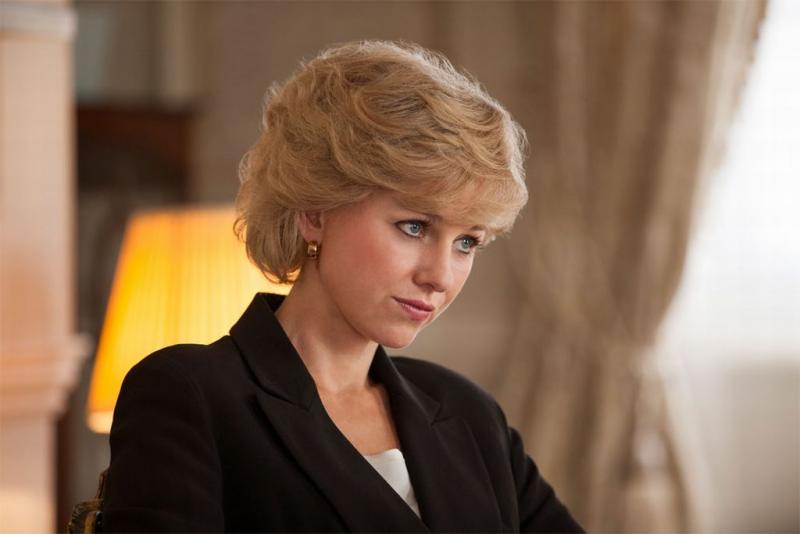 What's in a wig: not much on the evidence of Naomi Watts as Diana, Princess of Wales
A film once touted as surefire Oscar bait instead looks set to clean up at the Golden Raspberry awards (or Razzies) if this preposterously inept biopic of the world's best-known woman finds the fate it deserves.
Cloth-eared, cynical, and not even blessed with a persuasive star turn to show itself off,
Diana
seems destined to become the stuff of camp: the sort of thing the Prince Charles Cinema might be screening before too long to gleeful hordes chiming in on cue with the script's multiple howlers.
It needn't have been this way, of course, given just how much dramatically rich intrigue continues to be mined from the short, perpetually headline-grabbing life of Diana Princess of Wales. Oliver Hirschbiegel's movie picks up at that never-to-be-forgotten moment in August, 1997, when her unknowable and unknown world came cataclysmically to an end. And in a sense, the presumably quick-to-video destiny of this offering may well be a spur to others keen to try to make celluloid sense of a woman whose essential contradictoriness - naïve yet wily, doe-eyed yet altogether steely - is the meat and potatoes of a far worthier movie.
Until that time, we are stuck with the weirdly narrow focus of this film, adapted from a 2001 book by the journalist Kate Snell, that barely sees Diana in the context of the very world - the royals - that brought her to the public eye in the first place. Beginning on the day of her death, Stephen Jeffreys's script quickly rewinds two years to pick up on Naomi Watts's none-too-arresting Diana at that point at which she has been separated for three years from her heir-to-the-throne husband and so is ripe for the romantic picking. Or to do some casting about for amorous candidates herself
Enter Hasnat Khan (Naveen Andrews, pictured above with Watts), a gregarious Pakistani heart surgeon who shares her affection for Chicken Cottage (the mind boggles at that one!) and gives off the impression at first of not really knowing or caring who this softly spoken seductress in his midst actually is. Before long, though, she's poring over Gray's Anatomy like the quick learn that this woman evidently was and cuddling up for a night of footie on the couch. Khan, for his part, would appear to have stumbled into the embrace of service the likes of which you don't get on the NHS. After all, Diana informs him as regards the limitless supply of wine at her disposal, "This is a palace; we don't run out."
For a while, the details on view are fascinating. It's of passing interest that the Princess had four mobile phones though, in exchanging numbers, Khan makes clear that "one will do". (Also revealed: the football team preferred by the guards at Kensington Palace.) But while the film whizzes us off to Italy, Africa (pictured above left), and, of course, Paris for its heroine's fateful final day, Diana herself never comes into focus, and however hands-off the filmmakers wanted to be with reference to the rest of her family and friends, it's impossible to believe that this of all women seems to have no one in the world to talk to besides her Irish acupuncturist (Geraldine James) and Khan. Her sons - probably mercifully - barely figure at all.
Andrews is genial enough as the sort of kind-hearted bloke one could imagine constructing a weekly medical TV drama around, while Charles Edwards and Douglas Hodge flit briefly in and out of view as various confidants in Diana's hapless orbit. Watts, a lovely actress elsewhere, isn't convincing for a second, and one quickly realises why the film is so slow at the start to show us this Diana's face given that the fuller-featured, altogether sparklier (if less balefully beautiful) Watts doesn't actually suggest the princess. For one thing, there's scarcely a hint of that famously head-lowered coyness that became the signature stance of a woman who was never more aggressive than when seeming most bashful.
But as a compendium of verbal clunkers, Diana is a joy from first to last. (Hey, there's a quote for the PR campaign!) And while aperçus like "now that I've been loved, I don't feel lonely any more" are definite candidates for top prize, I think I'll go with this, spoken by Diana as she and Khan are lying in bed in post-coital bliss: "I love feeling your hand there." What more can one say?
Overleaf: watch (if you must) the trailer for Diana