Carmen review - curio from choreographer turned director Benjamin Millepied |

reviews, news & interviews
Carmen review - curio from choreographer turned director Benjamin Millepied
Carmen review - curio from choreographer turned director Benjamin Millepied
A mismatched showcase for Paul Mescal's powerful talent
A final fling: Paul Mescal and Melissa Barrera
The inspirations for the directing debut of Benjamin Millepied, choreographer and dancer in Black Swan, are cited as Merimée's novella Carmen and Pushkin's narrative poem The Gypsies, the former better known as an opera guaranteed to raise the emotional temperature.
Millepied has employed the brilliant Succession composer Nicholas Britell for some of the music; and, in the kind of tender-hearted beefcake role he has shown he can play so effectively, he has Paul Mescal. So why doesn't this Carmen knock it out of the park?
It seems to have taken three writers to craft the uneven script, where scenes lurch from one location to another, as if big chunks in between have been removed. Characters have little context or back story, and anything can happen, including fully fledged dance routines. It's the kind of film that is bound to be described as a "fever dream"; and it does often have the feel of a dream, with moody cinematography by Jörg Widmer and its love of non-sequiturs, some of them visions from the characters' minds.
But it's hard to work out if that's what Millepied was aiming for. It's not a consistently surreal art-house film or even a "dance film" (though there is a heck of a lot of dancing). It's rather like a Baz Luhrmann film with snailpace editing. Lots of attention is paid to striking visuals, not quite enough to delivering a cohesive finished product.

Our Carmen (Melissa Barrera) is a beautiful young woman who seems to be living with an older woman in Mexico, near the US border. You assume this retroactively when she arrives at the shack where the older woman has just expressed her anger at two men looking for an unnamed woman (Carmen?), which she does by glowering and dancing a furious flamenco at them, and is shot for her trouble.
Meanwhile, just the other side of the border, in a dusty, desultory encampment, Aidan (Paul Mescal) is barbecuing for the group, one of whom is a legless man In a wheelchair, another Aidan's sister. Aidan has been unemployed for nine months and has taken to sitting alone at night, playing his guitar to the desert. (Why? We don't find out what his secret sorrow is.) At his sister's urging, he goes to find work, not by singing (he has a strong, mellifluous voice), but by joining other volunteers "helping" Border Patrol bag illegals. Which is where his path crosses Carmen's: she has torched the older woman's shack and joined a group that crossed the border that night. Small hints of Bizet's Carmen here, but they aren't followed through.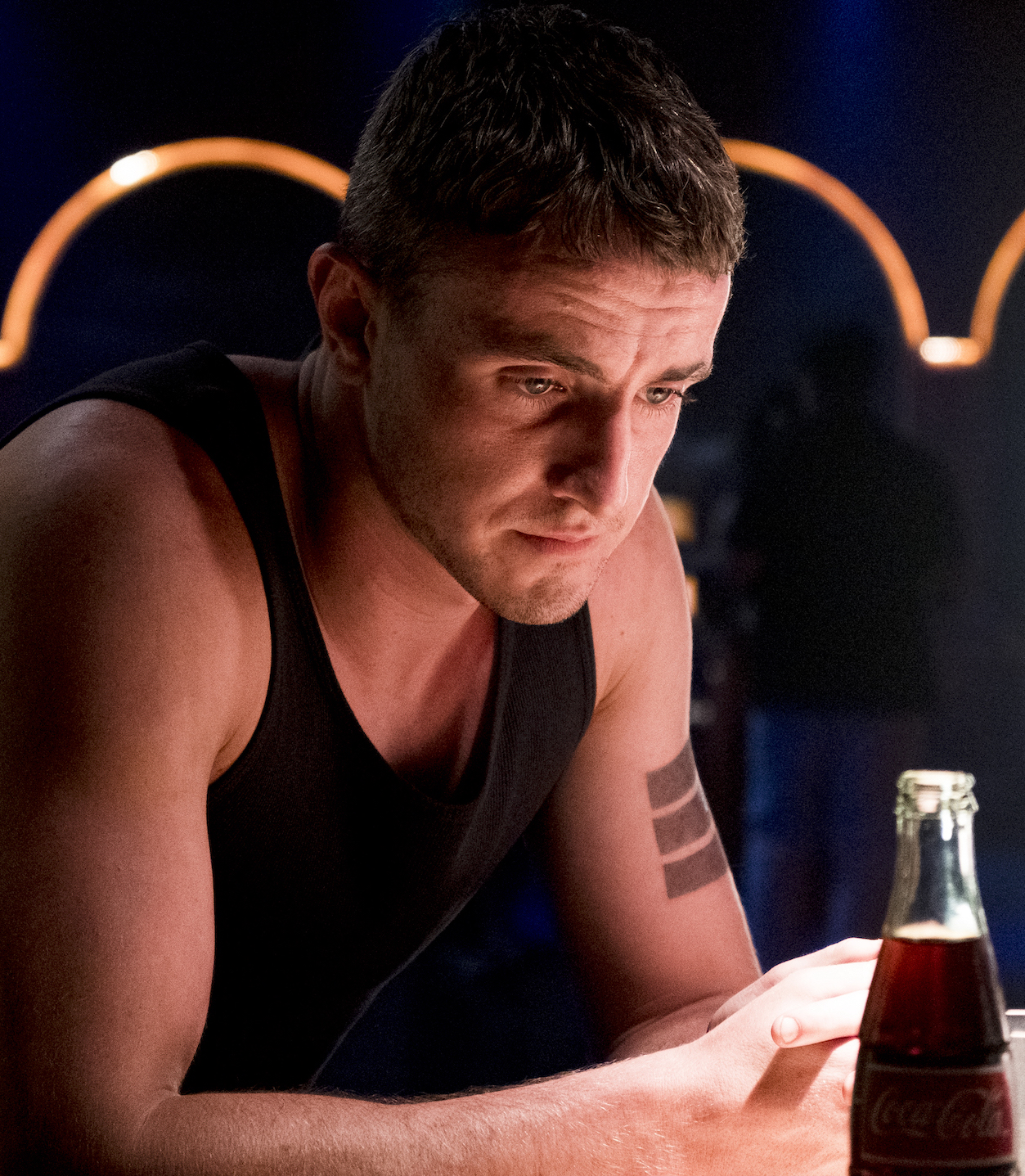 The encounter between the bounty hunters and the illegals is violent, though kind Aidan helps one mother and her children escape. He and Carmen then head off in a taxi, driven by an avuncular man called Angel, towards "his city", Los Angeles. Except, they stop off for a dance number with ladies in sparkly bandeau tops at what looks like a drilling rig, complete with giant catherine wheels and flaming earth. It's like Pan's People meets the bridge scene in Apocalypse Now.
Carmen miraculously emerges from this routine with a good-looking man called Pablo (who he?), who replaces Angel in taking them on to LA. He tries to paw her, but she tells him no, her boyfriend is jealous and is "a man", whereas Pablo is a mere musician. Another hint of ur-Carmen there, but that's about it. They eventually pull up at a neon-lit doorway, where the eccentric-looking woman we have seen in flashes (Rossy de Palma), staring into space at a vision of a couple running away into blackness, turns out to be the soul sister of the dead older woman, Carmen's mother. This is the cabaret bar they set up together. Cue a lot more dancing.
Mescal is inevitably given a sex scene, though both participants seem to have their lower bodies clothed throughout, but for much of the first half of the film he too spends a lot of time staring into space (pictured above left). Things warm up for him when the chance of earning some hard cash for escaping presents itself, in the form of an old marine corps buddy who happens to run a fight club. After watching Carmen triumphantly executing a song and dance number at the club, which makes him cry, he leaves for the fight to meet his fate.
No, this is not the Carmen we know. This heroine is a good dancer and strong singer, but she isn't a wicked temptress of a sexpot; instead, she is given lots of soupy sentiments to deliver (some of them in song) about love, life and missing her mother, which makes it sound like she was given sweet Micaela's script by mistake when Micaela was written out early in development.
Mescal deserves five stars for trying to put some flesh on his character's bones. He manages to make you care what happens to Aidan, who we can see is a decent man with no harm in him, a teetotal gym-goer with a romantic side. But there's little he can do beyond that except throw himself into the physical side of the project. In his eventual dance scene with Carmen, he does just that, flinging both Carmen and himself, exhilarated, about: the victory of a real trier over his lack of training. He clearly enjoyed himself, at least, in this show of passion, if not of technique.
One scene where the choreography begins to bite is in the fight scene, where the crowd start to stomp and make punching motions with their arms. The piece needed more of that, incidental movement rather than the "numbers" it ends up with. It could also do with less of the high-soprano choral sounds that punctuate the action throughout, music that suggests an eerie portentousness that rarely matches the action. Mescal is compelling in the finale, but he's on his own.