Canal Dreams: the Panama Film Festival |

reviews, news & interviews
Canal Dreams: the Panama Film Festival
Canal Dreams: the Panama Film Festival
A fledgling film festival in Latin America is proving a godsend for local audiences dominated by Hollywood
Ana Endara Mislov casts a critical eye over her country's passion for beauty queens, in 'Majesty'
Cannes, that irresistible feeding frenzy of film, is just around the corner. But 6,000 miles away in Panama City a film festival has just concluded that, for entirely different reasons, is equally significant. Panama isn't known for its film output – it's made just one fiction feature in more than 60 years – and while America may have relinquished its control of the canal, the grip of its cultural colonialism has proven much more difficult to loosen.
That's why, in just its second year, the Festival Internacional de Cine de Panama has become a key event in the country's cultural calendar. For one week of the year local filmgoers – whose diet for the other 51 is made up entirely of Hollywood movies – are given a glimpse of another world, of films from their Latin American neighbours, from Europe, and from young directors who are finally beginning to make films in their own country.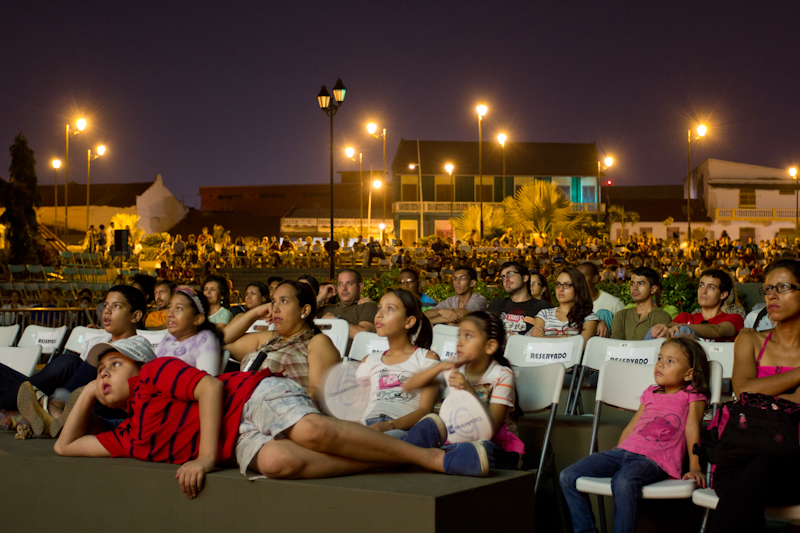 And they are lapping them up. Within three days of this year's event, it had already surpassed last year's total attendance of 17,000. Whether a red carpet screening in the ornate, early 20th century Theatre Nacional, a free outdoor show in a makeshift arena on the old town's Pacific coastline (pictured above by Edison Sánchez), or at the Cinepolis multiplex – where a Panamanian documentary would screen across the way from Tom Cruise's Oblivion – the excitement was palpable.
Latin America is producing some of the best cinema in the world right now, and it rightly occupied the heart of the festival. There was Chilean Pablo Larrain's Oscar-nominated No, and the Peruvian The Cleaner, a chilly, yet poignant sci-fi centred on a man whose job it is to clean up the streets of Lima during a plague. From Brazil, the urban thriller Neighbouring Sounds was accompanied by Once Upon A Time Was I, Veronica, a sexy and poetic portrait of a young woman struggling to deal with her detachment.
While Mexico offered the superb, emotionally gruelling account of school bullying, After Lucia, Cuban tales included Molasses, a charmingly droll debut charting a rural couple's attempts to make ends meet, and the award-laden One Night, about a trio of youngsters attempting to raft to Miami; that film was actually directed by an Englishwoman, Lucy Mulloy, but her empathy for her milieu was such that one would never have guessed.
Argentine director Pablo Trapero presented his intense God versus Drugs drama White Elephant, along with his wife and the film's star Martina Gusman. Ecuadorian director Sebastian Cordero was also accompanied by his female lead, Maria Cecilia Sánchez, (pictured above with Andres Crespo) whose spiky femme fatale gives the eponymous, lovestruck Fisherman the runaround, as he tries to sell the cocaine haul that washes up on his beach.
The quartet of Panamanian films on offer, all documentaries, couldn't compare in terms of budget and production values with any of the above (a situation which will improve with the recent advent of government funding for cinema). Yet they were surprisingly homogeneous, reflecting the critical gaze of a new generation of filmmakers on a society whose image – a booming economy epitomised by the cash-cow canal – conceals all manner of social tensions.
Chaos in the City bemoans the rampant, nay cynical development of the capital, the government giving free rein to speculators to "play monopoly with the city", skyscapers taking precedence over community. Paradise for Sale reveals how a legion of American developers and retirees are buying up land on the Caribbean coast, often erroneously, and evicting local people who have lived there their whole lives.
While those films are overtly angry (and not hugely imaginative), two others make subtler critiques of Panamanian society. With Maids and Bosses, Abner Benaim presents a smart, acerbic dialectic on domestic service, by allowing us to hear what servants and their employers really think about each other. And Ana Endara Mislov's Majesty explores the Panamanian phenomenon of beauty queens, which involves literally thousands being crowned in schools and carnivals each year. The young director boldly lets her subjects, their stage parents and coaches speak without contradiction, with the result that they themselves, unknowingly, make the case that Panamanian womanhood is being enfeebled by tradition.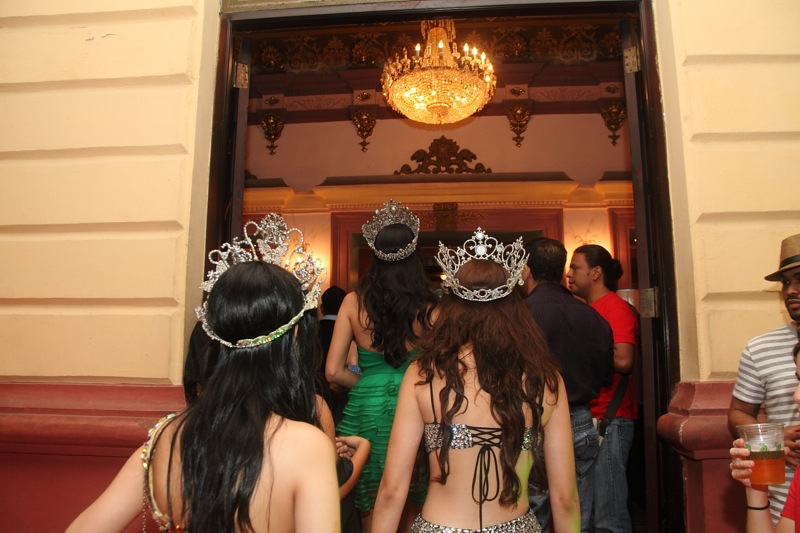 Along with the supportive presence of a local legend, the Salsa singer, actor and one-time minister of tourism Ruben Blades (pictured above right, by Edison Sanchez), Majesty's world premier (above, by Raphael Salazar) was one of the highlights of the festival. Many of the featured beauty queens wore their tiaras to the red carpet, remaining oblivious to the message of the film even while others in the audience were not. Whatever the subjective response of individuals, the fact that Panamanians were watching themselves on screen for the first time was hugely resonant.
The fact that Panamanians were watching themselves on screen for the first time was hugely resonant
Explore topics
Share this article