Bruised review - Halle Berry takes the blows and does it her way |

reviews, news & interviews
Bruised review - Halle Berry takes the blows and does it her way
Bruised review - Halle Berry takes the blows and does it her way
Gruelling martial arts movie launches Oscar winner's directing career
Thursday, 18 November 2021
Fight club: Jackie (Halle Berry, right) slugs it out with Lady Killer (Valentina Shevchenko)
A classic specimen of the "what doesn't kill you makes you stronger" school, Bruised is Halle Berry's directorial debut.
It was back in 2002 that Berry won a Best Actress
Oscar
for
Monster's Ball
, and
Bruised
suggests that, at 55, she may have found a way to sustain a career in Hollywood long after the age when the industry likes to throw its
leading women
on the scrapheap.
She plays Jackie Justice, a successful MMA fighter (that's Mixed Martial Arts, otherwise known as cage fighting) whose career has disastrously stalled as her personal life has fallen apart. We meet her while she's living in Newark, New Jersey with a tattooed slob called Desi (Adan Canto), who claims to be her manager but is making such a great job of it that Jackie is now lapsing into alcoholism while working as a house cleaner.
However, when Desi drags her out to a squalid underground fight club, the Russian club manager goads her into a fight with a woman built like a Costco warehouse. Jackie, drawing on some hidden well of rage and self-loathing, headbutts her opponent into bloody oblivion. This is such a spectacular feat that she's immediately propositioned by sharp-dressed, fast-talking promoter Immaculate (Shamier Anderson), who wants her to get back in the ring for a title bout with the fearsome contender called Lady Killer.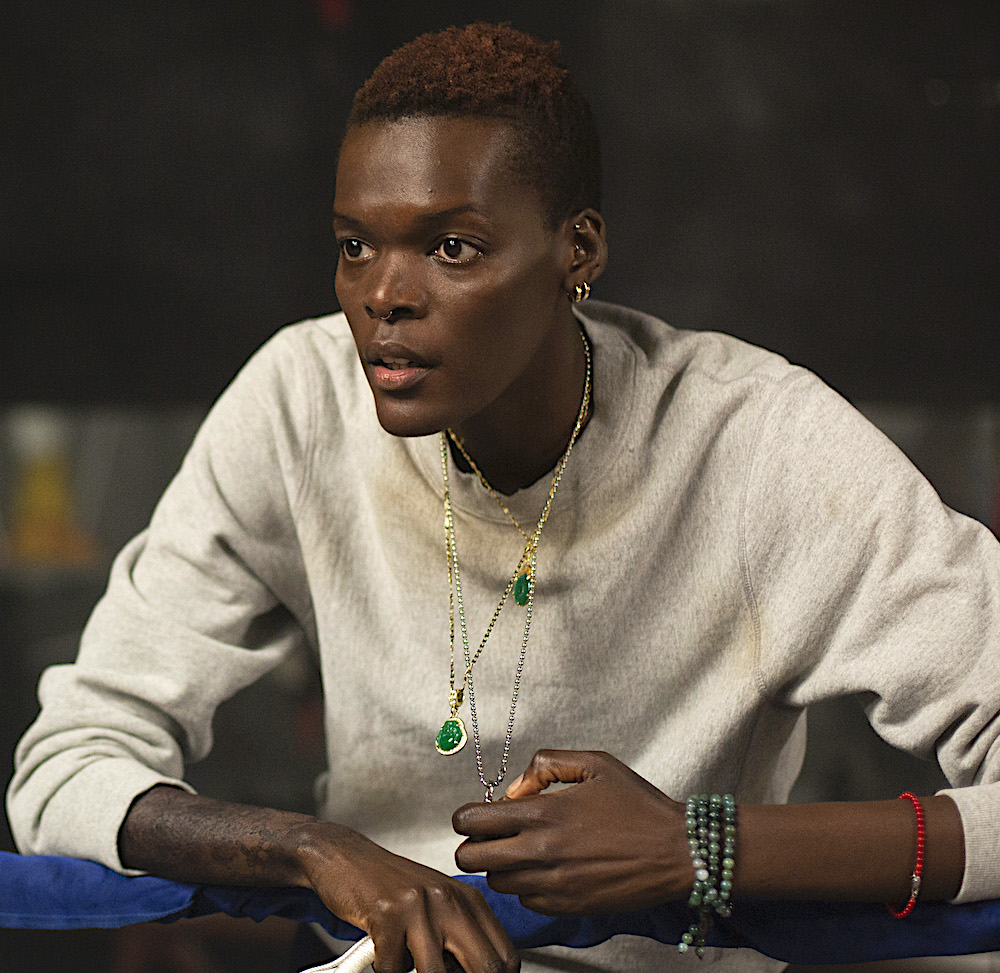 The story of how Jackie drags herself back from the brink, puts herself through a training regime which could kill entire regiments of US Marines and seizes back control of her life is not going to win many awards for originality (think of it as Rocky IX – #MeToo), but there's a visceral force in Berry's performance that keeps you gripped for most of the two-hour running time. Bravely taking exactly the opposite route from many of her botoxed, plastic-surgeried and multi-implanted peers, Berry embraces Jackie's miserable plight with a kind of self-flagellating relish, and for much of the story she looks as though she's just been thrown from a moving vehicle and then fallen over a cliff. The training sequences of her ordeal by squats, thrusts and punishing weights is agonising to behold, and a scene where she suffers a panic attack in the ladies' toilet is frighteningly intense and claustrophobic.
Of course, there has to be a little redemption on offer in Michelle Rosenfarb's functional if unspectacular screenplay. Much of Jackie's pain, it seems, has been caused not just by a horribly brutalised childhood but also by her separation from her young son (Danny Boyd Jr), but his sudden reappearance in her life after the death by gunshot of her estranged partner throws her a slender lifeline which helps her find a path through the gloom. It's a virtually wordless role for the traumatised boy, but Boyd Jr's vividly expressive face may well bring him a nomination or two.
The film's secret weapon is Jackie's trainer Bobbi (alias Buddhakan), played with imperious poise and command by British-Ugandan actress Sheila Atim (pictured above). She casts a charismatic glow over her scenes with Berry, as their initially austere teacher-and-pupil relationship blossoms into something much more warm, nuanced and meaningful.
If this gives Bruised its heart, its guts are supplied by the staggeringly brutal set-piece fight between Jackie and Lady Killer in Atlantic City (Lady K is played by real-life martial artist Valentina Shevchenko). It's a no-holds-barred slug-fest, and a feat of dynamic fight choreography which makes you feel every punch, kick and choke-hold with numbing force. If nothing else, Berry ought to be able to beat Keanu Reeves's John Wick at his own game.
There's a visceral force in Berry's performance that keeps you gripped for most of the two-hour running time
rating
Explore topics
Share this article