Bruce Lacey: Art's Great Adventurer |

reviews, news & interviews
Bruce Lacey: Art's Great Adventurer
Bruce Lacey: Art's Great Adventurer
The achievements of a multi-faceted British artist are celebrated with a BFI season, exhibition and DVD release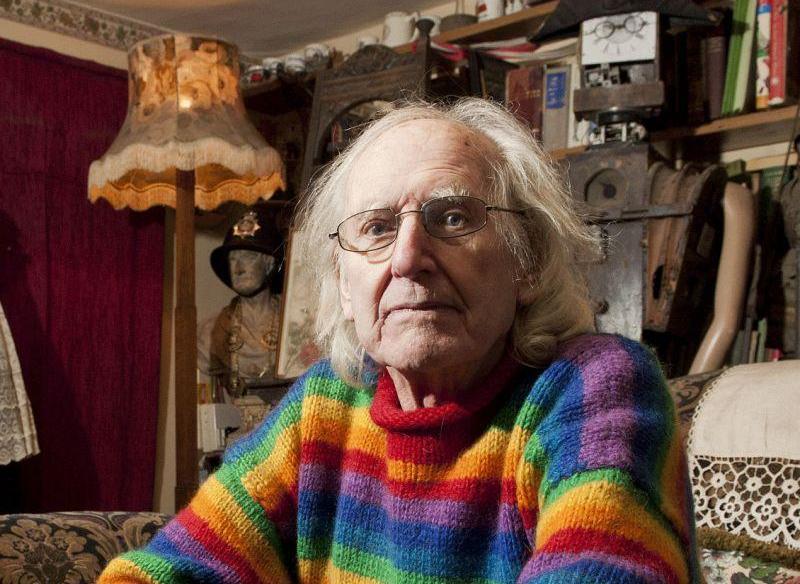 Bruce Lacey at his Norfolk home in 2012
"Bruce Lacey has had this unbelievable career," says the Turner prizewinning artist Jeremy Deller. "His is an alternative version of British art history - people didn't seem to know that Bruce has intersected with British history. I felt he deserves to be looked at again." Deller has put his energies into a documentary, exhibition and film season, all celebrating this influential, but largely unsung and unique British artist.
In the new documentary The Bruce Lacey Experience, Lacey himself says, "I'm a satirist or, to put it a crude way, a piss-taker. If I see something, I like to take the piss out of it." In 1975 he had said "many people who know me…think there are several different people called Bruce Lacey". These different Bruce Laceys come together this month for the first time with a film season at the BFI Southbank, an exhibition, co-curated by Deller and David Mellor at Camden Arts Centre, and the release on DVD of the two-disc set. Included in this release is The Bruce Lacey Experience, the documentary co-directed by Deller with Nick Abrahams. It is premiered at the BFI Southbank this week.
Watch the trailer for the DVD The Lacey Rituals: films by Bruce Lacey (and friends) 1952-2012
"I went to a small exhibition he did in an arts centre in Norwich about five years ago," continues Deller, recalling his first encounter with Lacey. "I couldn't believe it, he was obviously a major figure. I walked around with my mouth open. He had a really DIY attitude, against the system. He reached places five years before other people."
Lacey, now 85, attended Hornsey School of Art in 1948 and then, from 1951, the Royal College of Art. The institutions were overground, but the course he followed was resolutely underground, singular and hugely influential. He was integral to The Goons, can respectably be claimed to have invented the pop video, was instrumental in laying the ground for The Bonzo Dog Doo-Dah Band and Monty Python's Flying Circus. He was in The Beatles' film Help! and won Andrew Logan's Alternative Miss World in 1985 with a robot. Paying tribute in their song "Mr Lacey" (which soundtracks the trailer seen above), Fairport Convention asked "Why, Mr Lacey, why do you do the things you do? / It's true no one here understands now, but maybe someday they'll catch up with you". That was in 1969.
Above: Bruce Lacey's The Womaniser (1966, © Tate, London 2012)
In 1947, Lacey was wondering what had caught up with him. He was hospitalised after contracting TB during his training as an electrical mechanic in the navy. He began drawing during his recuperation. After entering art school, he began designing costumes and film sets. The BBC hired him to create special effects for television programmes in 1952: the light-sound workshop Mobilux, seen in the programme Shapes and Sounds, anticipated what crept into the public consciousness during the psychedelic era. The themed parties he hosted at his north London home in the early Fifties presaged Sixties' happenings. He collaborated with Bob Godfrey on short films for the TV pop show Cool for Cats, setting the template for the pop video. He worked with old-timey music group The Alberts, without whom there would be no Bonzos. Before directing Help!, Richard Lester featured him The Running, Jumping and Standing Still Film with Spike Milligan and Peter Sellers.
Watch Bruce Lacey in The Running, Jumping and Standing Still Film
All this was largely behind the scenes. That changed in in 1962 when Lacey became the subject of Ken Russell's Monitor documentary The Preservation Man. Soon afterwards, he began making art from assemblages and appeared on stage with The Alberts and Ivor Cutler. He showcased his robots at June 1965's International Poetry Incarnation at the Royal Albert Hall, and both he and they featured in the Swinging London film Smashing Time. He also made films, many, like 1973's The Lacey Rituals, featuring his family. He'd put them in situations where performance art and the installation merged.
The chance – across the mediums Lacey has worked in – to appreciate the extraordinary range of his work is unique. The exhibition includes his full-size robots (Lacey calls them "electric actors") and his assemblages, created in response to the encroachment of technology into the day-to-day world. His performances are also explored. The film season and the DVD collect for the first time Lacey's own films, and the films in which he features. Most of his own films have not been seen publicly.
"The problem with people like Bruce is that they are appreciated after they die," says Deller. "Thankfully, Bruce is still alive. Even if you are not aware of him, his influence runs through many generations. Years before Jamie Reid did it for The Sex Pistols, Bruce made an album for EMI with a cover defacing the British flag. It was never released. I don't know if Jamie Reid was aware of it, but Bruce has been around so long his paths have intersected with everyone. Bruce's attitude is very punk. He has influenced me, but in ways that are not obvious yet".
Watch Bruce Lacey with The Beatles in Help!
Even if you are not aware of him, his influence runs through many generations
Share this article