theartsdesk in Odessa: Monty Python on the Black Sea |

reviews, news & interviews
theartsdesk in Odessa: Monty Python on the Black Sea
theartsdesk in Odessa: Monty Python on the Black Sea
Absurdity is the underlying theme of the old Ukrainian port's second film festival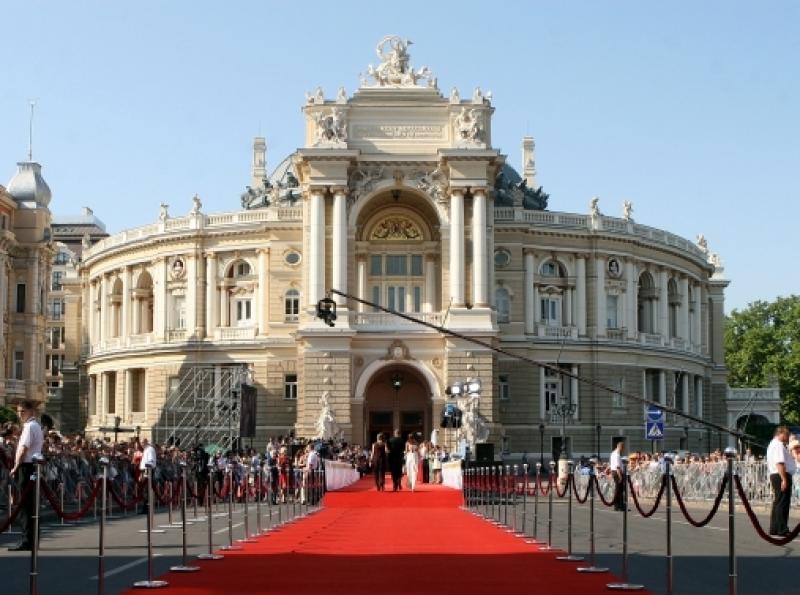 Odessa's Opera House, which hosted the film festival's opening and closing ceremonies, is 'simply a gem'
Odessa must be one of Central Europe's more distinctive cities, characterised by a profoundly cosmopolitan ethnic mix over more than two centuries. It was one of the most international cities in the Tsarist empire, while in Soviet times it honed that identity, based not least on the size of its Jewish population, and the brand of humour – accompanied by an almost distinct language – that resulted.
So what am I doing here, I asked myself, watching a
Monty Python
film retrospective, in a packed late-night showing, where a fair part of the audience seems to know the lines off by heart?
The answer: it was part of a sidebar in the second Odessa International Film Festival (OIFF) that closed last week, proving very successful and likely to grow. Inasmuch as there is ever a dominant "theme" behind such events, here it was humour - often humour of an absurdist kind, into which the Pythons fit very well indeed. In fact, if I try and think of an international equivalent for the Monty Python phenomenon, Odessa's native comedy theatre Maski Show is one of the closest that comes to mind. Set up in 1984 by director Georgy Deliev, they're still going strong, primarily on their own stage in the city, but also on television, where they were one of the most popular acts around Russia and Ukraine, especially in the 1990s. Whether their humour travels is an open question (sadly, I see their Amazon listings as "currently unavailable").
Then there is the Odessa film studio, which may have seen somewhat better days, but in its Soviet time was highly respected. Arguably because of its distance from Moscow, it was able to get away with a slightly different kind of work than more important outfits like Mosfilm and Lenfilm. This year it repeated a youth film workshop, with hundreds of student attendees housed in a tent city; I can't say whether local tendencies to absurdity played a role, but one day of torrential rain meant that most had to relocate rapidly to begged, borrowed (I hope, not stolen) apartments.
If there is a presiding spirit behind the Odessa film world, it's that of director Kira Muratova, a figure of internationally respected brilliance who has now been working for around 50 years. A native Odessite, she has always made Russian-language films. Her latest film, last year's Melody for a Street Organ (pictured right), was screened at the festival this year, and looks as strong – and long – as anything she's done before. It's a bit of a departure, given that it has an occasionally Dickensian feel that somewhat moderates the remorseless absurdity of her previous work. It's an effort to think of someone to compare her to in international terms, though certainly Harold Pinter comes close; except that Pinter did not live through the years of late Soviet Communism, and then the feeling of a lost society in the 1990s – all of which gives Muratova's films an angrier, more despairing root.
'Odessa's status as a port city on the Black Sea always gave it an influence, and often considerable wealth'
Her film The Asthenic Sydrome from 1990 may well be her masterpiece, and still comes across as a howl of pain; but look out for two of her early black-and-white films - Brief Encounters from 1967, where the director herself plays a main role opposite Soviet bard-rock legend Vladimir Vysotsky, and Long Farewells from 1971 - they are as bleakly tender as cinema comes. Most of all, like Pinter, she captures the sheer absurdity of language, where characters, even though they are in the same room, or relationship, seem to be talking away from one another, rather than connecting. Waiting in the airport bar to fly back from Odessa to Moscow last weekend, I seemed to be hearing dialogues that strangely reminded me of a Muratova script – a most unsettling experience.
But there's more to Odessa than its cinema, and its status as a port city on the Black Sea always gave it an influence, and often considerable wealth (it was the fourth largest town in the Tsarist empire, after Moscow, St Petersburg and Warsaw). At the end of the 19th century, almost a third of its inhabitants were Jewish, a figure that has dropped dramatically since the beginning of Soviet-era Jewish emigration in the 1970s. The Odessa accent still combines elements of Russian, Ukrainian, Yiddish, French and other European tongues; also, it's still a city in a country that is otherwise rather too obsessed with speaking either Russian or Ukrainian, where local press conference participants were happy to jump between the two.
There's much grandeur to be found on the streets, and even if some older buildings are looking distinctly rundown a few key structures have been kept up to the best standards. The city Opera House, which hosted the festival's opening and closing ceremonies, is simply a gem. Its literature museum is equally special, paying tribute to writers who have passed through and lived in the town, including Pushkin, Gogol, and more strongly in the 20th century Ivan Bunin (who spent many years here, and left with his wife in January 1921 on the last French ship out of the Odessa harbour bound for Constantinople and exile), and Isaac Babel (who was born here, and memorialised the city in his Tales of Odessa).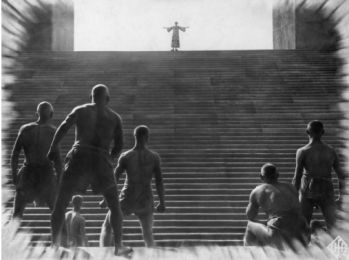 Then, of course, there are the Potemkin steps, the venue for a massive open-air screening this year, to an audience in the high thousands, of Fritz Lang's Metropolis (pictured left). I only regret that I wasn't there last year, when they – of course – screened Sergei Eisenstein's Battleship Potemkin, which has immortalised the same steps in cinema history. Other impressions on films in the festival remain somewhat random. An almanach-style Lovers in Kiev from young Ukrainian directors suggested that the state of the future local film industry may look slightly more encouraging now than anytime in the last decade or so. A very accomplished new Russian film, Alexander Gordon's Brothel Lights, closed the festival, and proved a very generous depiction of life in Odessa in 1958.
From Europe, two films stood out for me, both among the final prizewinners. I'm always interested in what films are encouraged by their nation's revelant cultural bodies for export to festivals – and often what seems to get sent out to Central Europe/Russia might be termed as "miserabilism". But the absurdity of Portuguese director Sérgio Tréfaut's Journey to Portugal, and Belgian film Kill Me Please from French director Olias Barco, both in black and white, went far beyond this.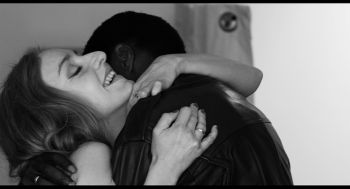 The former, on its first international outing after premiering in Lisbon only two weeks before, had a special local significance: it's the story of a Ukrainian woman arriving in Portugal to meet her Senegalese husband, who is interrogated at the airport, progressively humiliated, and eventually returned back to Ukraine. It's a small drama, based on true stories, and the director has an unashamedly political agenda – to highlight how many passengers arriving on legitimate visas to Europe are returned home again. But this isn't exactly Ken Loach territory. It's a stylised, small-scale work whose action barely moves beyond one room, and is played outstandingly by Maria de Medeiros and Isabel Ruth (pictured right), as the immigration official and arriving passenger – both of whose faces are absolutely unique.
Barco's Kill Me Please is a story that would be absolutely impossible to make up. It's the one about the snowy Belgian mansion that is being run as an assisted suicide hospice by a decent doctor, who is encountering considerable problems with local residents who object to his calling. A fire ensues, and then some snipers turn up to further dramatise the proceedings. As I said, it really couldn't be made up.
Final memo to the Pythons, none of whom made an appearance (though one of their early producers did): jokes about involuntary human organ transplants may be a bit close to the bone in this part of the world. I think a triumph of translation was performed on John Cleese's line from The Meaning of Life about the school cormorant and the linseed oil – it ended up (to the best of my memory) as something like "the tortoise belonging to the youth league of the local communist party that met its unexpected demise in a wine barrel".

Watch the trailer (in French) to Kill Me Please
Explore topics
Share this article