Bluebeard |

reviews, news & interviews
Bluebeard
Bluebeard
Some blood but no sex and minimal shocking in this reworking of Perrault's tale.
Sex, blood and shocking - these are the things Catherine Breillat does well. So long as she's busting taboos wide open you can forgive her the longueurs, the wilful refusal to attend to fundamental principles of storytelling, her characters' inclination towards such dreary soliloquising you feel like yelling, "For heaven's sake, shut up and get back to the full-frontal fornicating!" At first glance, the story of Bluebeard would appear to be right up her street.
This, after all, is the director whose specialities include explicit tumescence and in-your-face childbirth (
Romance
), rape and murder (
Fat Girl
), even more explicit tumescence and quaffing menstrual blood (
Anatomy of Hell
) and contemplation of the vagina so unflinching that unworldly viewers invariably get upset. With her last film,
The Last Mistress
, there were signs that Breillat was calming down, maybe even going mainstream, but I settled down to watch
Bluebeard
in the eager expectation of some serious sex and death.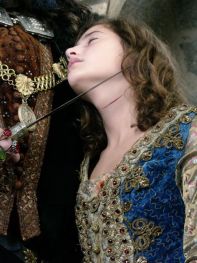 And waited. Early scenes in a convent were promising as the Mother Superior informs teenage sisters Marie-Catherine and Anne, both clad in strange wimples, that their father has died before sending them home to a life of poverty ("This is a private school, not a charity") where their mother bewails her lot - two daughters and no dowry! But Marie-Catherine already has her sights set on the chateau of a local aristocrat who, it's rumoured, murdered his previous wives...
All this is shot and performed on a lower budget and more amateurishly than the relatively polished The Last Mistress. The actors stand around like waxworks and, between long silences, recite their lines in a monotone, though Lola Créton's beguiling presence makes you believe Marie-Catherine might actually be good company if she could somehow escape into a livelier film. The period setting is non-specific generic - vaguely medieval, but with anachronistic musketeers, a touch of the village fête and the sort of modern laissez-faire coiffures for the girls that keeps making you want to reach into the screen and brush the hair out of their eyes.
Things perk up when Marie-Catherine marries Bluebeard, who looks like Ivan the Terrible with man-boobs; he's twice her size, old enough to be her granddad and yet strangely sympathetic, with a tendency to get crumbs of food caught in his beard at the dinner table. A-ha, you think, we're in for some transgressive fornication here. But no, Marie-Catherine insists on sleeping apart from her husband, in a bedroom so tiny he can't even squeeze through the door. Symbolism alert! But symbolism is as far as it goes.
Meanwhile, in a parallel storyline set in the present, which fatally distances us from the main action, two younger sisters called Catherine and Marie-Anne scare each other by reading Perrault's story aloud to each other in a dusty attic. And when it comes to the unlocking of the forbidden door (I'm not spoiling this for anyone, am I? If you don't already know
the story of
Bluebeard
, then you really do need to get out more) it's contemporary Catherine, and not quasi-medieval Marie-Catherine, who discovers the corpses of the serial killer's first three wives suspended over a puddle of blood.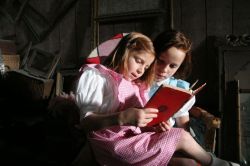 Unfortunately, this doesn't so much come across as a stylised fusion of the two separate storylines as an indication that Breillat somehow forgot to film this vital scene while she had the main actors on her payroll and was obliged to cobble it together later on. Nevermind, you think, perhaps she'll subvert Perrault's ending by giving it a feminist twist. Er, up to a point, but, without giving too much away, there's not a lot of female empowerment on display here.
So - no sex, a puddle of blood and hardly any shocking, apart from the early decapitation of a duck. It's dispiriting evidence that, shorn of her customary taboo-busting, Breillat's storytelling skills leave a lot to be desired, while her grasp of visual grammar appears limited to homing in on arrays of textiles, candelabras and glassware in shabby-chic surroundings which wouldn't look out of place in the pages of Elle Deco.
Bluebeard is now showing in key cities in the UK
Watch the Bluebeard trailer
Explore topics
Share this article