Blu-ray: The Last Warning |

reviews, news & interviews
Blu-ray: The Last Warning
Blu-ray: The Last Warning
Paul Leni's backstage murder farce is a magicianly tour de force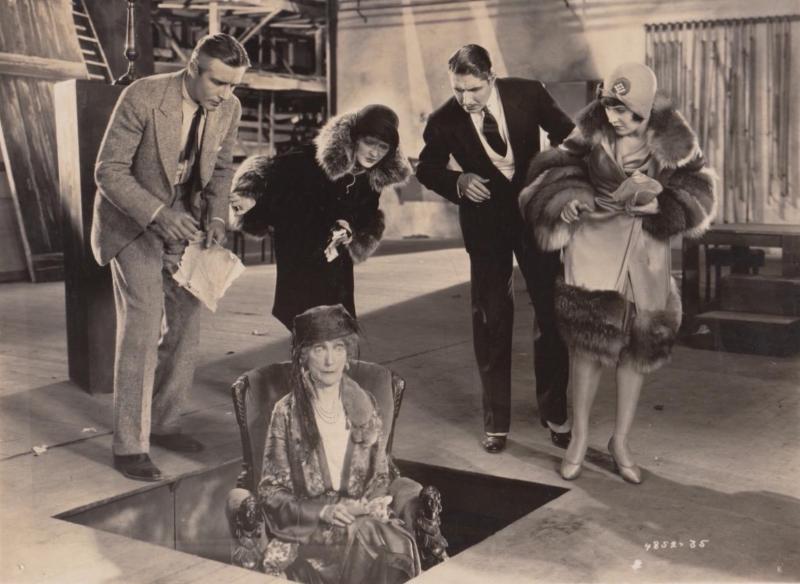 That sinking feeling: John Boles, Carrie Daumery (sitting), Laura La Plante, Roy D'Arcy, and Margaret Livingston
Stuttgart-born auteur and film theoretician Paul Leni, whose illusionistic production designs and direction of Waxworks (1924) helped define German Expressionist cinema, was 44 and approaching master status when he died of sepsis on 2 September 1929.
Following its limited Christmas Day 1928 release, Leni's final film
The Last Warning
, which was his fourth for Carl Laemmle's Universal, had been released in January as both a silent and as a part-talkie, but it never won the critical acclaim of his seminal Hollywood horror classics
The Cat and the Canary
(1927) and
The Man Who Laughs
(1928); Leni's Charlie Chan film
The Chinese Parrot
(1927) is believed lost.
The Last Warning derived from Thomas F. Fallon's Broadway melodrama, itself adapted from Charles Wadsworth Camp's 1916 mystery novel House of Fear. The inciting incident of the play, which ran from October 1922 to May 1923, is the murder of a celebrated actor manager, who was involved in a love triangle. Was it a coincidence that the 49-year-old Anglo-Irish Hollywood director-actor William Desmond Taylor had been murdered in his Los Angeles bungalow nearly nine months before the play opened? The sensationalized unsolved case, which cast suspicion on Taylor's actor-filmmaker lover Mabel Normand and his actor admirer Mary Miles Minter (as well as her mother), was still being updated in the fall of '22.


The 1928 film is unsung partially because it defies easy categorisation. Whereas The Cat and the Canary is a comedy horror film both humorous and scary, its companion piece is an intricately staged but narratively absurd haunted house-cum-murder mystery farce that laughs at its supernaturalism and delivers not a single scare. Laura La Plante is the nominal star, but she's upstaged at every turn by the more animated and endlessly treacherous labyrinthine Broadway theatre set, that built for Lon Chaney's 1925 The Phantom of the Opera.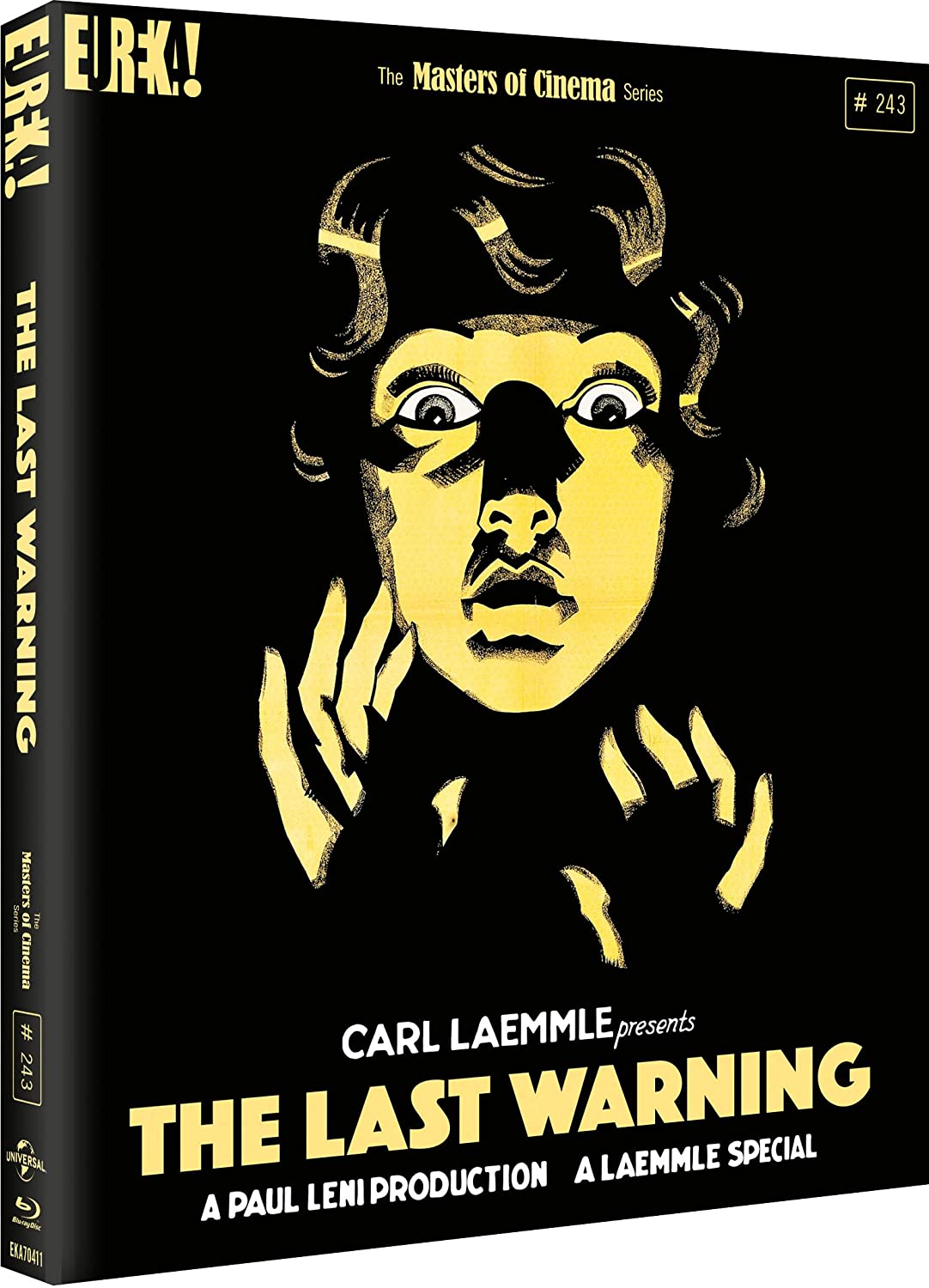 Yet The Last Warning is as delightful as a Rube Goldberg machine, a film affording a ceaseless barrage of abruptly sprung traps and nastily contrived accidents that self-consciously celebrates hydraulic stage effects and glories in cinematographer Hal Mohr's virtuosic sleights of camera and startling use of low-angle shots, dolly shots, and close-ups. Leni evidently regarded the uninvolving mystery as a conduit for exploring the psychological effects on the audience of his manipulation of a visual space (unusually deep for the time) that constantly threatens its inhabitants with its instability: scenery topples and floors give way; hidden passages open; ghosts, spiders, and scrawled warnings appear. That the flawless mechanical logic motors events that have no rhyme or reason in terms of human agency is prophetic: to mix metaphors, the machines have taken over the asylum.

These disturbances occur because, five years after the theatre company's actor-producer luminary was scandalously slain during a performance before a full house, a bullish new producer (Montagu Love) no one knows shows up to announce he's re-staging the cursed play in which his friend died, and in the same condemned theatre. Hd aims to expose the killer. The nervy leading lady (La Plante, who starred in The Cat and Canary) and her protective lover the director (John Boles), both suspects, are obliged to cooperate; so is everyone else.


Leni's formidable ensemble includes Margaret Livingston (the seductive "Woman From the City" in F.W. Murnau's Sunrise), Mack Swain (hulking adversary of Charlie Chaplin's Tramp), Roy D'Arcy (exotic villain specialist), comedy reliables Bert Loach and Slim Summerville, and the Belgian bit-part player Carrie Daumery (a Man Who Laughs alumna who worked often with Greta Garbo). Though only 55, Daumery is a hoot as the stage company ancient who pauses from being shocked to simper when the new producer notices her. There's a vaudevillian, even Dickensian aspect to some of the physiognomies, though the emotive acting style that characterizes many silent films was fading out in 1928 – the relatively restrained facial expressions and body language of actors like La Plante, Boles, Livingston, and Love is no different to ours.


Restored in 4K and making its UK home video debut, The Last Warning arrives on a Masters of Cinema Blu-ray featuring the silent version (the fleeting talkie scenes, which allegedly included screams and eerie noises but little talk, are no longer extant). The insouciant new score was composed by Arthur Barrow. Horror-fantasy authors Stephen Jones and Kim Newman provide the audio commentary. Film scholar John T. Soister contextualizes the film as a product of Universal's unmatched horror stable, but his comments about Laemmle and his son and heir, Carl Jr., who oversaw the successful Dracula–Frankenstein era, are baffling.