Blu-ray: The Golem |

reviews, news & interviews
Blu-ray: The Golem
Blu-ray: The Golem
1920 film featuring the Jewish folktale monster delivers an ambiguous message
Tuesday, 19 November 2019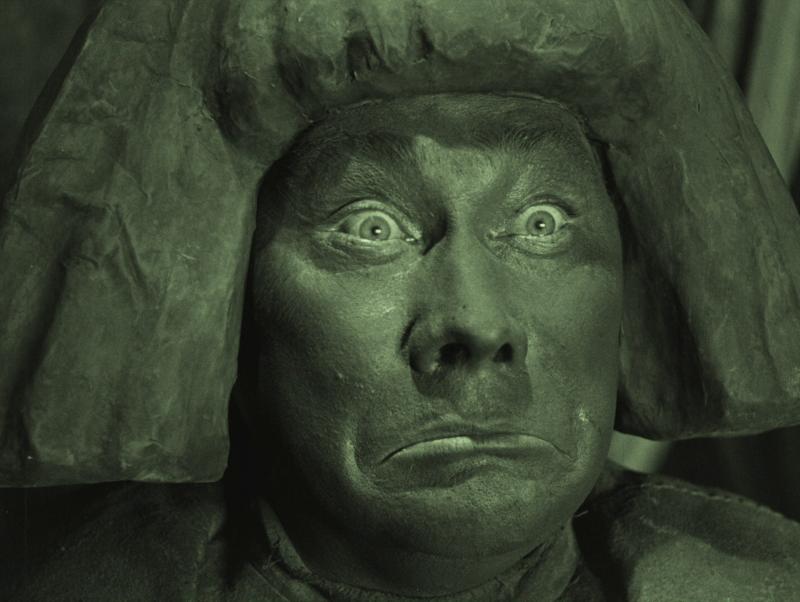 'Freaking out the locals' - Robert Wegener
A lumbering, barrel-chested hulk with a weirdly Ancient Egyptian wedge of hair, the eponymous clay monster of Paul Wegener and Carl Boese's The Golem: How He Came Into the World compensates for his limited intelligence with brute strength and a dogged determination to see every task through, whether he's doing the shopping for his household or supporting a collapsing palace by its beams. When the Golem bares his teeth, he's terrifying – though the 1920 German film's cultural resonance is the eeriest thing about it.
Written by Wegener and Henrik Galeen (who also scripted FW Murnau's Nosferatu), this Golem was the third and most important of Wegener's acting vehicles for himself as the Jewish folktale monster: only fragments remain of The Golem (1915, co-directed by Galeen), while The Golem and the Dancing Girl (1917, co-directed by Rochus Gliese) has vanished. A champion of screen illusionism and optical effects, Wegener also co-directed – and made his screen debut in – The Student of Prague (1913), the doppelgänger chiller regarded as the first German Expressionist film.
Less artificial-looking than The Cabinet of Dr. Caligari, the 1920 Golem took Expressionism to a new level, its post-Gothic production design by the modern architect Hans Poelzig rendered medieval Prague as an unstable, threatening fairytale burg of towering angular houses (mirroring the conical Jewish hats) that lean dangerously into each other, and of organic-looking interiors, notably a spiral staircase contained in what could be an ear canal or a carnivorous plant.
The digital restoration showcases beautifully the unsettling blend of reality and unreality. Fiona Watson asserts in the video essay on The Golem's history that she and fellow screenwriter David Cairns contribute to this Masters of Cinema Blu-ray disc that the sculptor-architect Marlene Moeschke deserves greater credit than she has yet received for creating a model for the sets based on her husband Poelzig's rudimentary sketches; the nature input was all hers.
The Golem begins with a Jewish astronomer forecasting catastrophe for his people, a prophecy rooted in the history of pogroms in Prague and what is now the Czech Republic – though the modern viewer thinks inevitably of the Holocaust. The character, Rabbi Lowe (Albert Steinrück), is based on the real-life Judah Loew ben Bezalel, the 16th century Maharal of Prague and Talmudic scholar and mystic who, according to a legend possibly originated in 1834, made the Golem out of clay to protect Jews of the Prague Ghetto from anti-Semitic attacks.
This is precisely what the film's Rabbi does after he receives a decree from the louche Holy Roman Emperor (Otto Gebühr) ordering the Jews to leave Prague. It's brought to him by Florian, a foppish knight who insists on sniffing a flower when he's in the presence of Jews, but isn't averse to flirting with the Rabbi's responsive daughter Miriam. Their oily lovemaking, eventually consummated, serves the film's calculated repulsiveness. (Miriam was played by the Czech actress Lyda Salmonova, Wegener's third and, apparently also sixth wife; Florian was played by Lothar Muthel, who, as director of Vienna's Burgtheater during World War II, staged a virulently anti-Semitic production of The Merchant of Venice starring Nazi collaborator Werner Krauss – Dr Caligari himself – as Shylock.)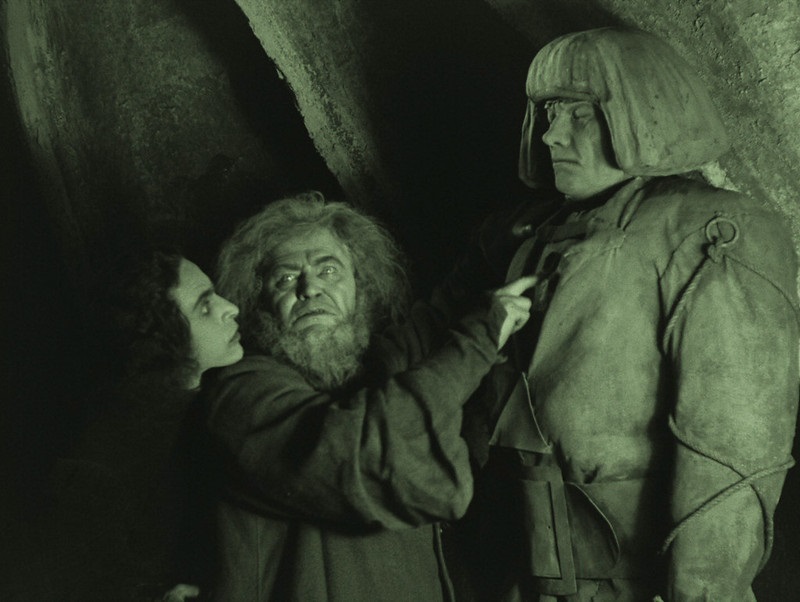 The Rabbi has meanwhile animated the Golem through necromancy and sent him into town on errands, freaking out the locals. The creature is controlled with a device (shem) that the Rabbi and his assistant (Ernst Deutsch, very good as a pop-eyed meddler) pull in and out of his chest (pictured above); it augurs the yellow Star of David badges Jews were forced to wear in Nazi Europe. When the Rabbi attends the Emperor's Rose Festival, where he uses his illusionist's skills to show the court what amounts to a prototypical film (on the theme of Jewish history), the Golem, accompanying his maker to the palace, is surrounded by Aryan maidens lustfully sizing him up; the unsavoury tone again obtains. As Watson and Cairns suggest, The Golem can be construed as both pro- and anti-Semitic. However, its bizarre ending, which pre-emptively reverses Boris Karloff's Monster's horrendous encounter with a little girl in Frankenstein (1931), is resoundingly pro-Aryan.
Filmmaker Jon Spira's video essay on the disc looks at the limited history of Jewish monster movies; it was made in time to mention Doran Paz and Yoav Paz's well-received 2018 The Golem update. The hour-long US cut of Wegener's Golem, also restored, is included, and there's a choice of three new scores, one by the Polish electronic music producer Wudec.
The Golem, accompanying his maker to the emperor's palace, is surrounded by Aryan maidens lustfully sizing him up
rating
Share this article
Subscribe to theartsdesk.com
Thank you for continuing to read our work on theartsdesk.com. For unlimited access to every article in its entirety, including our archive of more than 10,000 pieces, we're asking for £3.95 per month or £30 per year. We feel it's a very good deal, and hope you do too.
To take an annual subscription now simply click here.
And if you're looking for that extra gift for a friend or family member, why not treat them to a theartsdesk.com gift subscription?