American Pastoral |

reviews, news & interviews
American Pastoral
American Pastoral
Ewan McGregor finds the light in Philip Roth's heart of darkness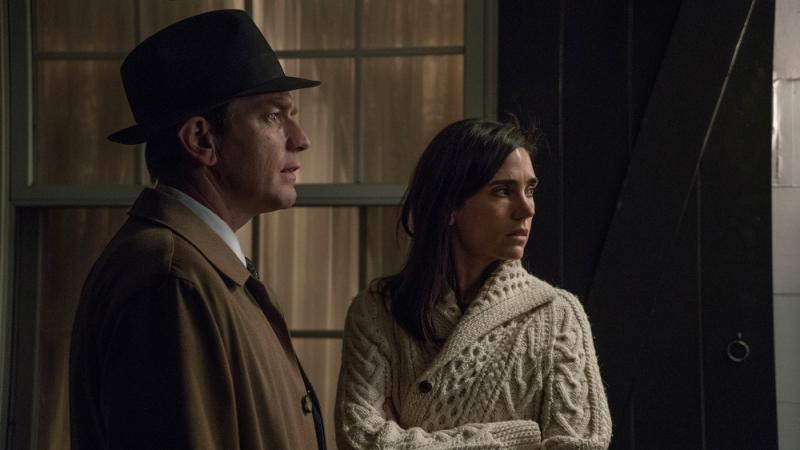 Ewan McGregor and Jennifer Connelly star in Philip Roth's one-sided generation war
Ewan McGregor has been judged unworthy of adapting Philip Roth in the US. But his directorial debut is finely crafted, and powered by visceral emotion embodied in one of his best performances. As Seymour "Swede" Levov, he's an All-Jewish-American hero, living the 1950s dream, till the 1960s bring it crashing down.
His beloved daughter Merry (Dakota Fanning,
pictured below right
) is the agent of his destruction, in a one-sided generation war unusually seen from the straight-edged parents' side. McGregor, here a kinder artist than Roth, cares about the father and daughter with a painful intensity, his parental instincts cutting through Roth's jaundiced history lesson.
The saga's span is sketched in by a class reunion in 1991, where Roth's alter ego Nathan Zuckerman (an unusually clunky David Strathairn) hears the fate of the Swede – the high school football star who married a beauty queen, his un-Jewish blondness a sign of his exalted status. "He was our hero, our Kennedy," Zuckerman mistily recalls. "Let's remember the energy…" he asks, as we slip back to 1951, and find the Swede in his idyllic New Jersey village home with his lovely wife Dawn (Jennifer Connelly), and little girl, Merry (Ocean James). He's the son of glove factory owner Lou (a salty Peter Riegert), prosperous and positive. Merry's stutter, and a female Freudian psychologist's assertion of its Oedipal origins, is the seemingly small cloud in their sky. The approaching storm blackens in Roth's necessarily softened, unsettlingly perverse scene of Merry asking her Dad to kiss her the way he does Mom. Merry's screaming horror on seeing the burning Vietnamese monk who announced that war in the US is the second unhealable scar.


The historic 1960s are marked in desultory fashion - Buffalo Springfield's "For What It's Worth", the moon-landings, Woodstock - like McGregor can hardly be bothered going through this again. Much better is the specific atmosphere of Newark during the 1967 race riot: the Swede's car cruising through the eerie red neon of emptied streets, then a bullet smashing through his factory. More shocking is the scene where he proudly shows visiting student Vicky (Uzo Aduba) the loving craft that goes into his gloves, only for her smile to treacherously chill. Like that psychiatrist, like his daughter, like his wife in the end, Vicky is one of the women sent to assault him: a provocative, militant nymph, contemptuous of him to his core.
The misogyny is Roth's, countered by the strength of the female performances McGregor elicits. Connelly lets her bright beauty curdle, riven first by her daughter's hate, then her hunted vanishing as a terrorist suspect. Fanning's role is still more hostile, as the teenage daughter immolated by idealism till she kills for it. Her stuttering becomes a weapon, sucking in whooshes of air, clicking and biting on broken syllables, lacerating the Swede.
This is a right-wing but legitimate version of the 1960s, The Beatles' "She's Leaving Home" as the Great American Novel (turn to Russell Banks' The Darling for a subtler tale of a good American girl turned bomber). McGregor can't handle every turn of a plot which finally peters out. But this actor, so often a bland Everyman able to flit from Polanski to Star Wars, burns with potent belief in his role, a straight-arrow good guy brought down by life's corruption. He's already a better actor-director than, say, De Niro, and his film is worth seeing for its performances, his most of all.