Stuck in Love |

reviews, news & interviews
Stuck in Love
Stuck in Love
Beautifully acted film charts a broken family on the - guess what? - mend
Second time lucky? Greg Kinnear and Jennifer Connelly ponder starting anew in `Stuck in Love'
People genuinely care about words in Josh Boone's directing debut, Stuck in Love, and that's as might be expected from a film that went by the name of Writers when it premiered in Toronto last autumn. So the first thing to be said is that this likable American indie is nicely written (a rarity in itself these days), notwithstanding an ending that trades heavily on the inevitable uplift that is the Hollywood norm even in such low-budget climes.
And it's even better acted across the generations by an attractive cast, all of whom fully inhabit the cautious, often anxiety-laden byways of love and desire trafficked by a script apparently rooted in Boone's experience of his parents' own divorce. The climactic shout-out to Raymond Carver may not be entirely earned, and (spoiler ahead!) Stephen King's participation is pretty much a red herring in every way beyond self-evident name value - and a neat eleventh-hour surprise. But Stuck in Love both invites our engagement and earns it, as well: these are people you genuinely hope will find a way to mend, not least for the simple reason that they do actually seem as if they might be happier in one another's company.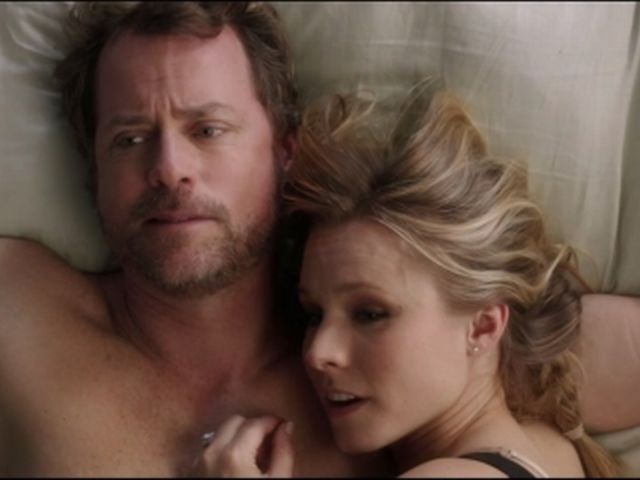 When first encountered, the bespectacled Bill Borgens (Greg Kinnear) is nursing the broken heart caused by the exit several years before of onetime spouse, Erica (Jennifer Connelly, more impossibly beautiful than ever). A well-regarded if momentarily blocked novelist who likes to discourse on the power of words ("a writer is the sum of their experiences," he tells his teenage son, "[so] go get some"), Bill has passed on to his two children both an appreciation of language and an awareness of the bruises caused by love. Small wonder, with regard to the latter, that daughter Samantha (Lily Collins) - herself a fast-rising author - has erected an elaborate carapace to shield her from all manner of feeling. And though one knows those defenses will be eroded over time, Boone charts the character's gradual surrender with empathy and skill, her pathway eased by the presence of a sweet boyfriend at the ready in Logan Lerman's endlessly patient Lou.
At the same time, younger son Rusty (Nat Wolff) is pondering his own relationship both with the family vocation - words - and also a difficult first love in the damaged Kate (Liana Liberato, whose slightly closed-off affect is perfect for the part). Throw in a local fitness-obsessed neighbour (Kristen Bell, pictured above with Kinnear) who is happy to provide Bill with regular sex but has made clear that such trysts come unaccompanied by anything more substantial and you've got enough fraught connections to fuel many a story, whatever the medium. Like, as here, a gently enquiring and touching film.
Stuck in Love in released in cinemas on Friday 14 June
Watch the trailer for Stuck in Love
These are people you genuinely hope will find a way to mend, not least for the simple reason that they might actually be happier in one another's company
rating
Explore topics
Share this article