Allelujah review - Alan Bennett put through the blender |

reviews, news & interviews
Allelujah review - Alan Bennett put through the blender
Allelujah review - Alan Bennett put through the blender
2018 Bridge Theatre play is streamlined for the screen
'I love old people': Bally Gill (right) with Judi Dench in 'Allelujah'
I'm proffering just a tad less than three cheers for Allelujah, the film version of Alan Bennett's 2018 Bridge Theatre play that is also that rare screen adaptation of Bennett not to be shepherded to celluloid by his longtime friend and collaborator, Nicholas Hytner.
Instead, Richard Eyre is at the helm and why not, given that Eyre was running the National Theatre when Bennett and Hytner first hit it big together? And Eyre's stewardship allows him to call upon such totemic figures from different points in his storied career – amongst them, Julia McKenzie, Jennifer Saunders, and Judi Dench, the last of whom has a small-but-crucial role that brings the ironically titled Allelujah to its none-too-celebratory conclusion.
The setting is a fictional hospital in Yorkshire known as "the Beth" that is ready for the chop. Its demise looks imminent thanks to the likes of management consultant Colin (Russell Tovey, who came to fame in Bennett's History Boys), a gay Tory – can you imagine? – whose father (David Bradley), a onetime miner, happens to be breathing his last gasp at the Bethlehem at this very time.
Other patients include the great Julia McKenzie – Eyre's Miss Adelaide in his career-defining 1982 Guys and Dolls – here cast as a nonagenarian with dementia who once was a notable singer, and quite right, too, with this performer playing the role. Derek Jacobi is on hand, as well, as a former academic seen gasping for air due to COVID in an epilogue to the original text that marks screenwriter Heidi Thomas's most significant addition to Bennett's original. (The play itself preceded the pandemic.)
In apparently solitary charge of this "cradle-to-grave" hospital, or at least the ward on view, is Jennifer Saunders (pictured above), the star of Eyre's recent West End revival of Blithe Spirit cast against type as the starchy Sister Gilpin. This film's resident Nurse Ratched is due to receive a career-achievement award that, we discover, she doesn't begin to deserve. (Deborah Findlay premiered this role onstage.)
Bally Gill is a likeable presence as a beneficent medic – known as Dr Valentine, no less, because no one can pronounce his actual surname - who affirms his love for the elderly and makes an impassioned plea for the NHS at the film's coda: a laudable cry from the heart, to be sure, but rather undercut by the sinister swerves of the plot. This character's commentary, via voiceover, is threaded through a film that meanders less than a play whose vaudevillian impulses – second nature to the revue artist that Bennett once was – aren't as transparent in Thomas's filleting its source for the screen.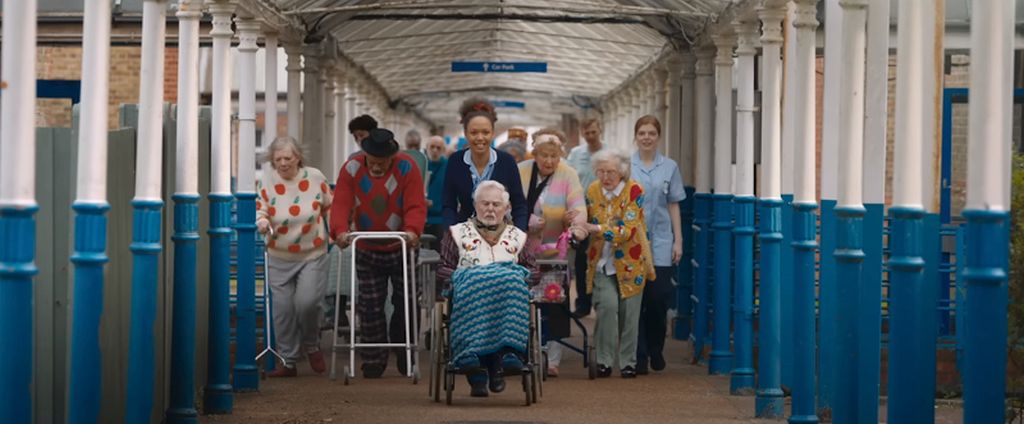 The film doesn't flinch from the indignities accompanying the advancing years: it's painful to watch McKenzie's "Pudsey nightingale" bleating on about "my house", and one is aware of the pressures applied to carers not just from incontinent patients but from family members who can be thoughtless and unforgiving in their demands. There's "no cure for old age", we're told, and so there isn't, the occasional song-and-dance breaks interwoven with the realities of the retired schoolmaster Ambrose (Jacobi, pictured above centre) in thrall to osteoarthritis.
References to wards named for Shirley Bassey and the like hint at a play that contained considerably more camp than this comparatively strait-laced version allows. It's moving to think of Bennett, soon to be 89, himself inhabiting much the same world as his characters, and one intuits an inbuilt poignancy to a film whose audience will very likely include a generation brought front-and-centre with the same declining health that they may well be experiencing.
Eyre can't make coherent the fluctuating tone of a film whose thriller aspects give way to a rallying cry on behalf of the same NHS to which Bennett has paid eloquent tribute over time in his Diaries. But those of us of a certain vintage will delight in an array of talent, young and old, in the service of a defining figure in English letters whose twilight years find his anger, and affection, jointly intact. A hearty allelujah, indeed, for that.
Allelujah is in UK cinemas now
The film's impassioned plea for the NHS is laudable, to be sure, but rather undercut by the sinister swerves of the plot
rating
Explore topics
Share this article