Afire review - a moral reckoning by the Baltic |

reviews, news & interviews
Afire review - a moral reckoning by the Baltic
Afire review - a moral reckoning by the Baltic
Christian Petzold delivers life lessons to a grumpy author as disaster looms
Wednesday, 16 August 2023
Something in the air: Thomas Schubert, Paula Beer, Langston Uibel, and Enno Trebs in 'Afire'
Experts in irony tend to see life as faintly absurd, relatively meaningless and usually circular. They're too self-aware to be neurotic and live life in short bursts, letting out little private snorts of dry, amused exasperation at frequent intervals.
German filmmaker Christian Petzold seems like an irony boffin and offers up characters sunk in inconsequence, with the repetitive life injuries that a plughole-orbiting existence can give you. He knows that tedium is an odd joy of cinema and his movies can be slow wind-ups. But he can afford to be laid-back with his storytelling because he's such a good storyteller. And he knows, like Chekhov, that the ironist can, when pushed, feel deeper and stronger than anyone around them.
His excellent new film, Afire, is a mordant comedy and moral tale about four young people hanging out for the summer in a house by the Baltic Sea. Three of them are free-livin' and lovin' types, but the central character, Leon (Thomas Schubert), is a cumbrous, moping crosspatch, curbing his enthusiasm at every turn – beginning when he and his mate Felix (Langston Uibel) find the house they thought they'd have to themselves is shared with the hedonistic Nadja (Paula Beer) and her gregarious lifeguard lover Devid (Enno Trebs).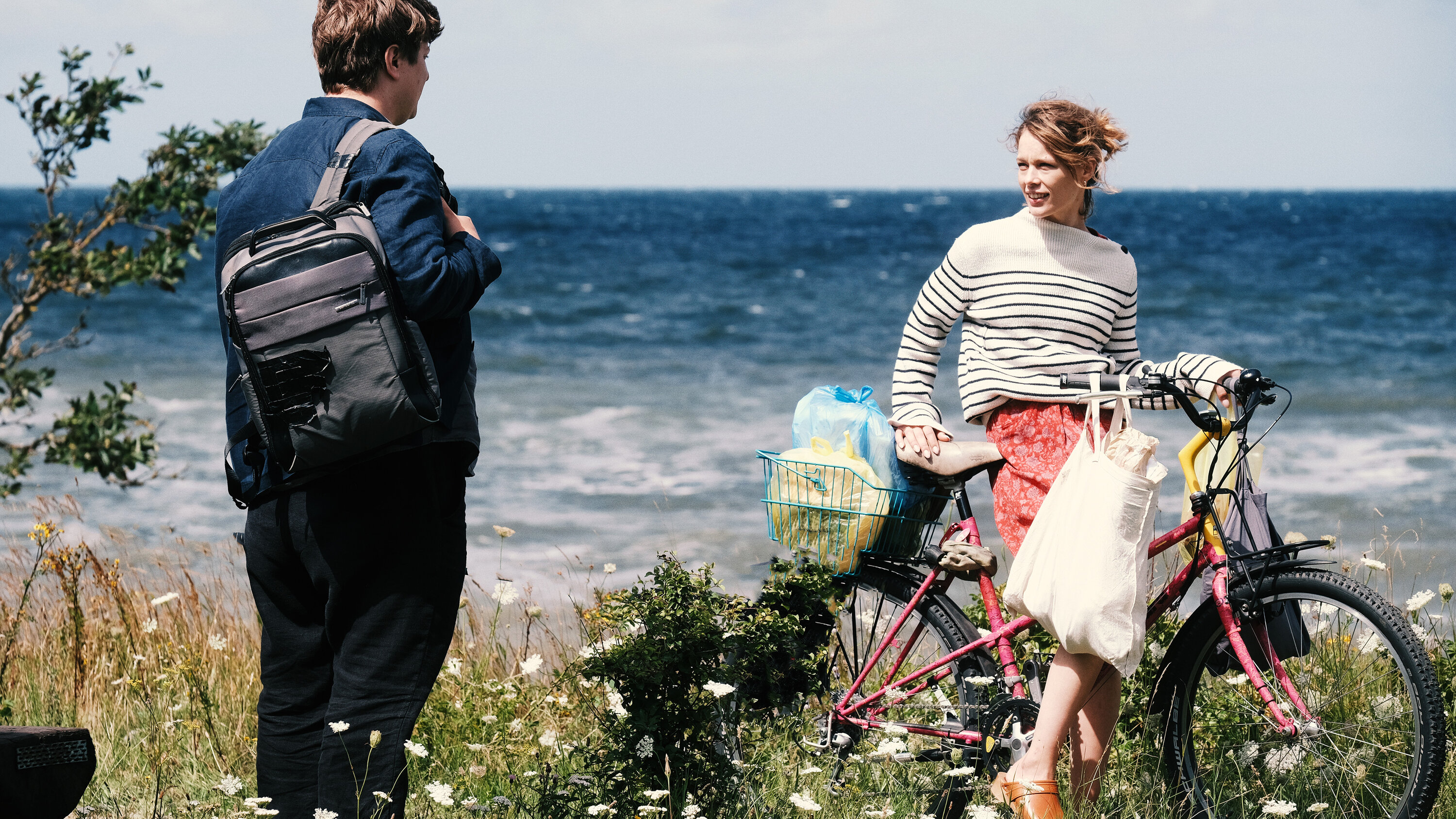 Leon pursues that most cursed of all professions among movie characters – writer – and is struggling to complete a terrible novel called Club Sandwich. He looks a bit like a young Simon Russell Beale, and Schubert is an equally good actor in a romantic ronde that might be Bergman-esque without him – instead, it's Scowls of a Summer Night. All the small, important pointers that others use to triangulate the world are missed by Leon. Even his own yearning for Nadja seems barely to register in his brain. (Pictured above: Thomas Schubert, Paula Beer)
Because he's decided to swap the world for world-weariness, we have to be bored at times, too, in stretched-out scenes of chat. In one, a chunk of a Heine poem is recited – and then recited all over again for good measure. It's a choice few directors would make (and few producers might let them); Petzold seems to want to tease our patience up to the point he reminds us he knows what he's doing.
As in any good country-house drama, events get a kick forward near the end from the arrival of a guest – Leon's long-suffering publisher (Matthias Brandt), come politely to spike his novel and set off new reveals about how Leon's cultural pretensions are being put in the shade by everyone else. We're then rocketed into a finale in which devastating loss, sudden maturity and love's eternal return might just jolt our mardy-bum lead into something like personhood.
If much is kept subtle and suggestive, a leitmotif has been rather plonked in, as it was in Petzold's previous film, Undine (2020). That also featured Paula Beer, in which she played an urban history guide who moonlighted as a water sprite, with aquatic references looming large. Petzold's attempt to smoosh together the mundane and the magical wasn't entirely successful there, but here the theme of fire is more credibly integrated as a forest inferno rages in the distance and prepares to serve as a different kind of cleansing agent.
Once more, there are incongruous bursts of computer-generated imagery, but this time the gods in Petzold's story machine are more of this world. And it's clear he's endlessly tickled by the idea of setting the most prosaic – not to say profoundly irritating – of characters against the tropes of Greek tragedy or high 19th-century romanticism. It is kind of ironic, after all.