21 Jump Street |

reviews, news & interviews
21 Jump Street
21 Jump Street
Decent spoof made in homage to TV teen drama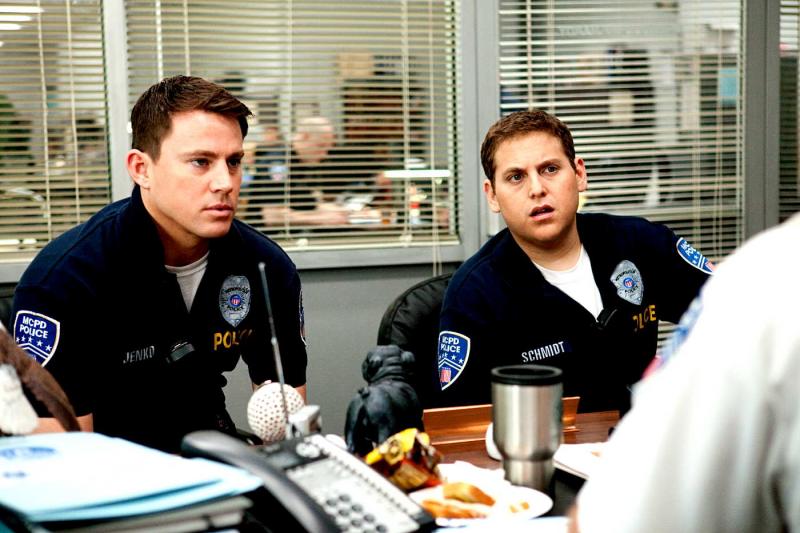 Channing Tatum and Jonah Hill get their assignments
Those of a certain age will remember the television series 21 Jump Street, a huge hit for the then fledgling Fox network in America. It ran from 1987 to 1991 and starred Johnny Depp. The titular address was where he worked as an undercover cop, one of a team of youthful officers investigating crimes in high schools and colleges.
Jonah Hill, who at 28 is far too young to have watched the original but no doubt caught one of its many reruns, is a fan and has now co-written, co-produced and stars in the film version.
It may seem like a vanity project but it's actually an amusing venture: part homage, part spoof and part knowing remake. It's aimed at an older audience, too. Far removed from the down-home moralising tone of the TV series, which dealt with issues such as racism, homophobia, hate crimes, drug abuse and Aids, it has been turned into a thrills and-spills action comedy.
In the opening sequence we see Hill (Schmidt) and Channing Tatum (Jenko) at high school (pictured right). Jenko is hunky and a girl-magnet jock, while Schmidt is nerdy, unathletic and hopeless with girls. Cut to a few years later when they meet at cop training school and help each other through the course, Schmidt helping the nice-but-dim Jenko with the bookwork, Jenko encouraging Schmidt to pass the physical. (Incidentally Hill is almost unrecognisable from his previous role in Moneyball, having lost a shedload of weight to play Schmidt.)
They're both hopeless cops and their captain is happy to get rid of them by sending them to a new unit, 21 Jump Street, that is investigating drug crime in local high schools as, he explains, "Someone's had this idea of going back to the Eighties and resurrecting some idea from then." The line is the first of many that are deliberately and playfully self-referential, or that pick apart Hollywood tropes – Ice Cube, the 21 Jump Street captain, says, "Yes, I am the angry black captain" - in a script that has a lot of funnies.
If it sounds soppy, it isn't. Lord and Miller undercut any gloopiness with a few well timed gags
Schmidt and Jenko are sent undercover as two brothers, but on the first day in the principal's office they mix up their identities and so Jenko has to pal up with the nerds while Schmidt hangs out with the cool kids. It's an entirely predictable bit of role reversal, but one that's handled well in a film that has a light touch throughout under the direction of Phil Lord and Christopher Miller (who made Cloudy With a Chance of Meatballs).
Along the way Schmidt has the high-school experience he longed for but never had (including a wittily scripted romance with the hottest girl in school) while Jenko, under the tutelage of the geeky chemistry club, unleashes whatever brainpower he can muster and solves the case with their help. The two men, forced to room together as if real brothers, also form a covalent bond (that's a chemistry geeks' joke, by the way). If it sounds soppy, it isn't, as Lord and Miller undercut any gloopiness with a few well timed gags.
It all moves along apace and there are some decent set pieces, even if the last-reel shootout is ridiculously overextended. But Hill and Tatum make an engaging duo with nicely subtle characterisations, while Depp has an amusing cameo in an undemanding but frequently funny movie.
Watch the trailer for 21 Jump Street