10 Questions for Actor Don Cheadle |

reviews, news & interviews
10 Questions for Actor Don Cheadle
10 Questions for Actor Don Cheadle
On making 'Miles Ahead', now out on DVD, and fighting Hollywood's glass ceiling
Wednesday, 10 August 2016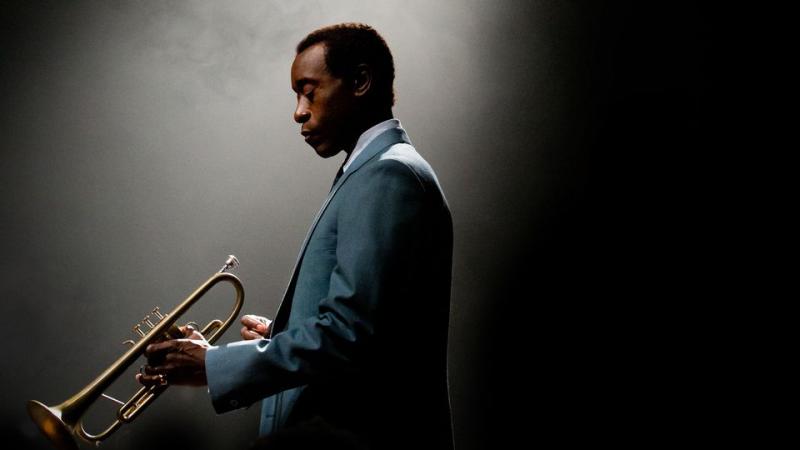 Don Cheadle: 'It's important to me to shine a light on something that I think is brilliant'
Cinema has waited a long time for a film about Miles Davis. It hasn't been for want of trying by Don Cheadle, who stars in, directs, produces and takes a co-writing credit on Miles Ahead. Despite the support of Davis's son, daughter, nephew and first wife Frances Taylor, the film was trapped in a pipeline for aeons.
While he waited, Cheadle had plenty of time to turn himself into a trumpeter good enough to perform onstage in the film's coda with Davis collaborators Herbie Hancock and Wayne Shorter.
The wait was so long that it easily outstrips Davis's five-year fallow period in the 1970s when he stopped making music and concentrated on scoring drugs and dressing blingily. Rather than do the obvious thing and home in on Kind of Blue, the story of how Davis escaped that period and finally returned to music is the plot of Miles Ahead. The 1970s section of the script is an almost entirely invented Blaxploitation caper featuring Ewan McGregor as an unscrupulous journalist who will do anything to get an interview with Davis for Rolling Stone. Only the flashbacks to Davis's tempestuous marriage to Frances Taylor, the dancer and muse whose face adorns the cover of Davis's 1961 recording Some Day My Prince Will Come, are more securely anchored in biopic territory.
Cheadle helped get his best-known films Crash and Hotel Rwanda off the ground in the face of considerable industry apathy. He talks to theartsdesk about Hollywood's glass ceiling.
JASPER REES: You were a saxophonist before. How long did you give yourself to learn to play the trumpet?
DON CHEADLE: I just started when I knew I was going to do the project. About eight, nine years ago. I never knew it was going to happen but if it was going to happen I knew that I wanted to have that facility for sure. I didn't want to walk into the movie and be faking stuff. I haven't played sax definitely since I knew I was going to do this. Actually I took my soprano out and played a little bit and went, "I don't want to start confusing my mouth," and put it down. I didn't play every day and, like, woodshed. I've done movies since then and an entire five years of a series between I've started on this project and now. So since then, some part of every year. And then as I got closer to it I was playing every day. I'm great in my bathroom. I'm amazing in my bathroom.
Why did it take so long to make this movie?
That's a good question for people who had been asked to pay for it. I think it's about cobbling together all of the pieces for a financier lined up in a way that they tell themselves the story that this is a good risk, or at least an equitable risk. One that I don't think I'm just going to straight take a bath. Traditionally movies anyway are money-losers, so start there. Jazz, there's shrinkage there. Period? "Oh, we just did it again." It's a black cast. "OK, now everything you're saying is making me try and see how I'm going to make a return on my investment." And it was going to be very hard to shoot. It was going to be tricky. First-time director. Everything about it made people go, "I don't know." We had to back into something that we were able to do in 30 days in Cincinnati. All the things we had to do – I had to do crowdfund, I deferred my money, cast Ewan McGregor (pictured below with Cheadle).
Was there a moment where someone said, "You need a white co-star?"
No one said that specifically. You just know that nothing's happened. I could put parentheses around white. If Denzel Washington said, "Oh, I'll play that part," you wouldn't need a white actor. You need a piece of international casting. You need another piece that will allow them to say, "Oh, I can sell that. I know how to sell that." And that's what a financier is looking for. If you don't have a foreign profile then your domestics doesn't mean anything. Somebody who is going to spin money and believes that they can get it back from a territory, from Japan, from China, from France, from the UK.
And that tends to a white actor?

This is the whole bugaboo. Is it really true that black movies don't sell overseas? If you don't sell them. If you haven't figured out the way to make that happen, sure. And I know people whose job it is to sell movies overseas who say, "You know when I've got the films in my briefcase and one of them is that whatever movie from there that's got the black cast I kind of don't even pull that one out because the presumption is they're not going to buy it anyway and it's going to be a hard sell. So I sell the other ones I know I'm going to be able to sell. I'm trying to make sales." And I've gone to foreign sales guys in the states and the projections come back in a way that they're like, "I can't guarantee you more than x amount of money if we're talking about trying to sell to these foreign territories." I don't know all the metrics that would go into changing that.
This accidental accumulation of credits, more than you've ever had before – did it feel like you were shouldering too much?
Yeah. I tried to hire another director about four years ago because nothing was happening. It wasn't moving. I thought well maybe one of the impediments is, first-time director, lead actor, this material, I don't know. And so I went out and talked to directors that are really respected and wanted to see if I could get them on board. But to a person they all said, "This is your vison, you have to be the one to guide it."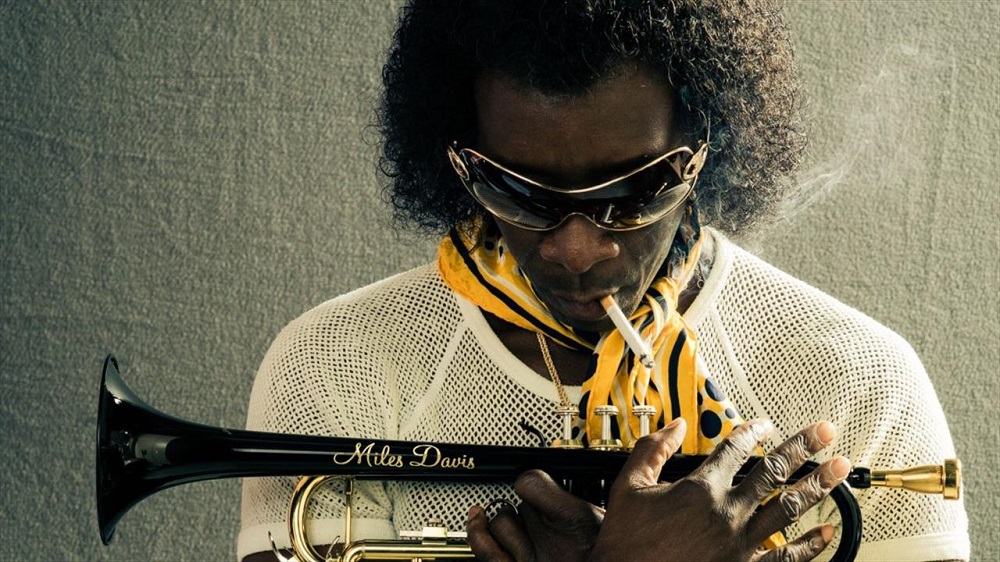 Why did you alight on that period when the river ran dry?
Because it's very Miles Davis to me. It's playing what's not there. It's the down note before the crescendo. It's the thing that's full of potential. This could go badly off the rails or it come back. So it's the most fraught period for me. I understand prolific, prolific, prolific. I understand everything that happened afterwards. That period for me as a storyteller, that's the part that makes me lean and go, "What the fuck?" and I go, "That's the point of departure." It's important to me to shine a light on something that I think is brilliant and try to deal with it in a way that he would have dealt with it, which is in my opinion is something that's artistic and impressionistic and fluid and innovative, not something that feels like the Cliff Notes of Miles Davis's life.
What were your feelings about this year's #Oscarssowhite campaign? Is Hollywood a racist place?
I feel like what Chris Rock said. It's like "define racism". We have to figure out what we're talking about. Chris Rock was like, "Was it lynch-you-in-a-tree racist? No. Was it burn-a-cross-on-your-lawn racist? No. Was it 'I don't know if you're right for our sorority' racist. Yeah." Which I thought was really funny and a humorous way at it. But look, it's not to me about what happens in the late winter. That's a symptom of what's not happening where the decisions are being taken about what movies to make. And what to green-light. Junior executives are not being groomed and brought to be in positions to make those decisions. But I don't expect it in a place that hasn't ever really dealt with the root causes. You just look at what happened in our country when all of the dash cam footage and police cameras stuff came out. Black people in the hood have been saying that stuff for years. "No, they're hunting us, they're killing us disproportionately." It's not paranoia. These are systematic diabolical programmes designed specifically to hinder and eradicate. So that's the macrocosm.
And yet you made Hotel Rwanda, you were heavily involved in Crash. So the movies can do the right thing... (Cheadle pictured below with Sophie Okonedo in Hotel Rwanda)

Absolutely. You gotta push, push, push through. We went around for a year to places before we got anyone to even maybe say yes to Hotel Rwanda. And it was like, "Yeah it's a great project." And then no one was going to step up and do it. If you don't have that tenacity and if it doesn't matter enough for you to stick to it, the next project is going to come along and it'll be easier to make and you'll go do that. And the first day I was on the set of Hotel Rwanda at lunch my agent called me and said, "Okay, there's no money in escrow." "What are you talking about?" "There's no money to make the movie. There's no money to pay anybody. There's no money for anything. I can send you a ticket for you and your family and you guys can come home but there's no money for the movie." The producer just maxed out his credit cards and floated it until someone said, "All right." And with the first money in all the money comes in. I mean this is not atypical. With Crash we had to put 17 actors in it to make it make sense for someone to go, "All right, it was a good bet." And still it was made for $6.8 million after all of that.
Can actors change the world? You've done a book about Darfur. You're involved in climate change.
I think committed citizens can change the world. I think an actor can be pushed to the front of a movement or be pulled into a movement and use their ability to draw attention to themselves to draw attention to other things. And yeah, there is a potential to have something, a performance or a movie or a piece of art be so impactful that it snaps everybody's head around and people have to pay attention. I know personally for me Hotel Rwanda changed my life because two Congressmen saw it and thought, "This has some reference for what's happening in Sudan and maybe we can use this as a model to get people to pay attention. Would you come on a congressional delegation with us?" And things started to kind of snowball. I know it had an impact because Condoleezza Rice called me into her office to tell me to tell my friends to shut the fuck up. It was very interesting. I was like, "Wow, you're the secretary of state and that's how you're going to use your office, to tell me to tell activists to be quiet."
How have you viewed this year's presidential campaign?
Oh, it's a farce. I mean that Trump shit is just bananas to me, it's ridiculous and scary. But I kinda like when people fly the flag and let me know who and where they are. I want to know who they are. Don't ban that flag. You have to wear that flag. You have to put that flag on your truck because I want to know where you're at, I don't want you to let that stuff recede in the dark and let it fester and grow and then it comes out in some incredibly dangerous way later. I don't think he can win in a general election but that's what I'm sure people have said in other countries around other movements as well.
Back to Miles Davis: if you could take one album to a desert island…
One album?! Who else is on this desert island? I need to know what's happening on that island because it's going to be a different album depending on what's going on. You'd have to take Kind of Blue because you just have to. It was made so fast and very few takes and it was just bubbling out without a lot of critical thinking, just more feeling. And those guys were at the top of their game when they were playing it. Nobody better than any of those guys at that time. In Seven Steps to Heaven he's just so bright and so many of those solos just feel like Miles in his absolute joy.
Miles Ahead is released on DVD and Blu-ray on 22 August
Is it really true that black movies don't sell overseas? If you don't sell them
Explore topics
Share this article