theartsdesk Q&A: Choreographer Hofesh Shechter |

reviews, news & interviews
theartsdesk Q&A: Choreographer Hofesh Shechter
theartsdesk Q&A: Choreographer Hofesh Shechter
Brighton Festival's guest curator on new challenges and politics in art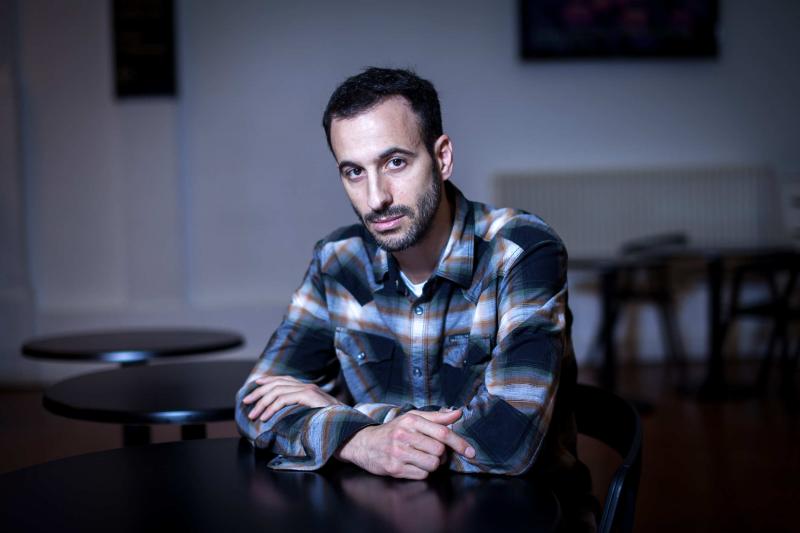 Hofesh Shechter has a lot on his plate, but he turns out to be more optimistic than he looks
Israeli-born choreographer Hofesh Shechter has had a meteoric rise. Ten years ago, he was a dancer in somebody else's company who had just taken a couple of steps into choreography. Now he has his own full-time company, can pack out Sadler's Wells twice a year, and gets invited to stage his creations for top international companies like Nederlands Dans Theater.
His success is all the more remarkable for having been achieved outside the traditional channels. Although he is a graduate of Batsheva, Israel's international-standard contemporary dance company, Shechter left it to study as a percussionist in Paris for two years. He first came to London, now his permanent home, to be the drummer in a band. He fell back on dance when the band didn't work out, but once he started to choreograph, his earthy, witty style and undeniable originality soon attracted critical, then audience attention. The major pieces he has created since 2007 have garnered pretty consistent praise, with even those who find his self-written rock scores too loud or his montage style of delivering political commentary too facile acknowledging his energy, and the undeniable excitement of attending his shows.
In person, the loud anger of the shows is nowhere to be seen; instead he is quiet-voiced, wry and self-deprecating, though capable of floods of eloquence on topics important to him (dancers' working conditions). He seems tired, and with good reason: he just got back from several weeks in India, his time is in high demand (he has to do a telephone interview after me), and he has small children. Yet, despite his tiredness, he is more than polite to me: he's warm, and talkative as, sitting outside in his garden in Islington (Shechter's love for the English climate is unfeigned), our conversation ranges over his politics, the art that inspires him, and the Brighton Festival, of which he is the current guest curator.
HANNA WEIBYE: You do a lot of things – choreography obviously, but you also compose your own music, and you've been a dancer. Is curating just a different kind of artistic activity?
HOFESH SHECHTER: Andrew Comben, chief executive of the Brighton Festival, came to me with that idea quite a long time ago, about two years ago, and it just seemed like a really fun, good idea. A bit out of my comfort zone, in the sense of making decisions about how you create a feel and an atmosphere for a festival. Bascially, [you're] using other people's work to create an experience. It actually turned out to be a lot of fun. It was challenging with my schedule – I had to see new work, find out about new work. It pushed me to look at other art forms. What I really can't wait for now is to be in Brighton for three weeks and experience the festival.
Are you going to try something else next? Visual arts?
I love visual arts; I always joke with my producer that that's the next thing. No, the next thing is being a tennis player!
That's not really an art form!
Well, we could have a long conversation about whether it is or not. We'd have to define what art is, and dance is definitely the art of connecting the mind with the body. If you look at someone like [Roger] Federer and ask what sets him apart from the rest, it's that connection. But I'm really attracted to film: that's the truth. As a choreographer, you deal with very similar environments to film – the live element is unique to performance, but the idea of editing images and editing in sound and in time and in energy and in storytelling. Of course dance is more abstract...
Well, some dance – ballet for instance – is strongly driven by narrative. But you've never really done a narrative piece? (Shechter's The Art of Not Looking Back pictured, above right).
No, I haven't yet, though my shows are not completely abstract.
If someone wanted to commission you to do a story piece, would you do it?
Perhaps yes, if an opportunity came... I think it has to be the right setting and the story has to resonate with something I feel anyway in my life. If it already has music, the music would have to to be something I connect to. I'm open to trying different things. I can get quite bored with myself and I need new stuff to keep me inspired and enthusiastic about art.
What other artists inspire you?
Mainly film actually, currently. It's something I love doing – I see more films than I read books. A big inspiration for me was Stanley Kubrick, for many reasons. I find him a genius of storytelling. He leaves the audience thinking all the time – it's very suggestive, powerful stuff. And the way he works with music and visuals. Charlie Kaufmann, the scriptwriter of Being John Malkovich – that's about the editing of his stories. And Paul Thomas Anderson, who did Magnolia, The Master and There Will Be Blood. I'm really inspired by connections – the way these artists place things with one another and make you think.
That's something that you do as well.
Editorial skills.
Yes, exactly. You've said that the first part of Political Mother (pictured left) comes from a bus journey you took, where you wrote down everything that flashed past and then edited it into the basis of a dance sequence. Is there something about a succession of vignettes that for you reflects the world more accurately than a story would?
We could talk about whether you can understand the world by looking at one slice of it very deeply, but my experience is that when you get snippets of different things that are happening at the same time at different places, you get a sense of the whole: you get a flash of how everything is working together. I'm curious about that bird's eye view. I hope that in my work people feel that we are looking at the world from above, that we get a sense of perspective on the way we behave and the emotional states we get ourselves in. Funnily enough, I think as an audience member when you find yourself with a bird's eye view you can feel you're above it [at first], then you suddenly drop into it and realise it resonates with your life.
A noticeable thing about your work is that you don't want the audience just to experience it with their minds, their eyes. You get the experience into their bodies as well – loud music will get them in their heads, and they'll feel it in their bones; they might stand up and dance. Your shows are a physical and not just a mental experience.
I want to disturb them. Seeing dance is very tricky. There is something abstract about dance, but people try to make sense of things: I think they sit there and feel it's a riddle, and they want to solve it. It's better to experience dance like a music concert: you just sit there and experience whatever happens. I'm trying to shake the audience out of analysing the show and to get them into their sensations, into their sensory world. So they're experiencing confusion, and they can't trust their mind any more, they can't trust their understanding. It's like taking away the ability to see – you develop sensitivity in other ways. I want to beat the mind and undo it to a point where people let go and experience the moment for what it is: they experience the imagery, the emotion, but without analysing, without fighting, without judging. I think people also enjoy it. There's something about losing yourself.
Letting go in the crowd, like at big political or religious rallies? There's a suggestion of that in Political Mother, isn't there? The power of the crowd – the rabble, the riot.
I'm completely aware that I'm tricking the audience by using exactly the things that I comment on. The point is, I'm asking a question when I'm doing it. I'm not saying this is bad or good, I'm saying, "Look, there's a shouting man, someone that is shouting with passion in front of you and you are enthused, you are excited, you want to be part of it. It's out of our control. It's just the way it is. And it's interesting." I'm asking why we are so attracted to that? We are living in something like a big trap and I like questioning that trap and giving the audience a sense of how it feels to be in it. At the end [of my shows], you do find yourself thinking, "oh my God, did I actually enjoy that – was it okay, or have I done something wrong?" A performance is a manipulation, and I'm using it the way politicians do. The difference is: the purpose of politicians is usually power, [whereas] in art, the purpose of manipulation is to reveal layers, to reveal a truth.
I like the idea that art has something to set against power. You chose Dmitry Krymov's Opus No. 7 (pictured right), a theatrical work set to Shostakovich, for the Brighton Festival. Is there something similar in attitude between you and Shostakovich, a sense that despite the manipulation of politics, and the horror when it goes wrong, it's still worth making art?
That reminds me of a really interesting chat I had with Anthony Gormley when I worked with him. I said, "My work is so depresssing, it's so heavy, it's dark", and he sat there and he thought and he said, "No, that's not the way I experience it. Your work has a lot of darkness, a lot of heaviness in it, but it's all about fighting it. Actually at the end of the day your work is about hope." I think that connects me to Shostakovich, that idea that we are showing how shit and horrible the world is but we are still here, we are still fighting. Life is a challenge, but there is a drive. You fight the feeling of being a victim by saying, "No, what do I want? What is interesting? What do I belive is good in this world?" Opus No. 7 is a fascinating piece of art – challenging, entertaining, intriguing, and mind-boggling. There will be moments where people in the audience will wonder what's going on, but I think that is great. Again, you put the audience in a place where they are questioning themselves, the situation.
Anthony Gormley's analysis also resonates with what one critic said about your most recent work, Sun: that it was "admitting a bleakly cheerful defeat in the face of our own, uncontrollably chaotic world".
I can connect with that feeling. With Sun (pictured below left), I was trying to do a happy piece and I couldn't, in the end. It looks fine on the surface; you might think it's a beautiful fairytale. But when you see the piece, it's so dark, and everything that bubbles underneath is wrong. But at the end, there's an "oh-fuck-it" kind of attitude, "you know what, that's the way thing are and we just have to accept it." And that is an arc that leads to hopefulness, in a way.
Sun is a piece I've decided I'll never finish. If you come to see it this year, next year, in ten years it will be always be a little bit different. I'm working on some changes for our upcoming shows at Sadler's and the Brighton Festival. I'm enjoying it, because it's such a playful piece and little changes can make a big difference. I can focus it, I can hold my audience's hand a little bit more, push them into that dark room but have them a little bit more where I want them to be. Because Sun is the most open piece I've made, it's really up to the audience to put everything together, more than in any of my other works. So I decided to create a more clear environment, so people know a bit better where they are.
You've edited your other pieces as well and talked about not wanting to be stuck in a comfort zone. Do you mistrust things that are polished and perfect?
It depends on the piece. My dance pieces capture a moment I was thinking in time, and sometimes you don't feel like going back into the thought and opening it up and twisting it. But Sun is an ongoing thought. I wanted to challenge myself with Sun. It would have been easy to produce something like Political Mother, which is a very strong statement, a very clear world. I was nervous that I would fall into recreating it for 20 years. One of the most important things for me with Sun was to kick myself out of that place for the sake of creativity, for the sake of finding something new, of exciting myself, of finding thrill with my dancers. Having that feeling that Sun will never be complete was quite a new thing. Getting a looser feel about a performance makes it an ongoing converstion with an audience.
So you're still doing Sun for a while yet, but do you have a next idea bubbling?
Absolutely. It's all there. The next evening I do with the company will be a triple bill. This year I'm going to work on the first short piece and towards the end of the year we will première it in St. Polten in Austria and early next year we will have another piece premiered in Manchester, and when we create the third piece, it forms a triple bill. It's nice to think in little bites but also to think "how does it all fit together?" I've been thinking about it a lot, listening to music, making music. Maybe I will use baroque music this time.
But you will compose some of your own music as well?
I will do some of my own music for some of the pieces. Maybe one will be absolutely baroque, but I'm not sure I'll be able to hold myself from intervening!
I'm working on a lot of projects with other companies this year. I'm staging Uprising and In your Rooms on NDT [Nederlands Dans Theater] 1 – it will première at the beginning of April and I staged a work on a little contemporary dance company in LA, Body Traffic.
You've worked with companies of different styles, and you yourself trained in different dance styles. What would you name yourself as?
I'm from the dynasty of Batsheva, the Israeli contemporary dance company.
That was founded by Martha Graham, wasn't it?
The choreographer there, Ohad Naharin, has formed his own style. That was really my school, being in Batsheva, working with Ohad and other choreographers. When I was in the junior company (pictured right, in 2012), Forsythe was working with the main company, and when I was in the main company, Wim Vandekeybus came and worked with us. I started young at the age of 12 with folk dancing and then at the age of 15 joined the academy of music and dance. Folk dancing was my first meeting point with dance. It's very strong and social, and you can feel that in my work.
Folk dancing can be quite political. In many places, including Isarel, it's basically an invented tradition.
It's invented to bring people together.
So your first exposure to dance was to something that has an agenda – it wants to produce a set of feelings.
Which I think I question in my work. It's great that folk dancing brings us together but it's also very manipulative, it's a crowd control system.
As someone living far away from your country, do you feel you have more critical distance to its traditions? Does it feel less like home?
I think I always felt that. I always knew I wouldn't stay in Israel. Maybe it was the weather! It's just too hot for me. I've got German genes! When I came to England, I was like, "guys, this is the perfect weather!" Seriously, it really matters that you live in a place where you feel healthy. But there are other aspects to Israel. The whole Israeli experience is weird, because it's such a young country. Israel is a really extreme kind of melting pot. I only know that living there made me think and question the world in a very specific way because of its extremity.
You're firmly settled in London now – why do you find this a good place to be an artist?
I went into dance really young and I saw a little gate, an escape from a life I wasn't sure what to do withI think the sense of opportunity, the endless possibility. It's located nicely close to Europe but not on the European mainland, close to America, but not in America. And there are people from all over the world, people interested in so many art forms.
Do you ever see other London-based choreographers? Do you socialise with them?
I barely hang out with my best friends because I'm so busy! Sometimes I see Akram [Khan] or Wayne [McGregor] – our paths cross, we say hi, we talk about our last work a little bit, then off we go.
Do you ever get to see other people's work. What was the last thing you saw?
Very rarely, but I try to. The last thing I saw was Wayne's work that he was restaging for the Royal Ballet – there is a white triangle at the back...
Chroma? With music by the White Stripes?
Yes, that's it. That's great. But that just happens to be the last thing I've seen. I'm barely in England, I travel so much: last year I was away for seven months, so if I'm back I just want a night at home. But when I do get a bit of chat time with other choreographers, I love it, because we all have the same problems and troubles to deal with. I was just in Vancouver a couple of weeks ago and it's where Crystal Pite is based, the Canadian choreographer. We've never met, but I emailed her and she invited me to her studio. So I went over and saw some rehearsals, and we had a chat. She's very nice, a lovely person.
There are 16 dancers in your company – that's a lot of people to look after.
It's a lot of people to look after and then 10 or 11 people in the office – and that's all full time, which means sick pay, health insurance, national insurance. Not a lot of people are doing it in the UK and that's something I feel very strongly about. There's an attitude that office staff should get proper salaries and pensions but that you can get away with just contracting dancers for nine months [a year]. It's not fair: dancers are the essence of what we do. So from the beginning of the company Helen (the producer) and I decided that it would be full time contracts.
I will throw a lot of words at them, but I don't start with words; I start with movement, with energy
It's great for the dancers [and] I'm not blind to the benefits it gives me – it's a win-win situation. Security makes them invested in the work, and I get to work with dancers over and over again. Many of them have been with me for four, five, six years and you can feel that the company has a style, has gelled. All of them want to be there, to live the work. I don't know why other companies don't see the benefit of giving security to the dancers. It's hard work: we all have to work hard, including the dancers, to make ends meet. But we are happy, at the end of the day
How do you get emotions into your dancers when making a piece? Do you tell them what they should be feeling?
I will throw a lot of words at them, but I don't start with words; I start with movement, with energy. Words are like keys; they cannot unlock everything. If you use one word you open the key to one room. A combination of different keys is better – it's like making a soup, and what makes soup really interesting is a lot of little elements. With the dancers it's about seeing what will open them up to the feeling we are looking for. But sometimes it's chemistry. My dancers get me, and I connect with them.
You've done some work with outreach projects in Brighton, Derry/Londonderry, and India. What do you like about that?
We do a lot of it (pictured right, Hofesh in action). One, young people love the work. We are really lucky: it's very energising. I don't want to feel like I make work for some slice of the elite, and dance professionals. I really like the feeling that it either works or it doesn't, that you don't need to read books about dance to connect with it. And two, that's our audience, that's the future. We have them as part of what we're doing now, and they learn about dance through that. I went into dance really young and I saw a little gate, an escape from a life I wasn't sure what to do with. That gate opened to a world of expression, a world of freedom, of travel, being part of an international community. It was amazing. I come from a little neighbourhood of Jerusalem, and being able to show that gate to other people is something I really love. The idea that dance can act as a life raft to someone who hadn't thought of it before: that's what we get back from these projects.
It's what we were talking about earlier: making art as a kind of hope. It's empowering.
It is empowering. I've experienced it though music too. You could call it escapism – we create a bubble for ourselves through music and dance. Well, maybe it's a bubble, but it's better than the world the way it is.
I'm completely aware that I'm tricking the audience by using exactly the things that I comment on. The point is, I'm asking a question when I'm doing it
Explore topics
Share this article