The Sleeping Beauty, English National Ballet, London Coliseum |

reviews, news & interviews
The Sleeping Beauty, English National Ballet, London Coliseum
The Sleeping Beauty, English National Ballet, London Coliseum
The loveliest Beauty in Britain from a company that believes in classical ballet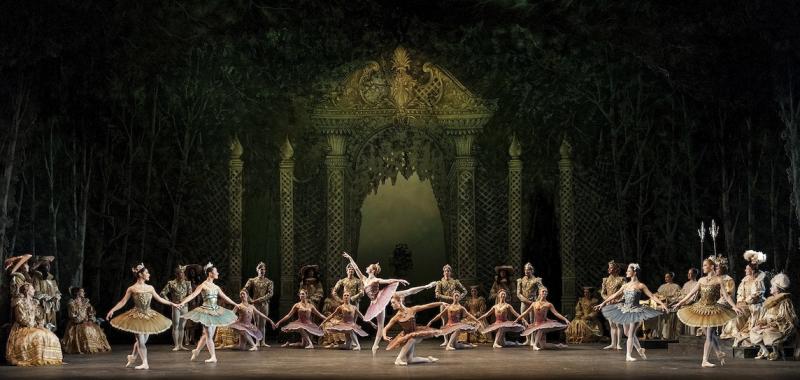 Glinting grandeur: the fairies at the Christening of the baby Aurora
If anyone who saw Matthew Bourne's irreverent rewrite of The Sleeping Beauty currently at Sadler's Wells is curious about the original classical ballet, they'll find it in rousing glory and glinting style with English National Ballet at the Coliseum.
Of all the so-called fairytale ballets, this is the most deceptive. Its story is perfunctory, a vehicle for a magnificent display of classicism at its height, essentially an exhibition of balletic jewellery, the romance and reverie all embedded within Tchaikovsky's greatest score. One can see why contemporary choreographers home in on bulking up the story for their versions, but Petipa's 19th-century ballet is conceived as a large-scale test of ballet as theatre in all its facets, scenic, choreographic, musical and stylistic. It's not a drama, but a statement of belief in the aesthetic power of this gloriously abstruse artform.
In all areas ENB have pulled off a great coup with their performance of Kenneth MacMillan's superb production made on lavish scale in 1987 for Mikhail Baryshnikov's American Ballet Theatre with the grandmaster of ballet costuming in charge, the late Nicholas Georgiadis. Scenically, although the substitute sets by Peter Farmer lack equal grandeur, this knocks spots off any other Beauty in Britain for decades. Such hats! Such tutus! Such panniers and breeches! Some of the smallest parts have the most eyewatering dress - the three Puritan knitting women, the nurses with headgear like white spinnakers, the deliciously individual feathering and colouring of the fairies. Only the king himself could do with a more regal wig.
A few of the corps de ballet look intimidated by their costumes - the opening parade should swagger with the confidence of the world's most stylish court. But the dancing was much more detailed and alive than I saw on the first night of this production last October, a sign that the artistic team assembled under new leader Tamara Rojo has been instilling new faith in the loveliness of their art form. (Pictured above right, Rojo and her prince, Vadim Muntagirov.)
Every fairy in the astonishing Christening prologue, one of the loveliest and most completely envisaged scenes in all of theatrical art, glistened with detail in hands and arms - feet next, girls, please, to match the sumptuousness of your leader's. Adela Ramirez paused haughtily on micro-beats in the music in her Enchanted Garden, Nancy Osbaldeston pounced with pleasure on her pas de chats as the Golden Vine fairy. Sweet Shiori Kase charmed us twice, as the Songbird Fairy and later as a captivating Florine in the Blue Bird pas de deux.
Carlos's nephew Yonah Acosta is emerging in his own right as a charismatic stage performer - his Blue Bird was the real deal
And the men too, often overlooked in Beauty, here made swift assertive appearances, legs taut and strong, heads high - since this was opening night, we had ENB's leading men in these supporting roles, the likes of Arionel Vargas and Yonah Acosta. That is the other Acosta, Carlos's nephew, who is emerging in his own right as a charismatic stage performer - his Blue Bird was the real deal, a rare combination of bright aerial fluttering jumps and attractive male strength.
It's testament to the lustre of the Coliseum's all-star opening night that it takes me this long to get to the principal performers. Rojo's dancing of this summit of roles is, as expected, exquisite, musically ravishing, furled and tapered with wondrous style, wholly in command of the grand technique, but if only she'd look happier we could all go home at the end of the night feeling our lives had been blessed and warmed by the vision of the sun's rising. As it is, her rather stern, queenly demeanour undercut the impression that the public wants, of boy meets girl, the witch is dead, and all's right with the world.
Vadim Muntagirov, her young squire, is a joyous performer, serene and grave, who stretches his body eagerly in jumps and extends a happy courtesy to his ballerina that never looks forced. As yet, though, there is less stage chemistry between the couple than professional respect for each other's abilities.


But the two who possess their roles with absolute rightness are the good and bad fairies. You can believe in the fairytale with Daria Klimentová's Lilac Fairy and James Streeter's Carabosse (pictured above). Klimentová's Lilac is the loveliest I think I may ever have seen, showering pure blessings upon all with her irresistible smile and graceful portamento of her body in the generous, sweeping steps given her character, while the tall, imposing Streeter brings a fine air of Kabuki onnagata to his playing of wicked Carabosse - though he should stalk the stage rather than totter about it if he's to obviate any hint of panto dame.
The playing of ENB's orchestra under Gavin Sutherland is fine overall, with a beautifully singing oboe solo for the grand pas de deux, and a homogenous violin section for the all-important Tchaikovskyan forest shimmer. One or two leaden tempi ignored the fact that fairies and waltz are words that convey lightness, delicacy, ballabile.
It's a grand night out altogether, the fixed things - music, scenery - well done, and the variables - different casts - easy to have faith in. With such detail and life now evident right through all the company, you can bet that other performances will strive as hard as this one for the top.
This knocks spots off any other Sleeping Beauty in Britain for decades. Such hats! Such tutus! Such panniers and breeches!
rating
Explore topics
Share this article