Russian Ballet Icons Gala: Celebrating Galina Ulanova, Coliseum |

reviews, news & interviews
Russian Ballet Icons Gala: Celebrating Galina Ulanova, Coliseum
Russian Ballet Icons Gala: Celebrating Galina Ulanova, Coliseum
Roaring warhorses, filmy ballerinas - and dancing to stop the heart
Ballet galas are a curious institution. They mimic the form of "Greatest Hits" recordings, but what you get are rarely greatest hits, because they can't be. Dance develops in its own time, its unfolding being an essential part of the magic. Rip a pas de deux (and galas circle around pas de deux like vultures in the Gobi desert) from its context, and you get pure dance, certainly; flashy dance, more than likely; lots of pyrotechnics, almost inevitably. But you don't get the core, the magic, the reason people return over and over and over.
Galina Ulanova was one of the greatest dramatic dance-actresses the Soviet Union produced. It is said that when she arrived in London with the Bolshoi in 1956, 2000 people queued for tickets for Romeo and Juliet, at least a quarter of them for three days. She is, rightfully, a legend, and it is appropriate to celebrate her contribution to the art form. (It is also right to point out that the centenary of her birth was in reality last year, in January 2010 – or possibly in December 2009, as she was born while Russia still used the Old Style calendar; whichever the case, May 2011 is the 101st-and-a-bit anniversary of her birth.)
The goddesses of the Mariinsky and Bolshoi were there en masse to pay homage
Extracts of letters to Ulanova were read out between numbers. One was from a fan, "an ordinary man" as he said. He had never seen Ulanova dance, but he remembered how much his mother had worshipped her. On the night of her farewell gala at the Bolshoi, his mother scrubbed their apartment extra-thoroughly before she sat down to watch the broadcast, crying throughout. As the writer Alexei Tolstoy said, "Ulanova was an ordinary goddess."
The goddesses of the Mariinsky and Bolshoi, plus a few others, were there en masse at the Coliseum, to pay homage. Most astonishing, as always, was Ulyana Lopatkina, one of the Mariinsky's most senior dancers, and a force of otherworldly nature. In the pas de deux from Les Sylphides she completely embodied the Chopin, seemingly blown and lifted by the musical phrasing. Some of the other women were almost as remarkable – Svetlana Lunkina, from the Bolshoi, coached by the great Ekaterina Maximova, was also a gossamer presence in the pas de deux from Giselle. Both women have remarkably long arms, which they use with a breadth and plasticity that conveys a world of which we mere mortals can know little.
A student from the Vaganova Academy, Olga Smirnova, was very much in their physical mould, and despite having to dance the dull choreography of Asaf Messerer's Dvořák Melody, was remarkably promising.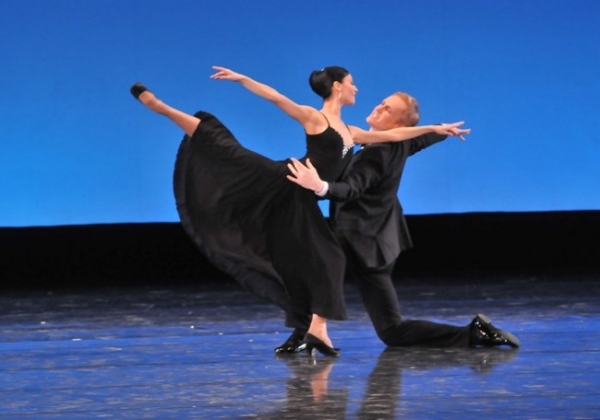 A gala is not a gala without the old warhorses being harnessed and led out of their stables, panting and snuffling, however, and we had those aplenty. The Dying Swan was resurrected yet again, so the poor animal could once more go through its death throes, this time in the body of the highly polished Svetlana Zakharova, from the Bolshoi. A few of the old Soviet melodrama highlights were wheeled out, two by Vladimir Vasiliev, who was the presiding genius of this gala and of the Ulanova Foundation. Diana and Actéon was danced by Dorothée Gilbert, from the Paris Opéra, and the Royal's Thiago Soares, in full Soviet style (that is, wearing very little indeed). A quasi-warhorse, Twyla Tharp's Sinatra Variations, was performed without much panache by Tatyana Gorokhova and Igor Zelensky (pictured above left), seemingly out of sorts with its throwaway style.
It is a rule of galas that either Diana and Actéon, Le Corsaire, Don Q or The Flames of Paris pas de deux must be performed. (The lack of at least two invalidates the warranty.) As well as D&A, we had The Flames of Paris, performed by Ekaterina Krysanova, a model of clockwork efficiency, and the young Bolshoi star, Vladislav Lantratov, who dazzled the audience, not only handily producing the required fireworks, but also appearing to recognise the preposterous nature of the undertaking.
And equalling his reception, pleasingly, was ENB's young recruit, Vadim Muntagirov, who admirably partnered Daria Klimentova through Balanchine's Tchaikovsky Pas de Deux. Nadia Saidakova and Vladimir Malakhov from the Berlin Staatsballet did a lovely extract from Angelin Preljocaj's Le Parc (pictured right by Enrico Nawrath) thankfully breaking up the evening with some choreography that burst the seams of the gala corset.
For while there were wonderful dancers, even wonderful artists, on stage, the gala format does not allow beauty to flower, only to be admired. There is no space, here, for the sort of transfiguration undergone by the woman who cleans her sitting room before watching her idol on television. That must be found at other times, other venues.
Share this article