Royal New Zealand Ballet, From Here to There, Barbican Theatre |

reviews, news & interviews
Royal New Zealand Ballet, From Here to There, Barbican Theatre
Royal New Zealand Ballet, From Here to There, Barbican Theatre
A fine talent among their ranks is one of several plus-points for the Kiwi dancers
All ballet companies dream of finding a genuine creative talent among their ranks, and the Royal New Zealand Ballet, visiting from the farthest end of the world ballet map, have one in Andrew Simmons. The unknown name on their triple bill on this rare visit to London shows a young mind drawn naturally to grace and understated expressiveness.
His creation, A Song in the Dark, is effortlessly better than the busy, inconsequential work by Jorma Elo, one of the most noised names in ballet at the moment, for reasons that escape my understanding. Both pieces are leotard ballets, Elo's in red, Simmons's in green, and both have a defining design element - over the dancers in the Elo is suspended a very lovely wave of steel trellis which casts trellised shadows, while beside the dancers in the Simmons is a white angled wall, which reflects their shadows to more emotive effect. Both use contemplative music, Elo plumping for the Baroque Bohemian Heinrich Biber, Simmons for Philip Glass.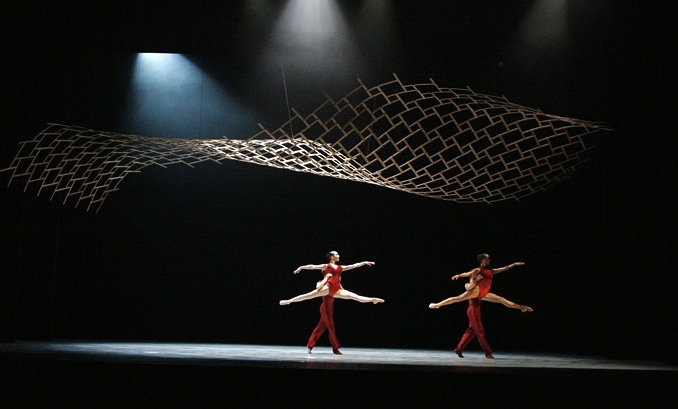 Pictured above, Elo's Plan to A, below, De Frutos's Banderillero © Maarten Holl/Barbican
But there meaningful comparison ends. In Plan to A Elo puts the music through some sort of electronic enhancement and strings step after step together seamlessly, its four men and three women organised in sharp, tight little pairs or one-against-threes. They are neat-enough formations and fluent-enough spins and supported jumps, and there's no shortage of steps for the dancers to do, but one doesn't feel that these pieces of movement had to come into being, for this moment, this theatrical happening. They emit few images, pluck no tension with the music, pose no conflict of public and private in the performers' communication with us, the audience. There are some decidedly unusual grips here and there - the men have a way of grabbing a girl and dragging her by her armpit, or her inner thigh, both of which look painful and yet puzzlingly lacking in any questions, let alone answers.
Whereas Simmons makes a charged atmosphere through filling simple, graceful moves with spacious shape and depth, moving from a solo dancer to 16 of them, the spotlights in the darkness adorning them with translucent shadows on the wall. Here are clean, suggestive phrases of adagio plastique, their clarity cutting through the charged sobs of Philip Glass's music - part of the Tirol piano concerto and a cello work. The dance is written with the lyrical aloofness of ballet, rather than itchy-twitchy discoordination. But a vast over-supply of Glass's depressively repetitious arpeggios and chordal throbs means that the choreography thins out fast towards the end. Cut shorter, and with the female dancers asked not to feel obliged to hit an assertive 6 o'clock arabesque when a more tilted, swaying 10-to-six would be more evocative, this would be a piece fit to travel to other companies. Well done, him and them.
'A piquant layering of voluptuously Latin-flavoured dances over arresting Chinese drum and gong music, the clash works'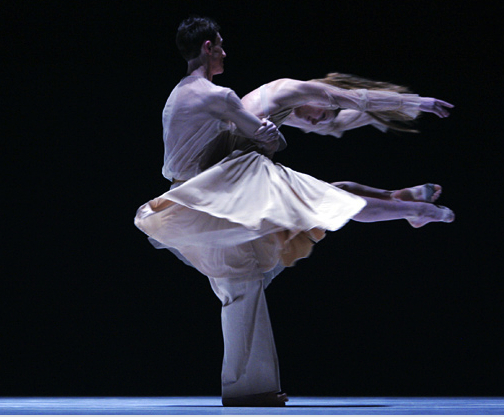 All the same, when we come to Javier De Frutos's Banderillero, this is a higher plane of expertise altogether. If De Frutos's work with the Pet Shop Boys, The Most Incredible Thing, was choreographically weak in the face of all its determination to entertain the masses, this shows just what the Venezuelan Londoner can fashion in dance at his best.
A piquant layering of voluptuously Latin-flavoured dances over arresting Chinese drum and gong music from percussionist Yim Hok-Man, the clash works because of the unity with which it's made theatre. De Frutos designed the clothes too, floaty white long dresses and trousers, hair untied and flying, everything chiffony and irregular, as if evaporating. An arena of light fills the centre of the stage, leaving uncertain darkness all around.
The dancers step in and out of the ring as if it's a flamenco challenge, tension screwed tight by the sudden alerts of the percussion, the fighter teasing the animal, but also declaring little momentary narratives of desire, anger, confrontation - with the wrong people stealing kisses from each other, secrets being hinted at. It's the fiery women who are more like attacking matadors than the men, who switch between group macho drills and wry camp little sideshows as if ducking out of the fight.
Florid arms with strongly gesturing hands are such a joy to see in contemporary choreography (where so often they're schooled to sterile mittens), and so are flying ballet jetés and feline wriggles in the back. It's a gumbo, is De Frutos's choreography, and when cooked with this much skill and care, it's outstandingly tasty stuff. This is the second of two admirable pieces he's made for New Zealand, the other being his stunning Milagros (2003), one of his settings of The Rite of Spring.
As for the company, under the temporary directorship of Matz Skoog, formerly ENB's director, and the imminent new director, one of New York's recent ballet divinities, Ethan Stiefel, the New Zealanders look well placed to impress the world on their travels.
Watch Andrew Simmons working on creating A Song in the Dark with RNZB
Share this article