The Rodin Project, Russell Maliphant Company, Sadler's Wells |

reviews, news & interviews
The Rodin Project, Russell Maliphant Company, Sadler's Wells
The Rodin Project, Russell Maliphant Company, Sadler's Wells
Fantastical set and lighting for a dance idea still waiting to be properly born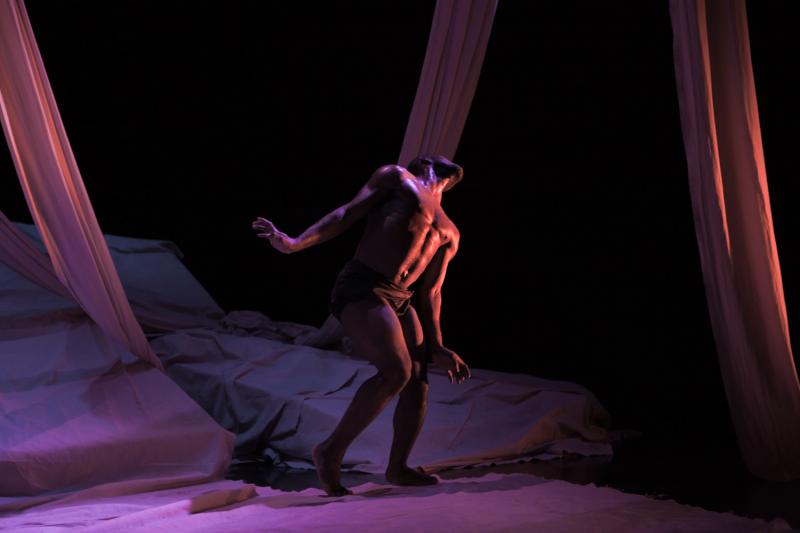 Muscles and light: Dickson Mbi in Maliphant's The Rodin Project
Like a bleached Mount Parnassus for the gods, pouring linen down steep slopes in foaming white rivers, streaming white curtains up into heaven, few stage sets I've seen for a dance piece have been as captivatingly gorgeous as Es Devlin and Bronia Housman's mountainous creation for Russell Maliphant's new work. The dancers too are draped in white like gods - or statues to be unwrapped from dust-sheets.
The visual metaphors cunningly overlap, for this is a work in which Maliphant intends homage to the art of sculptors, notably the French neo-classical rebel, Auguste Rodin.
It comes across as bedtime, though, and not necessarily in a good way. The two-part piece, premiered in Paris last week and having a single UK premiere at Sadler's Wells yesterday evening, is limper and more overblown than his previous beauty AfterLight. Why shouldn't a choreographer be able to fail more often than not? The problem is that nowadays the stakes are so much costlier, and while there are ghosts of risks there in the sheeting, they remain only ghosts.
Very dependent on its fine set - left bare, black and jaggedly volcanic in the second half - the work also cedes much dramatic authority to its breathtaking lighting by Michael Hulls. Every credit to the funders in Sadler's Wells, Paris, Luxemburg and New York for opening their cheque books for these fantastical scene effects, but it gives Maliphant too much to do to steer it all to glory. Somewhere inside those sheets, on top of those rhomboid rocks, he appears to be testing new ideas and possible directions that are not yet fully conceived, and the entire thing looks more like a fashion set at the moment than the space for a choreographer with his inner eye in gimlet focus on the tailoring.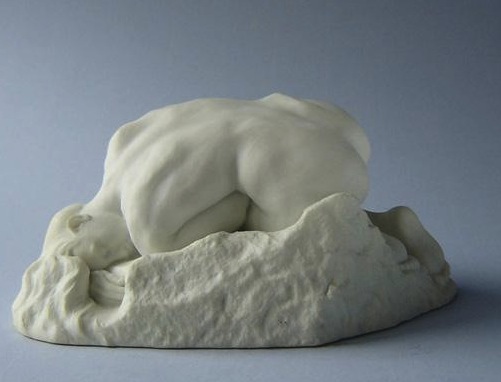 AfterLight showed Maliphant's melodious physical signature at its very best, extracting all the mass and gravity from the whirls of a poignantly anonymous man, so that only the essence of movement and light remained. He's also used his velvety touch in some powerful duets before, notably with the Ballet Boyz and with Sylvie Guillem (Torsion, Critical Mass, Broken Fall, Two, Push) - such strong dancers, with so much of their past and history to bring, that these pieces have had their own steel core inside.
Here, though, Maliphant is - give him credit - trying out two hardening agents on his whipped-cream language: the idea of monumental sculpture, and some of the vocabulary of streetdance, a sharp urban variant of the stylised martial arts of his own training, capoeira, tai-chi. But the way he pacifies, melts and bends both of these ingredients turns out fairly soporific, half-decided, indeterminate - yet I fancy that buried inside all that elegant tedium there is a nugget of something new struggling to be born. (Pictured above right, Rodin's La Danaïde)
In that sense, there's a parallel with the act of the sculptor in conjuring a form or figure out of a piece of stone. But this only works if by using Rodin, specifically, Maliphant intuits something fresh and strong about his own work, rather than simply paying a fan's homage.
Rodin's statues stand or pose in marble stillness, timeless, massy, muscular monuments. A choreographer is on the move, drawing lines of light that must change before they die, no one more so than Maliphant, who has a greater talent for evanescence than most. In the first soft, white, woozy half of the show his dancers move slowly, eking out wisps of movement, a single turn, a step forward, scaling the white mountain without much visible purpose or cohesion. It's quite a while before something extraordinarily beautiful happens: the three women perch on the peak, backs to us, outlined by gold light, and wave beckoning arms upstage, their bodies swaying to and fro, like Sirens signalling to Odysseus to come and be wrecked in pleasures on their island.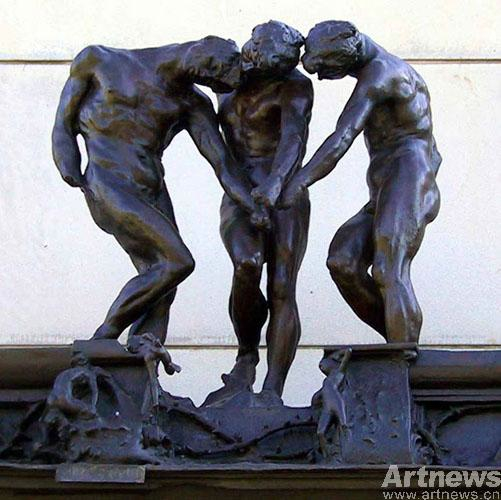 The imagery of the three females as muses of theatre echo Balanchine's Apollon Musagète, surely deliberately, but the men they appear to be animating move, literally, too statuesquely to be very interesting. The formidably muscular black streetdancer Dickson Mbi becomes Rodin's Thinker or maybe one of his Shades (pictured left), curving his fist upwards like a bodybuilder to display his biceps, over which the light licks like a seductive tongue. Another streetdance specialist, acrobatic Tommy Franzén, looks too beautiful, bathed in Hulls' liquid gold glow as he slithers and spirals upside-down. There is a silky backflipping combat with Thomasin Gülgeç, one of Rambert's finest, but this too is a honed display rather than any sort of drama, while through the speakers a cello mourns and sighs melodically over pattering tabla whispers like rain.
Even on the harsh black walls of the second half, the dancers, now in street clothes and plainer, more garage lighting, move in slow motion, stretching out time, draining away the electricity from what would be exciting at normal speed.
Next time Maliphant must give in fully to an impulse to work with a proper tough streetdance crew, perhaps a great Korean team - now there's a dance form begging for imaginative choreographers - do it more cheaply, and tear up the page with all the arty stuff on it. As streetdancers will tell him, it's about the moves, not the effects.
Next time Maliphant must give in fully to the impulse to work with a proper tough streetdance crew, perhaps a great Korean team
Explore topics
Share this article