Radio & Juliet/Faun/McGregor + Mugler, London Coliseum review - a fashion faux pas |

reviews, news & interviews
Radio & Juliet/Faun/McGregor + Mugler, London Coliseum review - a fashion faux pas
Radio & Juliet/Faun/McGregor + Mugler, London Coliseum review - a fashion faux pas
Wayne McGregor fails to shine in ill-advised bling fest
Tuesday, 10 December 2019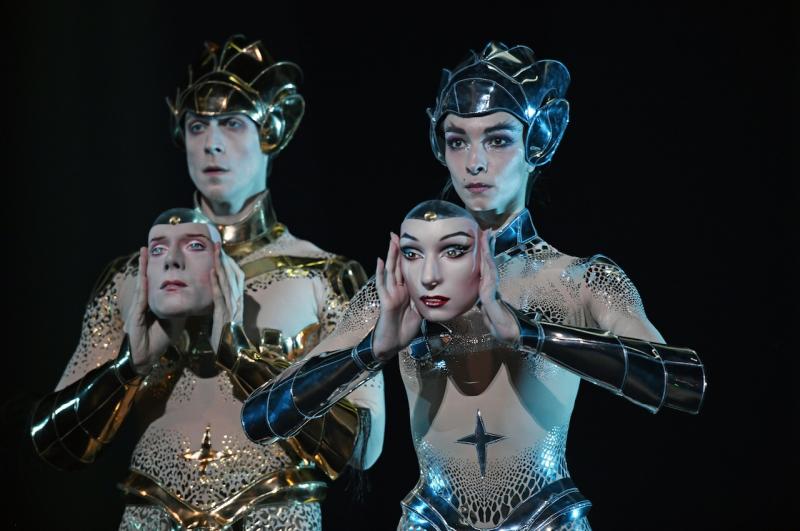 Your face or mine: Edward Watson and Olga Smirnova in 'McGregor = Mugler'
A pas de deux is normally an opportunity for two dancers to express the pinnacle of their skill and the choreographer's art. In the case of McGregor + Mugler, the duet receiving its world premiere as part of a Russian-sponsored triple bill, it became an opportunity for a big-name designer to strut his stuff.
"My Little Pony From Outer Space" seemed to be the theme as Bolshoi prima ballerina Olga Smirnova and the Royal Ballet's Edward Watson (main picture, and below) stepped out on the stage of the Coliseum virtually naked but for chrome helmets, chrome shin-guards and a membrane of glittery fish scales. They also wore masks of their own faces which they later discarded, Watson swapping his for Smirnova's (let's hear it for gender fluidity!) to only mildly disconcerting effect.
What persuaded a high-minded dancemaker such as Wayne McGregor to sign up to Manfred Thierry Mugler's fantasy bling ballet is anyone's guess but the result in terms of choreography was mystifyingly bland. Despite the involvement of Watson, a veteran interpreter and long-time muse of McGregor's, the steps lacked every one of the choreographer's hallmarks: the spinal flexings, the spiky extensions, the inhuman speed. In truth, if McGregor's name hadn't been up there in the title no one would have guessed he'd had a hand in this at all. It was when the shiny pair removed their chrome armoury to reveal not only floppy mohicans but also lush skeins of shin- and wrist-hair that muffled giggles afflicted parts of the stalls.
By comparison Faun, by Sidi Larbi Cherkaoui, made a powerful and lasting impression. This 15-minute duet set to Debussy's L'Après midi d'un faune with 21st century interruptions by Nitin Sawnhey was also costumed by a fashion name. The difference was that Hussein Chalayan's outfits for the faun and the nymph he encounters did not shout for attention but simply did the job. The thought occurred, too late to be helpful, that Mugler's pony people may have been his considered take on the mythic figure of the faun – half-human, half-goat. But that may be over-generous to the designer.
Cherkaoui, by contrast, is one of those rare creatives who eschews a personal style, instead adopting a fresh dance language with each piece. For Faun, made in 2009, he clearly undertook a close study of the movements of four-legged animals, in particular the phenomenon known as pronking, when lamb, deer or wildebeest leaps and lands on all four hooves simultaneously, its legs sometimes buckling to absorb the impact. Bolshoi principal Vyacheslav Lopatin had the pronking off to a T, appearing almost boneless as he repeatedly rose up and tumbled and softly rebounded. Willowy Anastasia Stashkevich was more like a rooted sapling, but similarly made us forget her humanity for a quarter of an hour.
In the absence of any programme booklet, the genesis of this starry triple bill – in London for just two nights – remained mysterious. MuzArts, the production company, is Moscow-based, and many of the solo dancers were on leave from the Bolshoi. The first hour of the evening, however, belonged to the British premiere of a work of Slovenian origin. Radio & Juliet, set to music by Radiohead, turned out to be an oblique, smartly metropolitan take on Shakespeare's tragedy by Maribor-based choreographer Edward Clug.
English National Ballet's Katja Khaniukova was our Juliet, sleek, precise and emotionally self-contained, the Mariinsky's Denis Matvienko her Romeo, masculine in a dark suit over bare, heavily inked torso. What was striking about this rendering of the story was the playing down of overt sexuality. The pair's mutual attraction was suggested not by touching and entwining, but by maintaining a steady six-inch distance in every body part as they moved. Six similarly besuited men from Slovenia's Maribor Ballet completed the cast, taking the roles of Capulets and Montagues, street fighters, priest and apothecary. I won't pretend that I could follow every twist – the lemon obviously represented Juliet's sleeping potion, but the pollution masks? Yet at just under an hour Radio & Juliet didn't feel a minute too long and certainly deserves a longer London run.
Without McGregor's name in the title, you'd never guess this bland choreography was his
rating
Explore topics
Share this article