An Open Book: Michael Hulls |

reviews, news & interviews
An Open Book: Michael Hulls
An Open Book: Michael Hulls
The wizard of lighting design is delighted by cricket, London and sesquipedalian words
Saturday, 05 September 2015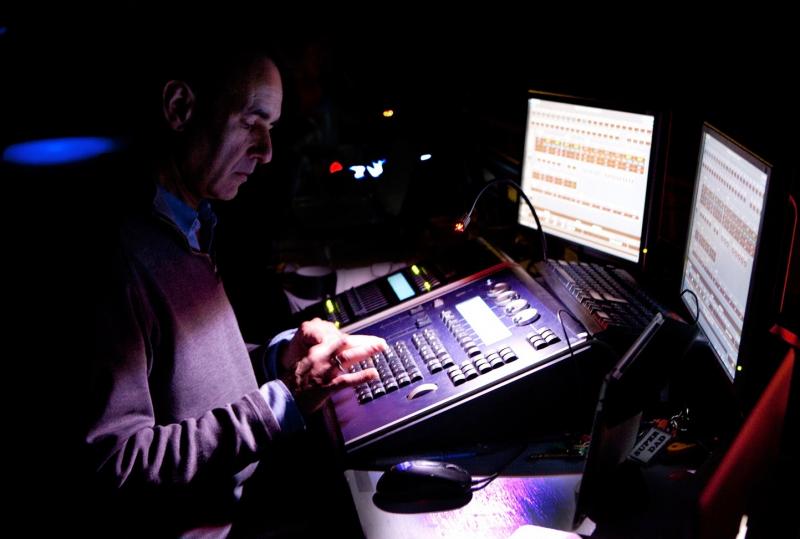 Magic box: Michael Hulls at work in the wings in Sadler's Wells
The occupation "lighting designer" is too workaday to describe Michael Hulls. The artistry with which he casts illumination or shadow on some of the great dancers of our time make the idea of switches and bulb wattage seem humdrum. Pellucid, occluded, darkling - this is Hulls' palette of twilight effects. Too often, he says, people do not understand the difference between seeing the dancer and seeing the dance.
It is Hulls who designed the phenomenal eclipse effect that follows Sylvie Guillem off stage in her current world farewell tour; his lightscapes make mesmerising contributions to the war ballet programme that English National Ballet show next week at Sadler's Wells, and world premieres by leading choreographers Russell Maliphant and Akram Khan in autumn and spring will be lit, as so often before, by this wizard.
Hulls, 56, has what he considers the professional advantage of unusual eyesight. He needs very little light to see, and this is a factor in his calculations of just how little we all need to start seeing with our imaginations. The imaginative complement in the mind's eye is what he likes to trigger.
He has said he's much inspired in developing his will-o'-the-wisp effects by the lighting designers of history, the experimenters with candles in theatres, with early gaslight and electricity. The past plays an evocative part in his reading.
Hulls's choice of books gravitates towards suitably shadowy places, the dark undercurrents of London and its history, the glimmering moors of the Hound of the Baskervilles, memories of drugged-up trips to Bekonscot model village, and long, peculiar words. But he also has an obsessive love of cricket. And a rather surprising answer to the question of which literary character he would fall in love with.
London's been my home for the last 35 years and there is so much history I need to discover
What books are you currently reading?
I can only manage to read one book at a time and London: The Biography by Peter Ackroyd is so rich and dense with evocations and information that it's as much as my mind can cope with. Ever since I was a child growing up on the fringes of London I have been fascinated by the history and development of this great and hugely diverse city, which has the fairly unique distinction of simultaneously being a nation's capital, a seat of government, and one of the world's foremost financial, trading, creative and cultural centres. Its sheer diversity of peoples, cultures and lifestyles means it truly is a global city, perhaps the greatest in the world, I think.
It's been my home for the last 35 years and there is so much history I still need to discover. Ackroyd makes a brilliant guide in uncovering and revealing the hidden layers and the stories all around us, and literally beneath our feet. He gives a broad perspective to a constantly changing landscape that after we, like all those before and after us, have had our hour upon its stage will carry on changing.
Who is your favourite novelist?
John Banville for his novels The Book of Evidence, Ghosts, The Sea, Doctor Copernicus and Kepler. His dark humour, prose and use of language is such a delight. He once said that he was more interested in language and rhythm than plot or any other consideration. His characters and novels are full of the unreliability of memory, the indistinct boundary between faulty memory and invention, fiction and self delusion. There's a kind of thin veil of Irish mist that pervades his characters and writing through which we have to try and discern reality.
Do you have a favourite non-fiction writer?
Peter Ackroyd because of his incredible knowledge about the history and stories of London in London Under and Thames: Sacred River, as well as London: The Biography. I also enjoyed his novels Chatterton and Hawksmoor.
Do you read poetry? If so, is there a poem or a poet you always return to?
Occasionally. Kate Tempest's Brand New Ancients, although that's about hearing it rather than reading it.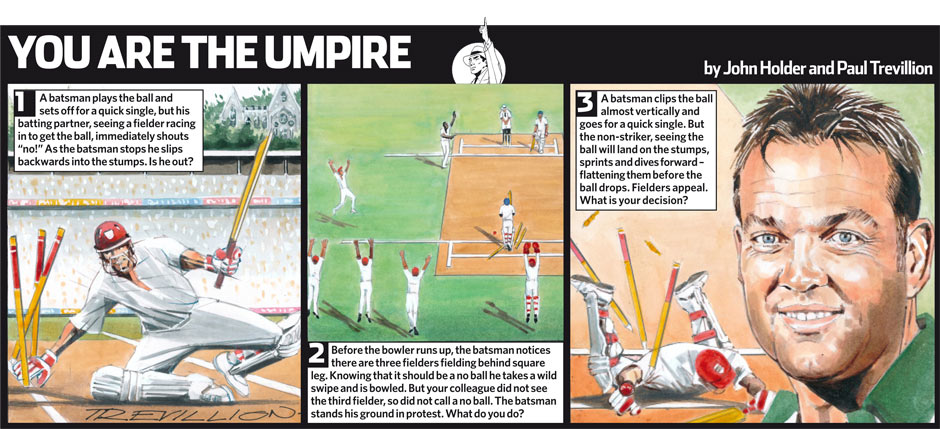 Are there any graphic novels/ comics/ illustrations that inspire you?
Paul Trevillion's illustrations for You are the Umpire are brilliant, incredibly packed and alive with movement. You are the Umpire is a regular summer feature of The Observer newspaper to which members of the public send convoluted cricketing conundrums about the laws of the game to the former umpire John Holder, who is responsible for monitoring and improving the performance of cricket umpires throughout the world.
I love cricket and consider it to be the world's greatest sport. It's so absurdly brilliant, a game invented by the English that requires five consecutive days of good weather during an English summer. Or at least three or so days, given the pace at which the recent Ashes series flashed by.
Crime or sci-fi?
I'm not an aficionado of either genre. But it seems that most great works of fiction depend on crimes in some form to drive the narrative. The will or desire to commit a crime of some sort - to varying degrees justified or not by morality or self-delusion - is a reflection of our underlying human fallibility and weakness.
Though I'd quite like to have said that William of Baskerville from Umberto Eco's Name of the Rose is the character from literature that I'd most liked to have been, or equally Conan Doyle's Sherlock Holmes as in The Hound of the Baskervilles. Or Riddley Walker from Russell Hoban's eponymous novel which apparently is science fiction although it's set in Kent 2,000 years post Armageddon. And it's fabulous in its re-imagination of the English language. So I guess that's Crime 2 - Science Fiction 1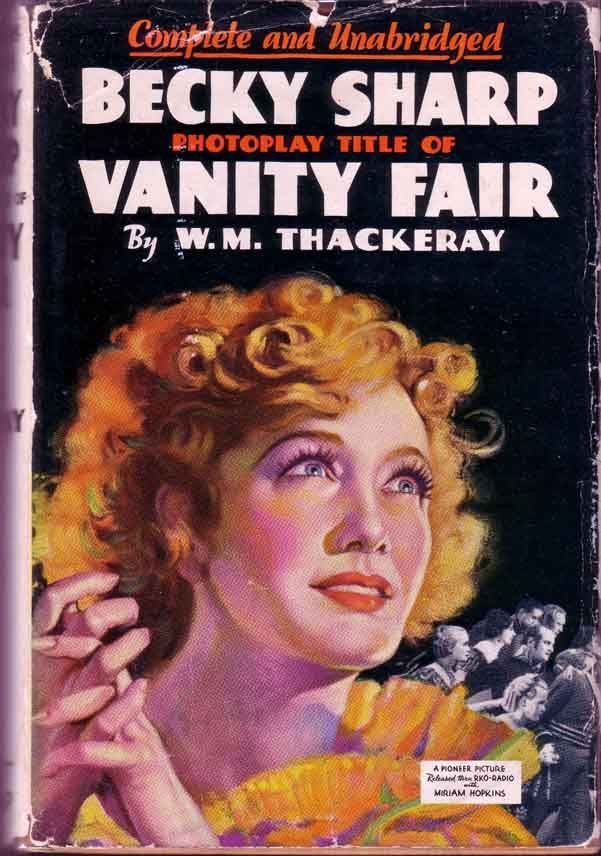 If you could be any fictional character, who would you choose?
Here comes some gender-bending! Rebecca Sharp from Thackeray's masterpiece Vanity Fair. Glamorous, ambitious and unscrupulous, lived by her wits and charms, destroyed those feeble men in her way… so swashbuckling without needing a cutlass. I do like a bit of spunk in a woman. The Russians have Anna Karenina, the French have Emma Bovary, but we have Becky and, unlike those others, she ended up on top. (Left, the photoplay for the first Vanity Fair film, starring Miriam Hopkins in 1935)
Which fictional character can you imagine falling in love with?
Quoyle from E Annie Proulx's The Shipping News. Ugly, lumbering, dull and awkward, but a good man and good father, who after being almost crushed rebuilds his life. So solid and kind. Totally the Everyman anti-hero.
As a straight man, perhaps I'd say that the "who would you most want to be" characters in literature are women created by males and the most "who could you fall in love with" characters are men created by female authors.
Which four writers would you invite to your ideal dinner party, and why?
Robert Nye, as I enjoyed his novel The Memoirs of Lord Byron so much, and as the real memoirs were deemed "only fit for a brothel" and burned, it would be a small token of appreciation to wine and dine him for creating such a brilliant and witty forgery to fill this gap. And to and ask a few questions about the shadier aspects of Byron's life, of course.
Kate Tempest for her energy and vitality, I think she would be a great guest, the life and soul of the party, and she can rap and provide the music by bringing her band.
Will Self for his satirical, dark, droll humour, his extraordinary vocabulary and his interest in psychogeography. I would also invite Ackroyd, so my four London-born guests and I could consider the psychogeographical highlights of London. Will is about the same age as me so we could compare notes. Both of us in our youth - and these must have been fairly contemporaneous events - enjoyed early experiments in psychogeography by visiting Bekonscot model village in Bucks whilst under the influence of illegal substances.
Which book made you think: "I must get this for all my friends"?
Joseph O'Connor's Star of the Sea. I love maritime literature and this is full of fantastic beautiful language, and it's also a gripping page-turner filled with a dark humour.
Which books have changed your world view?
Beyond a Boundary by C.L.R James. According to John Arlott it's the finest book about the game of cricket, but it's about so much more than cricket, it's about race and class, and reading it in the early 1980s when the great West Indies team captained by Clive Lloyd were regularly making England grovel it gave me a new perspective and context within which to understand racism and cricket.
Why do you read?
For the delight of language, to discover new words (pellucid, feculence, termagant, scantling, sesquipedalian) and to encounter situations and characters (particularly historical ones) from beyond my world.
Also, much like listening to Test Match Special (or taking illegal substances in one's youth), reading is a reason to stop doing things, to put aside all the usual thoughts and actions that occupy us, and take a bit of a holiday.
English National Ballet's Lest We Forget is at Sadler's Wells Theatre, 8 to 12 September
Russell Maliphant and Michael Hulls' new collaboration, Conceal | Reveal, is touring from 2 October to 28 November
Akram Khan's new Until the Lions is at the Roundhouse, 9 to 24 January 2016
As a straight man, I find the "who could you fall in love with" characters are men created by female authors
Explore topics
Share this article