Sylvie Guillem, Life in Progress, Sadler's Wells |

reviews, news & interviews
Sylvie Guillem, Life in Progress, Sadler's Wells
Sylvie Guillem, Life in Progress, Sadler's Wells
Ballerina says goodbye with new works from Khan, Maliphant
Adieu: Sylvie Guillem in rehearsal for Mats Ek's poignant 'Bye'
Sylvie Guillem is retiring in exactly the same way as she does everything: in her own time and on her own terms. She turns 50 this year, but it's not that age is finally catching up with her – at least, not in her body, which she acknowledges has potentially many more years of dancing in it.
She just wants to go out at the top of her game, and for this most intelligent of ballerinas, that also means a new programme: no easy wallowing in the back catalogue for her, but new commissions from Akram Khan and Russell Maliphant, receiving their UK première in this run at the Wells, which will be followed by performances in Edinburgh, Birmingham and London again before the year is out.
The only indulgence – if you can call it that – of the new programme is that Guillem is working with some of her favourite collaborators again. Khan and Maliphant (the latter in close partnership with legendary lighting designer Michael Hulls) have both been integral to her solo career, as have William Forsythe and Mats Ek, who also feature on the programme with older pieces.
Khan's piece, technê, puts Guillem in a setting very different from their two-person show, Sacred Monsters. That was on a warm, white, heavenly plane with a human feel, whereas technê feels like another planet, with a dark stage dominated by a bare tree made of silver mesh and lit with a cold lunar glow by Lucy Carter. As usual, Khan has musicians on stage, but they're separated from Guillem by a black mesh curtain, and hardly offer human companionship – from the raw material of percussion, violin and human beatbox, composer Alies Sluiter digitally mixes a soundscape of anxious otherwordliness, like radio static or the chittering of insects.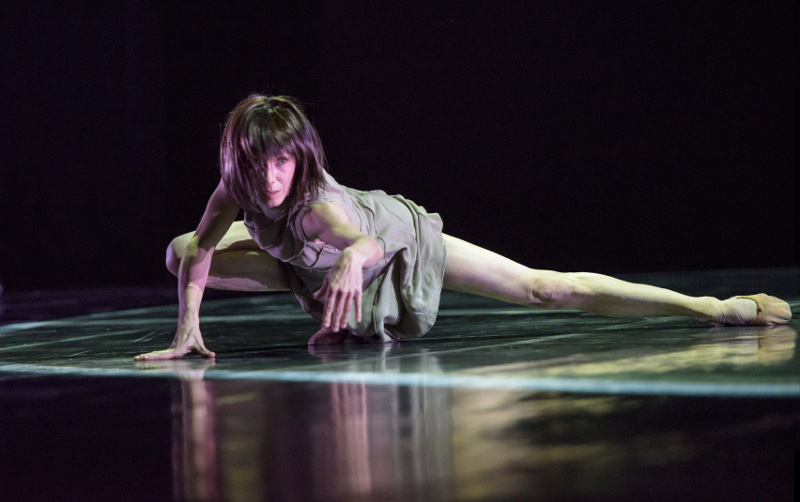 Guillem (pictured right) appears insectoid at first too, entering in a crouch with hands and feet skittering unnervingly fast and willowy arms reaching out hesitantly like antennae, seemingly far too long for the tight round ball of her body. Though she later breaks out of this shape in all sorts of ways – reaching, twisting and stretching both arms and legs – the alienating effect remains constant; it's a strange world she's/we're in. It's strangely mesmerising too, and the closing moments are breathtaking: as the silver tree starts to revolve slowly on its base, the lighting darkens, turning the tree gold, then a molten red, and Guillem – standing like a human at last – walks softly round it and, wonderingly, reaches up into its branches
Someone I know once explained that the reason he didn't like Pina Bausch's work was that "there's just not enough choreography in it". Leaving aside the total misjudgement of Bausch, this is not a problem anyone could have with William Forsythe, whose Duo (1996) was performed last night by Brigel Gjoka and Riley Watts. The trimmings of set, costumes, even music (by Thom Willems) are absolutely minimal: a bare stage, casual vests and sweatpants, intermittent single held harmonic notes. But the choreography is as constant, rich and playful as a Baroque fugue, the two dancers imitating, subverting, re-presenting and challenging each other's movements in an effusion of ingenuity so intense, you can hardly believe it's only 15 minutes long. It must be fiendishly difficult to perform – with no aural beat to provide a common reference point, the two dancers must take the beat they hear in their heads and make it visible in their bodies. It's hypnotic as clockwork – by the end I was so steeped in this soundless rhythm, I could have beaten time myself.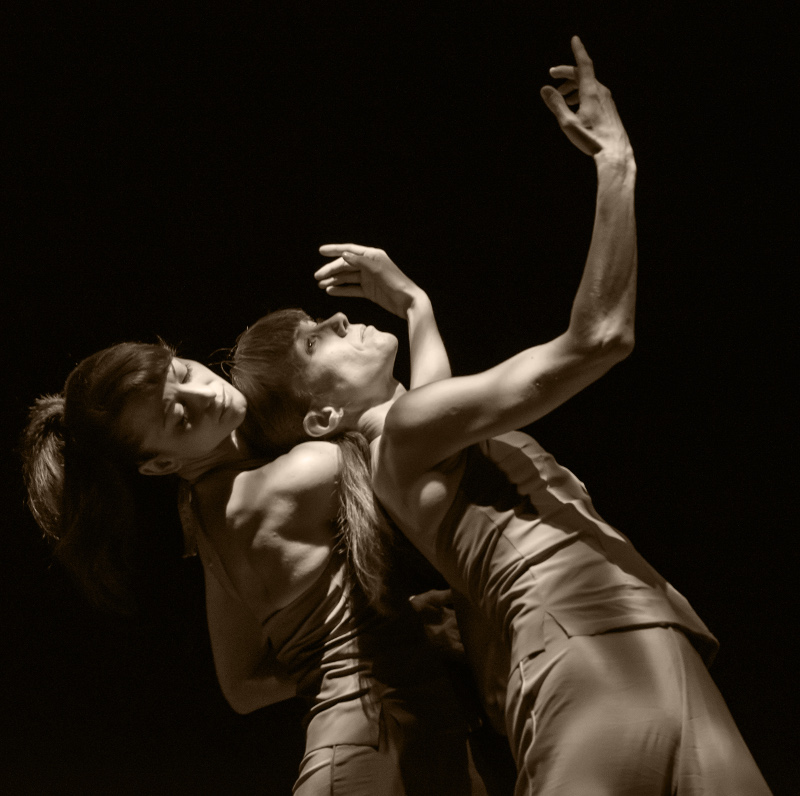 From a duet with two men to a duet with two women: Russell Maliphant's new piece, Here & After, sees Guillem sharing the stage with Emanuela Montanari (both pictured left). Montanari inhabits space in the same thoughtful, fluid way as Guillem and the connection between them is very balanced: like Duo, this piece plays with the effect of sameness, rather than the contrasts (male/female, lifter/lifted) more common in danced duets. In the relatively static segment at the beginning, in which both dancers are captured in a little pool of tiger-stripey orange shadows, they hold hands with a kind of spacious ease, drifting apart and then together as a boat and pontoon do on murmuring waters. Gradually the scope of the stage expands, and the movements do too, till Guillem and Montanari are charging joyfully around the magical playground that is Michael Hulls's lighting design – now a long strip like a catwalk, now a phosphorescent grid like the dance-floor in Saturday Night Fever, now a bright sharp square like a judo mat. It's an absolutely bravura performance from Hulls, whose 2014 Olivier Award for Lifetime Achievement in Dance makes perfect sense; his lighting is as present, vivid and dynamic as a dancer's body. Longtime fans of Guillem and Maliphant will enjoy seeing flashes of their past collaborations, but I'd defy even a first-time viewer not to be entranced by this ecstatic marriage of movement and light.
I don't suppose anybody ever considered ending this farewell programme with anything other than Bye, the piece Mats Ek created for Guillem in 2011 for her last solo show, 6000 Miles Away. Exploring memory and identity through the character of a woman, possibly near the end of her life, it's funny, touching, inscrutable, clever, thoughtful, and inimitable – much like Guillem herself. How horribly we will miss her.
Sylvie Guillem: Life in Progress is at Sadler's Wells until 31 May, and also at the London Coliseum in July, the Edinburgh Festival in August, and the Birmingham Hippodrome in September.
'Bye' is funny, touching, inscrutable, clever, thoughtful, and inimitable - like Guillem herself
rating
Explore topics
Share this article