Akram Khan, DESH, Sadler's Wells Theatre |

reviews, news & interviews
Akram Khan, DESH, Sadler's Wells Theatre
Akram Khan, DESH, Sadler's Wells Theatre
One man's sentimental journey emits megastar mastery of all his arts
Thursday, 06 October 2011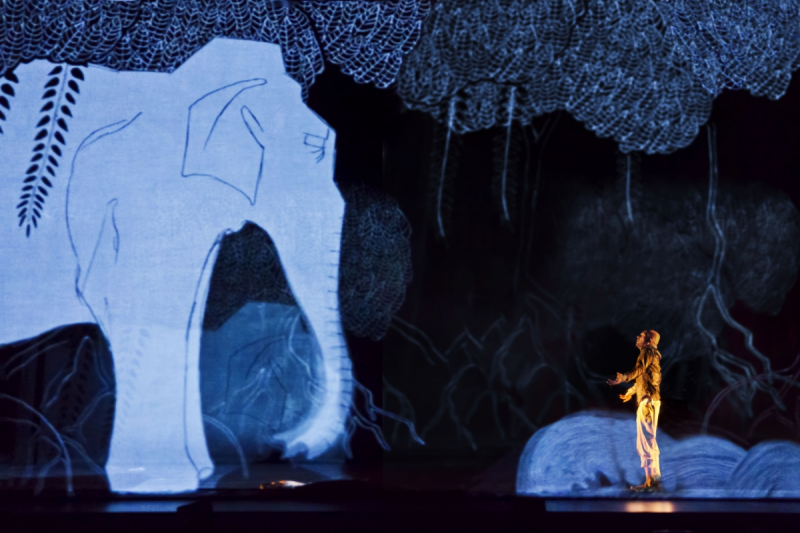 Wizard effects: Khan becomes the child in his own stories
It takes more than utmost craft and rich personality to hold the stage as a soloist - it takes a touch of divine self-belief, which Akram Khan has never displayed to more magnetic effect before than in his new solo DESH. Actually solo is too small a word for this epic, lavish display of the starpower that Khan now emits in the world of dance theatre.
This production looks as if it has cost hundreds of thousands of pounds to stage, with its luxuriously liberal video animations by Yeast Culture, celestial lighting by Michael Hulls, an ambitiously created live/recorded soundscore by Jocelyn Pook with Nicolas Faure and some staggeringly beautiful designing by Tim Yip with Sander Loonen. It's theatrical scenography on a scale fit for an emperor, which is why there is a faint irony about all this being laid on so opulently for Khan to tell us a story of his rediscovery of his family's humble roots in Bangladesh.

Still, for almost all of DESH one is whipped along in Khan's sentimental journey by the magical beauty and mastery with which he shows it. Always passionate about his heritage's storytelling tradition (and one shouldn't forget that he was a boy actor with Peter Brook 20 years ago), he here narrates and embodies an almost filmic odyssey of storytelling - from the poor cook whose son wants to dance, to the street boy whose life is bludgeoned down by relentless urban oppression, all the way to Khan as himself phoning a call centre endlessly because his iPhone voicemail doesn't work, and getting a small boy's voice on the other end.
These are worlds apart which only a man of dual heritage like Khan can know, a child of both London and Bangladesh. His pieces have always been personal, if sometimes solipsistic quests, always of rare skill, but DESH has the magic of honesty and modesty inside its marvellous trappings. Now when he dances, he doesn't just tell his own story - he tells all our stories.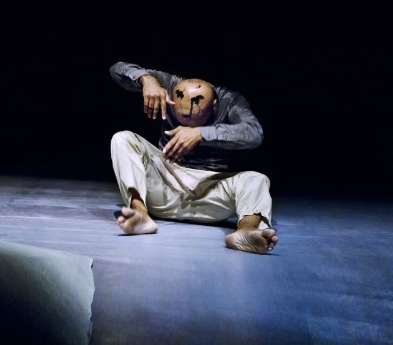 The theme of generational shifts resurges affectingly. A child's voice is heard constantly begging for stories, and Khan himself becomes the child in those stories, running through miraculously animated video woods that ought to be mythical places faraway but which the youngster insists are in Wimbledon Park. Khan comically impersonates the poor kitchenhand, tucking his head into his shoulders to show his bald crown, on which he's painted eyes and a mouth (pictured right) - it's very funny, but also odd, disturbing, to see how this reshapes the body into a sickle of pleading, arms outstretched, head ducking, legs buckling.
He finds fantastical metaphors of lostness, spinning into vortices of sucking light, or whirling in storms of white ribbons. Cunningly, he delivers this with a light touch, whimsical almost, as if imparting serious things to a child without wanting to disturb them. But those eye-blurring spins and falls, the way Khan's body so often seems at the mercy of galactic gusts and unstoppable forces, as little and resistless as a leaf, those bring out the almost unimaginable lengths to which migrants might hurl themselves to escape being a pot-herd like their dad and become a dancer in the West.
Over this sweet-sour content, Pook's soundscore pours atmospheric sugar and cream, rich fusions of "Alleluias" and "Ave Marias" with minimalist till-readies, Asian folk riffs and rhythms all thrown liberally into a musical food mixer. For years Khan has zigzagged between his Kathak dance tradition and his contemporary London ideas in his productions, but here is a complete merging and subsuming of a complex emotional make-up, guilt, gratitude, tenderness, fear, new fatherhood, filial regrets, in theatre of heartfelt and beautifully achieved urgency.
And he is now, in his late thirties, a great master of all his arts of dance technique and expressiveness, he now picks and chooses anything from classical footwork to catatonic body language, all with absolute integrity to his past, his ancestors and his own path ahead.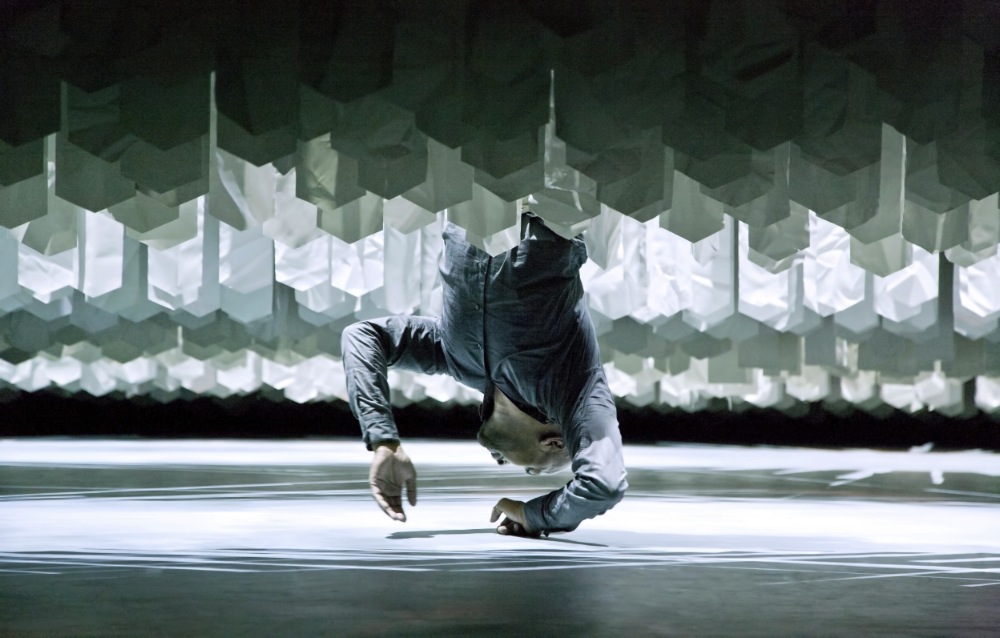 So I will rave on for an hour or so but I became creepingly over-conscious of Khan's liking for multiple farewells, starting about half an hour before he intends to leave. Are there eight endings here, or only seven? The hair-raising circular spin into the dark - stunning. The end-of-life crawl to clutch at the pile of mother earth - heartrending. The jolting transformation into a spasmoid, raging street protester - that's a shock. The dancer whose feet have been flayed by a soldier, leaving him helplessly marooned on his backside - an agony to watch. The terrifying immolation in the rain of white ribbons - unspeakably sad. The upside-down suspension in the air like a celestial body that looks down on earth from divine clouds (pictured above) - and so again goodbye, and again goodbye, and again.
On the other hand, perhaps that's the idea: that there is no one way to take your leave, and say adequately what you wanted to.
Akram Khan performs DESH at Sadler's Wells until Saturday, then at Kwai Tsing Theatre, Hong Kong, 18-19 November; Concertgebouw, Bruges, 1 December; Les Théâtres de la Ville, Luxemburg, 18 January 2012; Festspielhaus St Pölten, Austraia, 18 February; La Comète, Châlons, France, 9-10 March; MC2, Grenoble, 14-16 March; Stadsschouwburg, Amsterdam 19-20 May; Théâtre de la Ville, Paris, 18-29 December
Now when Khan dances, he doesn't just tell his own story - he tells all our stories
Explore topics
Share this article