Macbeth, Wilton's Music Hall review - incisive and thrilling dance theatre
Macbeth, Wilton's Music Hall review - incisive and thrilling dance theatre
Mark Bruce Company's wordless take on the Scottish Play is stunning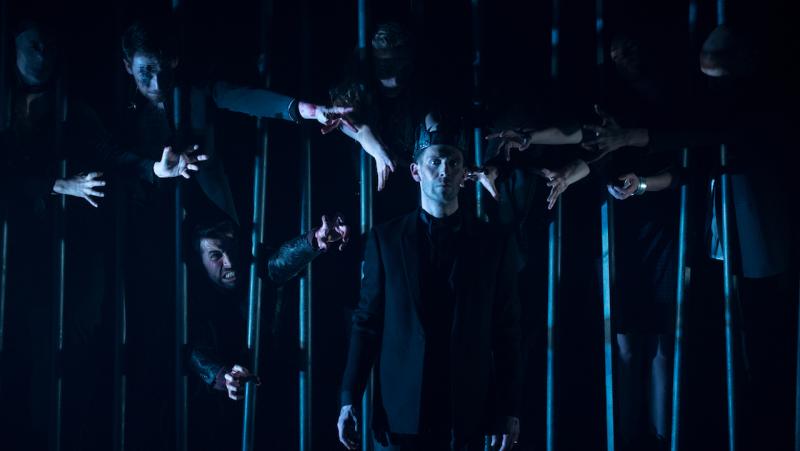 Sound and fury: Jonathan Goddard as Macbeth with other dancers of Mark Bruce Company
There's more than a touch of vaunting ambition in the idea of turning the Scottish Play into dance theatre. Without spoken text, named scenes or even a printed synopsis, it falls to choreography and direction to speak for them all.
Thus the most striking achievement of Mark Bruce's small-scale touring production of
Macbeth
is that it delivers the story with a clarity and vibrancy that communicates, whatever one's level of acquaintance with
Shakespeare
. What's more, its best moments – which come thick and fast in the second half – are as thrilling as it gets on any size of
stage
.
The grand dilapidation of Wilton's Music Hall helps set the scene even before you've taken your seat. On stage, a foggy twilight reigns, relieved by lightning, so that throughout the show's fleet 90 minutes you're not always certain what you've seen. Was that one of the witches lolling against the scaffolding, or all three of them in a clinch? Did murdered Duncan's corpse just raise its arms as it burned on the funeral pyre? Severed heads on pikes appear to morph into a teeming army.
Many of these grisly effects are created by Guy Hoare's lighting. On a raised stage with no proscenium or curtain, every human shape is sculpted by light, every scene change cued by it, blackouts acting as punctuation. In a story so "stepp'd in blood" it is remarkable how few of Macbeth's murderous deeds we actually witness. Instead, we see the before and after – a decision that pays dividends in dramatic tension and a lingering sense of menace.
Darkness is pretty much a given in this tale, but Bruce sometimes defies expectation. His witches are more like Scots lassies on the razzle with their short tight skirts, clumpy shoes and tattooed limbs. The prophecies on the heath are represented by objects they fish from their capacious handbags, including a severed head and a series of grotesque baby dolls.
Props also play a chilling part in the stylised battles, a vortex of leaping and turning and wielding of knives. Each time, in defeat, the enemy falls prey to a ritual beheading, calling for a special sword removed with care from a special box. This daringly slows momentum but sticks horribly in the mind's eye, not least for the 21st-century parallels it conjures up.
The company's nine dancers work hard (some of them doubling roles) and Bruce's muscular, sensual choreography amply fills the space. It's not all grim. There are hints of knees-up Scottish dancing at the banquet before Macbeth starts losing the plot.
the arc of the pair's joint downfall is never less than deftly drawnJonathan Goddard in the title role starts out as a quiet presence, sober and precise in a dark suit. It's Eleanor Duval's Lady M (pictured above with Goddard) who draws the eye, swivelling silkily in her satin tube of a dress and flexing her double-jointed hands suggestively. The pair have real chemistry, which is to say a properly toxic one, and before long she is a heap on the floor, scratching at her bloodied wrists like a bad case of eczema, and he is hollowed out by paranoia and self-loathing.
Given Goddard's celebrated virtuosity, it's tempting to complain that he's not given much chance to let rip. But the arc of the pair's joint downfall is never less than deftly drawn, and Goddard, when he does briefly erupt into furious action, cuts shapes in the air that fizz with electricity.
The soundtrack, curated by the choreographer, is perhaps the most powerful driver of all. Drawing mainly on devotional music by Arvo Pärt, it also features bits of Schubert, Sonic Youth and the terrifying microtonal string writing of Krzysztof Penderecki. At one point, there is a sound that could only be the result of the massacre of a million starlings as they hit a wind farm. Either that or the screaming inside the head of a man who has murdered his way to power.
Its clarity and vibrancy communicate whatever one's level of acquaintance with the play
rating
Share this article