La Valse/ Invitus Invitam/ Winter Dreams/ Theme & Variations, Royal Ballet |

reviews, news & interviews
La Valse/ Invitus Invitam/ Winter Dreams/ Theme & Variations, Royal Ballet
La Valse/ Invitus Invitam/ Winter Dreams/ Theme & Variations, Royal Ballet
Alicia Alonso turns up for a night of febrile dancing and unrequited passion
The ballet world knows uniquely well how to stage gracious gestures to one of its own - dance history is close-knit and last night the Royal Ballet's first mixed bill of the season turned into a surprising celebration of the Cuban ballerina Alicia Alonso in her 90th year. Even more of a stunner to see Alonso herself sitting in the Royal Box, and coming on stage at the end to a standing ovation, tiny, chalk-white, red-lipped, with black glasses over her blind eyes, giving a remarkably deep curtsey for someone of 89.
Actually, for a nonagenarian to take such a long flight from Cuba just to attend a party in her honour is astonishing of itself, but Alonso built her career and her country's ballet company on just such heroic indomitability and class. The same indomitability makes her the oldest serving artistic director in the ballet world, and the only blind one, with mixed results.
The evening had been constructed for the occasion with the sort of attention that must come from genuine affection, finishing with the scintillating Tchaikovsky ballet George Balanchine made for Alonso in 1947, Theme and Variations. And the Royal Ballet director's Monica Mason had cast another Cuban superstar, Carlos Acosta, in one of the four ballets, and in Alonso's role in the Balanchine the London ballerina who is Alonso's soulmate, the brilliant and temperamental Spaniard Tamara Rojo.
Sharp-eyed balletomanes also spotted the possible subtext of an Ashton ballet in the programme - not only was Ashton born in South America (and Spanish-speaking), but Alonso says he once asked her to join the then Sadler's Wells ballet in the 1940s, before she followed her patriotic call to Cuba to start up that phenomenal ballet nation. Imagine the fights for supremacy with Alonso and Fonteyn together in one company. Good call, Alicia.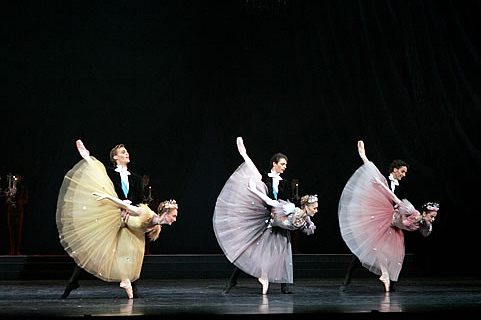 And was last night's ballet good? It was diplomatic. Ashton's La Valse is one of the most privately erotic ballets imaginable - a Fred 'n' Ginger midnight ball set in the demure Fifties, with society ladies in tiaras and sooty evening dresses getting fast and fresh in formation with gentlemen in tails (pictured right by Dee Conway/ROH). Ravel's music whooshes with the fever of Twenties hedonism, and the girls' feet quiver with desire as the men lift them again and again, faster and faster. The bodies sway and whip from side to side heedlessly, your eye is constantly drawn to the pale tongues of silk that dive down into the women's frothy skirts. It's like a Powell and Pressburger movie fantasy, and the curtain falls on them because they simply can't stop dancing.
In the middle of the waltzers Lauren Cuthbertson with her sophisticated Margaret Lockwood smile is a natural for a Fifties dame, but it was good to see some of the newest male recruits (including young Sander Blommaert) being made to learn some Ashton class early in their careers. I also found it the most infectious musical performance of the evening, with Barry Wordsworth driving the ROH strings on as if they had an appointment with destiny.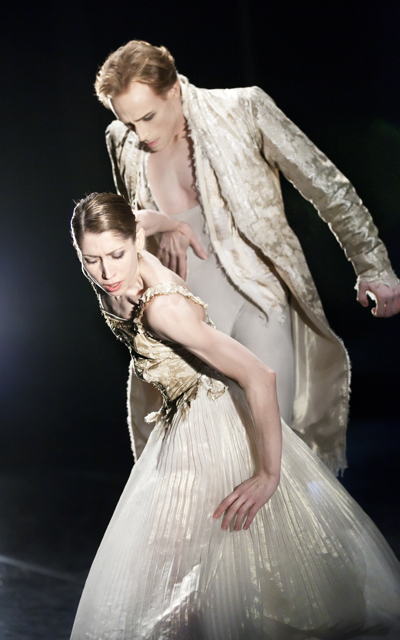 Appointments with destiny, both unfortunate, are the dramatic material for both Kenneth MacMillan's Winter Dreams and Kim Brandstrup's quite short new creation for the company, premiered last night, Invitus invitam. The title is intensely poignant - "invitus" meaning "against one's will" - and it draws on a sparse Latin line of Suetonius, describing a king adulterously in love, unwillingly splitting with the woman he loved. Such spare plots are always Brandstrup's area of expertise, joining bare dots with his soft-limned pas de deux, urging his performers to colour them richly in with emotion. Leanne Benjamin and Edward Watson are one of the most intriguing partnerships of recent years, she tiny but haughty, he broad-shouldered, hunched, riven with tension, and I imagine they will inject a fair amount into their choreography as they work into the run.
There is fascinatingly suggestive music - Couperin sampled and electronically altered by Thomas Adès for dramatic effect, to allow for fractures of history, remembered themes, echoes, half-heard sounds - and an expertly moody visual setting by Richard Hudson, Lucy Carter and Leo Warner, with video magic making castles appear and disappear behind the doomed Titus and Berenice. Their three pas de deux are interspersed with a pair of rehearsing dancers in today's clothes, studying fragments of choreography from a script, as if preparing a story from scraps. On first viewing I found the theatricality of it rich and multilayered, but the choreography for the main pair was milky, diluted, overshadowed by the more enigmatic sketches of the rehearsing dancers.
The characters fly past in brief, fractured encounters, Irina and her suitors here, Masha's husband and Olga there, leaving one to join the dots
Yet the fact is that either side of Brandstrup on the programme are two more articulate masters of emotion in movement, unafraid and curious. Ashton's La Valse is feverishly unbuttoned in its suggestiveness, despite the aristocratic clothes, while MacMillan's Winter Dreams (a very long winter) fills a houseful of Chekhov characters with a detail and individuality that brings three sisters, three soldiers, a brother, a mother, a sister-in-law, an older husband and two servants all to life. There is Tchaikovsky on a boudoir piano, a balalaika band on stage, and many striking similarities to Cranko's Onegin (a comparison that, as with Romeo and Juliet, poor Cranko loses).
I find the famous "Farewell" love pas de deux originally made for Darcey Bussell and Irek Mukhamedov in 1990 thin and generalised, the weakest part of the ballet, if not given larger-than-life performances, which last night it was not.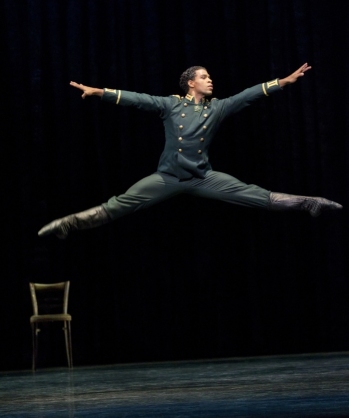 Above, Carlos Acosta as Vershinin, Marianela Nuñez as Masha; pictures by Johan Persson/ROH
Acosta danced with plenty of attack in his soldier's uniform but without heat in his relationship with Marianela Nuñez's underpowered Masha, and Jonathan Cope was stiff as a board as Masha's spurned old husband (Anthony Dowell was the original, extraordinary incarnator). However, either side of them were the forcefully truthful Mara Galeazzi (the best Olga I can remember, passionate and frustrated) and Laura Morera as flirtatious Irina, with Thomas Whitehead and Valery Hristov drawing attention as her often interchangeable boyfriends.
Rather like Ashton's Enigma Variations, the characters fly past in brief, fractured encounters, Irina and her suitors here, Masha's husband and Olga there, leaving one to join the dots (as Brandstrup hoped in his piece). Despite many individual moments of MacMillanesque choreographic insight, the ballet drags on too long, and it definitely needs more spirited piano playing than Philip Gammon's last night.
A crisp, well-mannered female corps gave Tamara Rojo and Sergei Polunin a gracious court in Theme and Variations, though the boys looked less well directed than in La Valse. Rojo, after a slightly tense, rushing start, settled into the regal brilliance of the Alonso role as if it had been made for her creamy turns and poised balances. (Picture left, Alonso and Igor Youskevich in the original production.)
The superb young Polunin raised gasps by the finesse and floating height of his double tours en l'air. This is a prince among young dancers, who like Rojo has rare love and understanding of the diamond beauty of Balanchine's ballet language at its most classical.
Explore topics
Share this article