La Fille mal gardée, Royal Ballet |

reviews, news & interviews
La Fille mal gardée, Royal Ballet
La Fille mal gardée, Royal Ballet
Ashton's pastoral comedy of love among the haystacks continues to thrill and delight
Laura Morera as Lise and Vadim Muntagirov as Colas in 'La Fille mal gardée'
In 1803 they called it Filly me Gardy. Today British ballet lovers refer to it by a single coded syllable: "Fee". But translating its title is, for audiences at least, the only hard thing about this three-act romcom by Frederick Ashton. The rest is pure pleasure, and pure Englishness, in what must be the happiest work in the repertoire.
The sugar-averse may wish the choreographer had done without the (real) Shetland pony and (human) chorus line of chickens. Discovering that Ashton's cockerel was doing the John Cleese walk 20 years before John Cleese doesn't mitigate the feeling that it's not quite funny enough to have such prominence in the opening scene. Yet for true, blushing romance the shenanigans of Lise, the wilful daughter of the title, and Colas, her determined beau, put this ballet in a class of its own. As the late critic Mary Clarke wrote of the premiere in 1960 (this revival's opening night was dedicated to her memory): "It blends to a nicety the April emotions of young love, tears and happiness intermingled like showers and sunshine."
Few Colases manage to look so fit in those daffodil tights
The role of Lise is a magnet for a certain kind of ballerina, yet some of the greatest have given it a wide berth – neither Margot Fonteyn, nor Sylvie Guillem nor Darcey Bussell ever danced it. Laura Morera, with her neat proportions, frisky feet and strong projection, is a natural Lise. Dynamics have always been Morera's specialist subject – she does soft/sharp, smooth/spiky like no other in the Royal's current lineup – but sometimes you wish she'd trust the steps to do more of the talking. We don't need to see every touch-down from a high lift registered with her eyebrows as if the floor came as a surprise. That said, the whole-body glow of contentment she radiated throughout the wedding pas de deux adage was extraordinary – you could have toasted crumpets off it. And, throughout, her sense of fun and earthy sexuality were spot on.
However, it was Vadim Muntagirov (pictured below) who scored the biggest cheers. Where some dancers have to act boyish, Muntagirov, at 25, delightfully just is. And he had every reason to be enjoying himself on this occasion, taking Ashton's extreme technical challenges in his (enormous) stride and, in the bottle solo, knocking out a string of the cleanest and most nonchalant-looking mid-air splits I think I've ever seen. His long and shapely legs give him a head start – few Colases manage to look so fit in those daffodil tights – and his manège has terrific sweep and scale. But this Royal Ballet Schooled Russian has speed in his arsenal too, matching Morera for zip and attack. My guess is that the cat's cradle climax of Act One's ribbon duet was the only thing that gave him a moment's anxiety (many couples have come a cropper). But he and Morera managed to produce a tolerably symmetrical latticework square, and got a round of applause for it.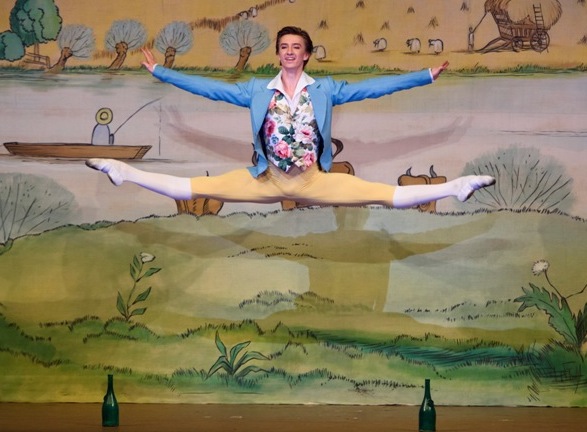 Ribbon-craft is everywhere in a ballet that celebrates all the things Ashton loved about rural England – or his nostalgic idea of it – including maypoles and rained-off picnics. There was evidently some kind of "pas de ruban" in the original 1789 ballet – a work now lost forever. But Ashton took the idea and ran with it, developing the ribbon motif into one of the most resonant metaphors in dance. What begins as a simple lover's knot tied round a stick becomes in turn a lasso, a carriage and horses, a row of kisses written across the stage, Cupid's bow and, most spectacularly, the spokes of a giant wheel, with the heroine turning on one toe seraphically at its hub.
Another thing that makes La Fille mal gardée such a happy ballet is the sense that everyone is well employed: the corps have all that hay to scythe, and the cast of secondary characters are adorable. William Tuckett, who now practically owns the role of Lise's fusspot mother, Widow Simone, has softened her over the years. She may be a bit free with the corporal punishment but she's a game old bird who doesn't need much encouragement to don her clogs to dance with Lise's friends (how I always wish that glorious set piece were reprised in the second half: it's too precious). At every revival, Tuckett comes up with new comic business – new pratfalls, new endearing foibles – the only mystery is why it's never possible actually to clog in time (answer: it must be harder than it looks).
Alain, gormless son of a rich landowner and Lise's official suitor, has also sweetened in the hands of the present incumbent, again to positive effect. In the 1960s it might have seemed OK to laugh at an "idiot", but to our eyes now Alain's obsession with umbrellas clearly puts him on the spectrum, and our laughter has to be kinder. Paul Kay, alarmingly pretty under his blonde wig, and alarmingly wild in his fast, flailing solo, cleverly works that seam.
The Opera House orchestra under Barry Wordswoth responded cheerfully to John Lanchbery's patchwork of Herold, Donizetti, Haydn, Hertel and Rossini. Other casts (there are five in all) will bring other qualities to their roles, but the blast of friendly warmth from this national treasure is guaranteed.
The whole-body glow of contentment throughout the wedding pas de deux adage was extraordinary
rating
Explore topics
Share this article