'If they had been any closer my face would have misted up': filming 'Men at the Barre' |

reviews, news & interviews
'If they had been any closer my face would have misted up': filming 'Men at the Barre'
'If they had been any closer my face would have misted up': filming 'Men at the Barre'
The director Richard Macer had exclusive access to the male stars of the Royal Ballet. He describes what he discovered
'Here I was at point blank range, staring at them as though at a Degas': Richard Macer films rehearsals with Vadim Muntagirov
"That's Marcelino Sambé, he's wonderful," said the artistic administrator of the Royal Ballet as I followed her down one of the many corridors that weave throughout the Royal Opera House in Covent Garden. "He's a newly promoted Principal, a very special talent indeed!" I looked over my shoulder at the figure disappearing through some doors.
I had been at The Royal Ballet for over a week making a
documentary
for
BBC Four
about a golden generation of male stars but as yet had not met any dancers.
Access documentaries to institutions such as this take months of negotiation and it's not uncommon for the start of filming to be delayed. During this time my guide would feed me daily titbits of tantalising information about the young men I hoped one day to meet. "Matthew Ball is about to go to New York to star in Matthew Bourne's Swan Lake!"; "Vadim Muntagirov is just back from Paris, he'll be in rehearsing for Sleeping Beauty soon."
My temporary home, the administrative section of the organisation, is on the third floor of the Opera House. The dancers' natural habitat was floors two and six (dressing rooms and studios). So, the only time I'd got to see them was in the lift where they were rushing either from or to a rehearsal and I was making my way either from or to the admin offices. As soon as the doors opened they'd troop in chatting about bruises and sprains and always adorned in very large slippers that looked rather like sleeping bags for the feet. Anyone who knows anything about ballet would appreciate instantly what this footwear is. But I'm not from that world.
Two months earlier I had been in a meeting with the arts commissioner at the BBC. "But I don't know anything about ballet!" I exclaimed. "Exactly," she said with a triumphant smile. "You're going to ask the questions that the ordinary man in the street would ask!"
Just before I started filming at the ballet an American TV news presenter, Lara Spencer, had made a joke about Prince George enjoying ballet at his school. A few days later, after a huge social media outcry and a demonstration by hundreds of male dancers in New York's Times Square, she made a grovelling apology live on air. I was perhaps the only benefitciary of this unfortunate incident since Lara had unwittingly put a thorny issue back on the agenda: the stigma of men who choose what can be seen as a woman's discipline. I couldn't decide if I was more surprised in the modern age that she had made such a faux pas or that there should be such anger as a result of it. Some of the dancers at the ballet were annoyed, others were more inclined simply to roll their eyes.
But as I got to know the stars of the Royal Ballet – Marcelino Sambé (pictured above), Vadim Muntagirov and Matthew Ball (pictured below) among others – it made me sad to learn that several of them had experienced some kind of discrimination due to their choice of career. The oldest generation of dancers with whom I filmed, character artists who are now in their 50s, had experienced much prejudice growing up in the 1970s, a decade which reached its zenith in politically-incorrect culture with Carry On films and Benny Hill. But even the newest generation, the young students at The Royal Ballet School, talked of football-mad chums who couldn't comprehend why their mate would want to deviate from the chosen path, and fathers who demonstrated their lack of approval by becoming very quiet and refusing to speak. Attitudes were changing slowly but the stigma still definitely existed.
Early on I had my own Lara Spencer moment when I asserted confidently that ballet is "an essentially feminine art form" in a meeting with some heads of department at the Opera House. The head of ballet press admonished me, "Richard! It's not feminine, its graceful!" I retreated into my polo neck like a tortoise. Later that night I read up furiously on the world of ballet and watched several performances on DVD – The Nutcracker, Mayerling, Manon. The following morning, I emerged from Covent Garden tube station no longer just the "man on the street" but rather the "man on the street with a growing appreciation of ballet". I quickly acquired a knowledge of jetés, glissades, pliés, fondus etc and I dropped them into conversations with the dancers whenever I had a moment: "That was a cracking enchaînement, Vadim". That kind of thing.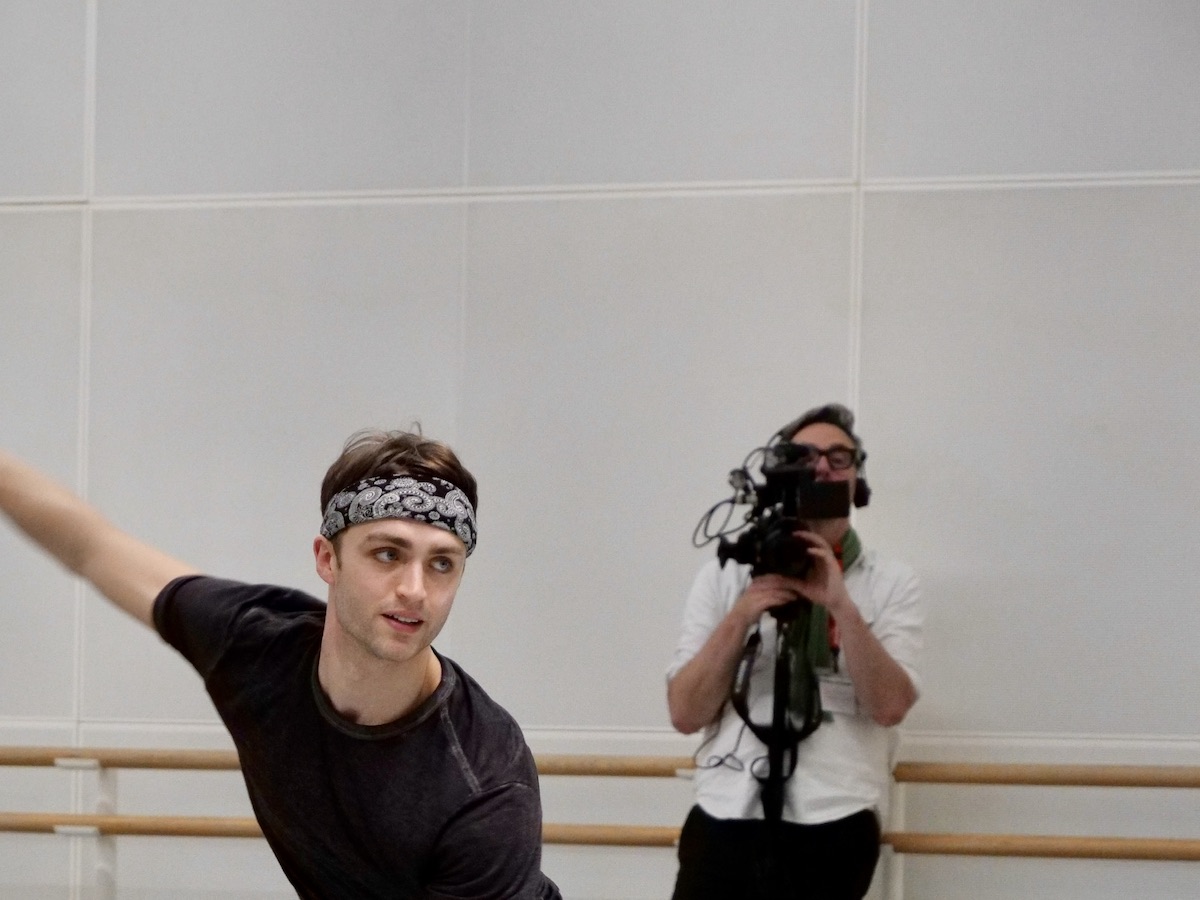 I've always had a strange aversion to live performance art; perhaps it dates back to an episode as a student when some friends and I had paid to see an avant-garde theatre troupe called Dogs In Honey and one of the cast sat on my lap in a moment of excruciating improvisation. It's probably why I love documentaries so much because everything is rooted in reality. But in my second week at the ballet all that changed when I was invited to film a rehearsal in the Fonteyn Studio (all the studios are named after ballet legends). This was a large white room with mirrors along two walls. In one corner a pianist was taking their seat behind a grand piano. Alongside them (I would learn later) was also a conductor, a choreographer and a coach. I approached each one separately and introduced myself in a barely audible whisper as if inquiring about a reference book at the library. And then the dancers sauntered in: water bottles in hands, phones, headbands, brightly coloured body stockings. Silently they started stretching out their sculpted limbs.
It occurred to me these were stars whom people pay good money to watch but never get any nearer to than 20 or 30 yards from their seats at the famous Opera House. Yet here I was at point blank range, staring at them as though at a Degas in the National Gallery. At these close quarters the dancers reminded me, somewhat oddly, of that heightened perception you get when at the zoo beholding something arresting to the senses and exotic. When the lion wanders close to the point where you stand, separated by just glass or a metre of wire fencing, you drink in every detail of that fine beast: the size of its paws, the colour of its eyes and the muscles murmuring beneath the fur. Glazed with perspiration the dancers would stand just in front of me, rib cage flexing as they suppressed gasps for air from deep within. If they had been any closer my face would have misted up.
All the men at the ballet have honed their bodies into fine musical instruments but the two Stradivariuses among them are definitely Matthew Ball and Steven McRae (pictured below). Each part of their anatomy is so well defined it deserves to come with a label. When they dance, each muscle flexes, each tendon stretches, each sinew vibrates – their physiology is so visceral it's as if they have returned to life and escaped from a Gunther von Hagens exhibition! Like the other dancers at The Royal Ballet, both these principals benefit from a gym and health care system that would impress Pep Guardiola. On-hand masseuses, physios, gym instructors and sports psychologists have put elite ballet into the same league as professional footballers. There's nothing sissy about it.
So what is at the heart of ballet that continues to cause a stigma for men? Maybe it's because the craft of dancing is about creating "beauty" and beauty is a construct society associates with women. Or could it also be that the "male gaze" is to blame for our preoccupation with the ballerina? The sight of all those swans on pointe and in tutus? Whether we approve or not, the art of classical ballet was contrived to draw the eye towards the female form.
Over the next few weeks the rehearsals became more plentiful and we were able to film many wonderful moments from the classic shows they had in production – Sleeping Beauty, Onegin, Raymonda, Dances at a Gathering. I shot two of the most admired dancers at the RB, Marianela Nuñez and Vadim Muntagirov, as they rehearsed a pas de deux from Coppélia. During slower sections, where the dance is about control, I loved the way their sheer physical strength was suppressed to look like grace. In many of these rehearsals the ballet dancers had a kind of rictus smile on their face which they never let slip, a mask of pleasure designed to dupe the audience into thinking nothing they were doing was hard work. But Marianela had a smile for Vadim that I found utterly beguiling. I guess it's not that surprising she should feel this way when you think of what she was taking part in. From my seated position against the mirror, taking the whole experience in with my "man in the street" eyes, I felt like I was being assailed by pure beauty from all sides. It wasn't just the dancing: we were listening to some of the world's most famous compositions, by some of the most celebrated composers in history, performed by the best pianists in the land. Marianela and Vadim were not just creating beautiful movements with their bodies in the rehearsals I watched but also convincingly bringing the melodramatic old narratives at the heart of these classical ballets to life – love, betrayal, jealousy, murder – right under my nose! I found it impossible not to be moved.
After a few weeks, I was invited to hang out more in the dancers' rest area which is a long corridor lined with sofas. Along one wall there are endless black and white photos of Margot Fonteyn and Rudolf Nureyev and then opposite a bank of windows with one of the best views of London overlooking Covent Garden market. I would perch down next to the dancers, put my camera to one side and begin chatting while they did their stretches (ballet dancers are never not stretching). Rather like cats, they will stretch themselves against just about anything – walls, chairs, stairs. Just being around them made me feel exhausted. It must be wonderful to be so in tune with your body, to be able to listen to it so intently and know instinctively how each part has a function which is finely calibrated.
During this period, I found the dancers to be all immensely polite if a little bit wary of me. I had wondered if I might find a world of huge egos and diva-ish tantrums but the opposite seemed true. The young men were understandably on their best behaviour when I was around with my camera, but even so, I got the clear impression they were a rather caring brotherly bunch. Ballet at this level is intensely competitive and yet there was a sense of equality among them. Perhaps the days of Rudolf Nureyev, where the world is dominated by one huge talent, have gone for a while. Here the plaudits appear to be distributed evenly among several of this golden generation. Each one had something uniquely special about them but none were overshadowed by the other. Despite having died many years before these young men were even born, Nureyev still had a strange hold over many of them. Matt Ball and Vadim Muntagirov talked to me about his iconic status not just as a dancer but as a person too.
Christopher Carr (pictured above), the company's longstanding guest ballet master, was a young dancer when Nureyev was around. He remembers the great Russian defector but believes Vadim and his contemporaries are better dancers today. The grainy black and white film of Rudolf strutting on the stage is impressive but so much of his talent was down to a broader appeal than merely the physical manifestation of his dancing. An aura, maybe? Does this current golden generation possess that all-important secret ingredient that Nureyev had? Ballet certainly still has place in its heart for the enfant terrible, as Sergei Polunin's enduring popularity bears testament to. This ex-Royal Ballet star, its youngest ever principal, left under a cloud and shocked the world of ballet with his rock'n'roll lifestyle. That kind of cocktail: supreme talent, high art and the suggestion of a dissolute lifestyle will always be an intoxicating combination.
So what did I learn from my time at the ballet? It occurs to me that society has a bit of a fixation with the male ballet dancer. When you look at the stars – Nureyev, Mikhail Baryshnikov and Carlos Acosta – there is always a kind of fascination that goes with the man (and I'm sticking my neck out here!) that you don't get with the ballerinas. Ballerinas are still the bigger stars but because ballet is essentially what girls and women are expected to do it means the men appear more like curiosities. For a man it's automatically an act of rebellion just by pulling on the tights. And that creates a frisson.
Society is fascinated by men who blur the edges of what masculinity can be. While filming, I didn't do a straw poll on who was gay and who wasn't among the dancers at the Royal Ballet. It's fair to say the dance world attracts a lot of men who are gay. But there are many straight men, too. What's welcoming is that the whole definition of masculinity is less binary today than it was a few decades ago. In a sense, the longer I spent at the Royal Ballet the more irrelevant I realised this question was. In one interview the fine dancer Federico Bonelli explained to me that dancers used to point out how physically strong they had to be as a way of fending off accusations of being effeminate, but that really we'd transcended that now. I think he's right. A man is an increasingly fluid and complex thing in the modern world. Society needs men to be strong but also it wants them to be sensitive and cultured and artistic too. Bearing that in mind perhaps ballet should be compulsory in schools everywhere, not just for our little girls but our little boys too.
Men at the Barre: Inside the Royal Ballet is on BBC Four on Wednesday 27 May at 9pm
For a man it's automatically an act of rebellion just by pulling on the tights. And that creates a frisson
Share this article