Harlekin, Derevo, Linbury Studio Theatre |

reviews, news & interviews
Harlekin, Derevo, Linbury Studio Theatre
Harlekin, Derevo, Linbury Studio Theatre
Russia's most charismatic clowns in a typically askew mime play about Petrushka and his demons
Thursday, 17 January 2013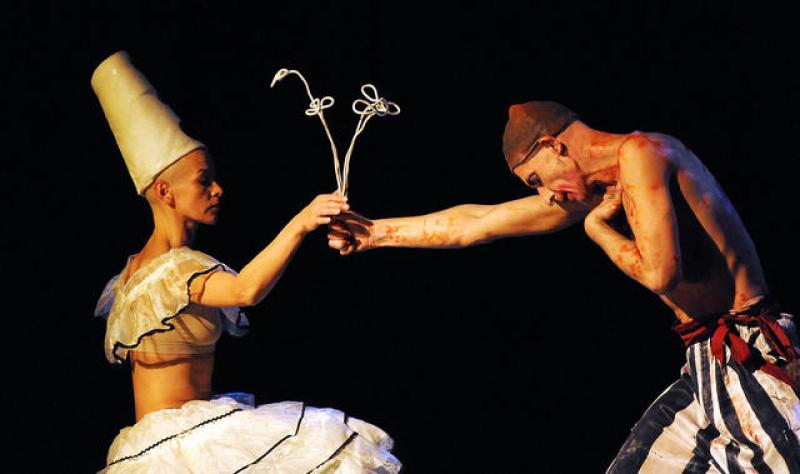 Unrequited love: Elena Yarovaya and Anton Adassinski in Harlekin
I've always keenly anticipated Derevo. A rare sight in London, they are the must-catch company in a singular branch of mime theatre - some would call it clowning, from an oblique, dark place of visions, fears and childlike imaginings.
They are a small monkish Russian troupe who with apparent heedless aim have for the past 25 years been snatching at history, fantasy, antique
commedia dell' arte
, and the rubbish-strewn street in productions that often leave your brain spinning with questions but your heart twanging with comprehension.
They sport shaven heads and bodies of balletic litheness, and their fragmented narratives feel dug out of the ground in broken bits, for you to sort out and make sense of: echoes of children's fairytales, scraps from prehistoric scrolls, forgotten rituals, amputated myths, Russian literature, philosophical satire. They have come to be known for using highly sophisticated soundscores allied with extraordinary primitive props made from what looks like litter. "Derevo" means wood, and it's a main material in their sparse home-made accessories, along with cast-off wire, rags and crumpled paper.
Some of Derevo's productions you can characterise as captivatingly lyrical, others are spooky half-glimpses into Hieronymous Bosch hells, all the more scary as they feel so present. Harlekin, shown at last summer's Edinburgh Fringe Festival, is at the lighter end, feeding off the age-old archetypes of commedia dell' arte who for centuries have been rewardingly reshaped to play out every nuance of victimisation and manipulation, either by outside forces or inner doubts.
There used to be three charismatic members of Derevo - Anton Adassinski (pictured left by Dieter Hartwig) and two contrasting women, golden little Elena Yarovaya and silvery, vulnerable Tanya Khabarova. The latter peeled away from the cult, and there are here effectively two, Anton and Elena, 50-ish now, who play out scenes in the life of Petrushka, the broken man who is eternally in love and eternally disappointed, and the characters who bring about his constant perplexity with the world, his deceitful girlfriend, the worldly know-it-all, and the personal demons who haunt his sense of himself.
At the start a fat, bearded puppet-master manipulates his toy dolls, the boy and the girl, milking the applause from the audience behind the curtain. He is God - or authority - who can't control his creations, and then we're watching the dolls become humans, to make their own messes in life.
As the suffering Petrushka archetype, who is constantly wounded by circumstances or the uncontrollability of his own feelings, Adassinski has a wonderfully individual line in lean, lined breakability. You see the wear and tear of years in his face with its gash of smeared, tired lipstick, you see a lifetime of deprivation in his skinny (though agile) body as he rips out his heart - a red capsicum, a brilliant image - to present it to his girl.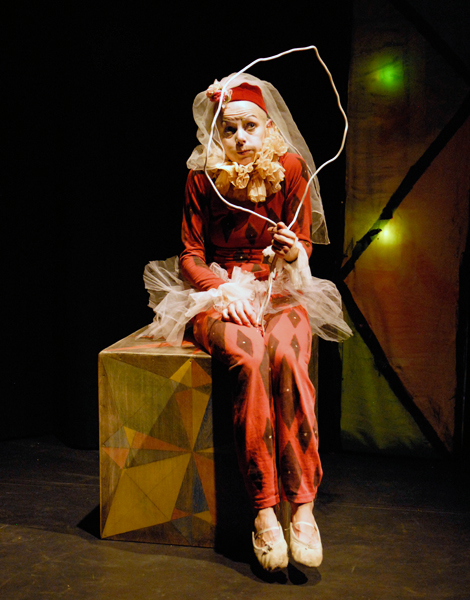 The gorgeously dimpled Elena, still nobly shaven-headed as required, retains the milky sweetness and beguiling elegance of yore, playing three figures in Petrushka's blighted life, all in various ways tricking him: the heartless Pierretta in pretty frills, a raunchy nurse and an ambiguous monkey-boy in a harlequin romper suit (pictured right by Dieter Hartwig). With Elena around it matters not at all that the cast is so small, so delightedly can you follow her shape-shiftings.
The pair remain astonishing as actors in the exact way they can extract from the smallest gesture or glance a narrative moment, even before it is born. When Adassinski's bruised eye glitters, it's marvellously clear whether he is about to cry, or anger is dawning on him. There is none of the po-face of Chaplin or Marceau in him.
Equally there's the usual Derevo masterclass in how to fuse what's seen and what's heard, a score that's envisaged from the start with the movements, an aural story (created by Daniel Williams) of real sounds and suggestive sound effects fusing with formal, suggestive music (I guessed at Ravel, Scriabin, Handel and Russian folk song), making a constantly coloured warp to receive the weft of the performers' choreography, props-using and light. There is a particularly adorable scene with Petrushka and Pierretta in separate theatre kiosks, enacting a series of tiny little days that each last precisely the length of a little descending lute scale, and end with each folding their hands to sleep - a sequence during which his ardour grows, but she smilingly produces a baby by some other man. It's a miniature, perfectly described emotional tragedy. And the moon's perambulation meanwhile is a wee coup de théâtre of its own.
Still, vastly as I admire their skill, this show felt less joined-up than others. Derevo show here that they're masters of mime one-liners - the scenes and images are frequently fine, but don't accrue the same overarching power as some of their shows where the visions just seemed bigger and riskier.
That is, apart from a climactic finale with Petrushka laboriously whirling a gigantic beam borne on his shoulders - the man who must, like Atlas, bear the world's burden, or turn the vast hands of an eternal clock, or bear Jesus Christ's cross of guilt. This, an image that manages both to belittle the man and invest him with gigantic power, is at last something Derevo-sized.
Derevo perform Harlekin at the Linbury Studio Theatre, Royal Opera House, London, till Saturday. Further LIMF information - festival ends 27 January
Derevo's productions often leave your brain spinning with questions but your heart twanging with comprehension
rating
Share this article