Coppélia, English National Ballet, London Coliseum |

reviews, news & interviews
Coppélia, English National Ballet, London Coliseum
Coppélia, English National Ballet, London Coliseum
Good clean fun from bright young things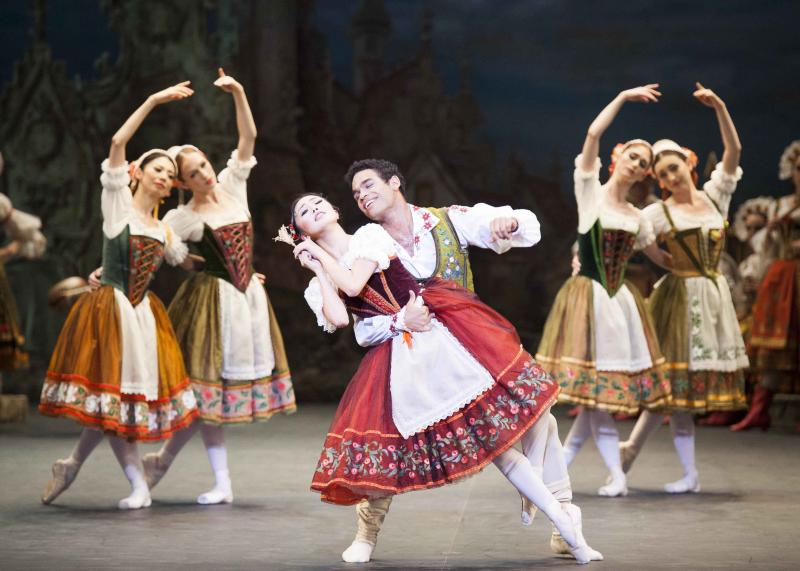 Shiori Kase and Yonah Acosta make their débuts as Swanilda and Franz in ENB's timeless production of Coppélia.
For all it's a balmy July here, the litany of appalling news from the world's conflict zones will have left many of us feeling less than summery at heart. In that frame of mind, you might wonder whether Coppélia, English National Ballet's latest production, is quite what you want to see. We are speaking, after all, of a frothy 19th-century comic ballet, full of charading silliness, populated by unfeasibly cheerful peasants, and ending happily with the all-too-predictable wedding.
Sharp social commentary – or existential comfort – it ain't.
But ENB has several treasures on its hands that make this Coppélia worth more than a morose passing glance. One is the production, which looks incredibly good for its 30 years in the repertory. Designer Desmond Heeley matched Ronald Hynd's cheerful, pretty version of the traditional Petipa choreography with a cheerful, pretty Austrian setting, sprinkled with roses, onion spires, steep-gabled houses and a wayside shrine to the Virgin Mary. The peasants are fabulously decked out in red, green and gold, with embroidered jerkins, crisp aprons, and 16 pairs of scarlet, calfskin boots so gorgeous that I swelled with gratitude to ENB's hard-working shoe department for creating them. It's a very traditional ballet aesthetic, but it's executed with love and a sense of fun, and I'd take it any day over the arch, affected bum-wiggling of the last Coppélia we saw in London.
The dancers exude the same sense of love, dedication and fun as the design does. Corps de ballet dancers in comic ballets have to smile all the time, but this lot seem to be genuinely enjoying themselves as they bounce along on top of Délibes's sweet – but not sugary – score. Perfectly crisp, perfectly in harmony with each other and with the orchestra, both the dancers and conductor Gavin Sutherland beam as they hover flirtatiously on the brink of a downward-swooping phrase, or hit a finishing pose on its chord with triumphant exactness. The Petipa/Hynd choreography is by and large not difficult, nor particularly interesting compared to, say, Ivanov's masterful white acts, but ENB do it with such verve and skill and flair that it's a rollicking pleasure to watch. With their well-judged interpretation, Sutherland and the orchestra make it a huge pleasure to listen to as well, taking the famous, catchy mazurka loud and fast, all snap and snare drums, but keeping a delicate texture for the quieter scenes, in which the wistful tones of the oboe and cor anglais do a great deal to give the ballet soul and keep it, for all its silliness, on the right side of farce.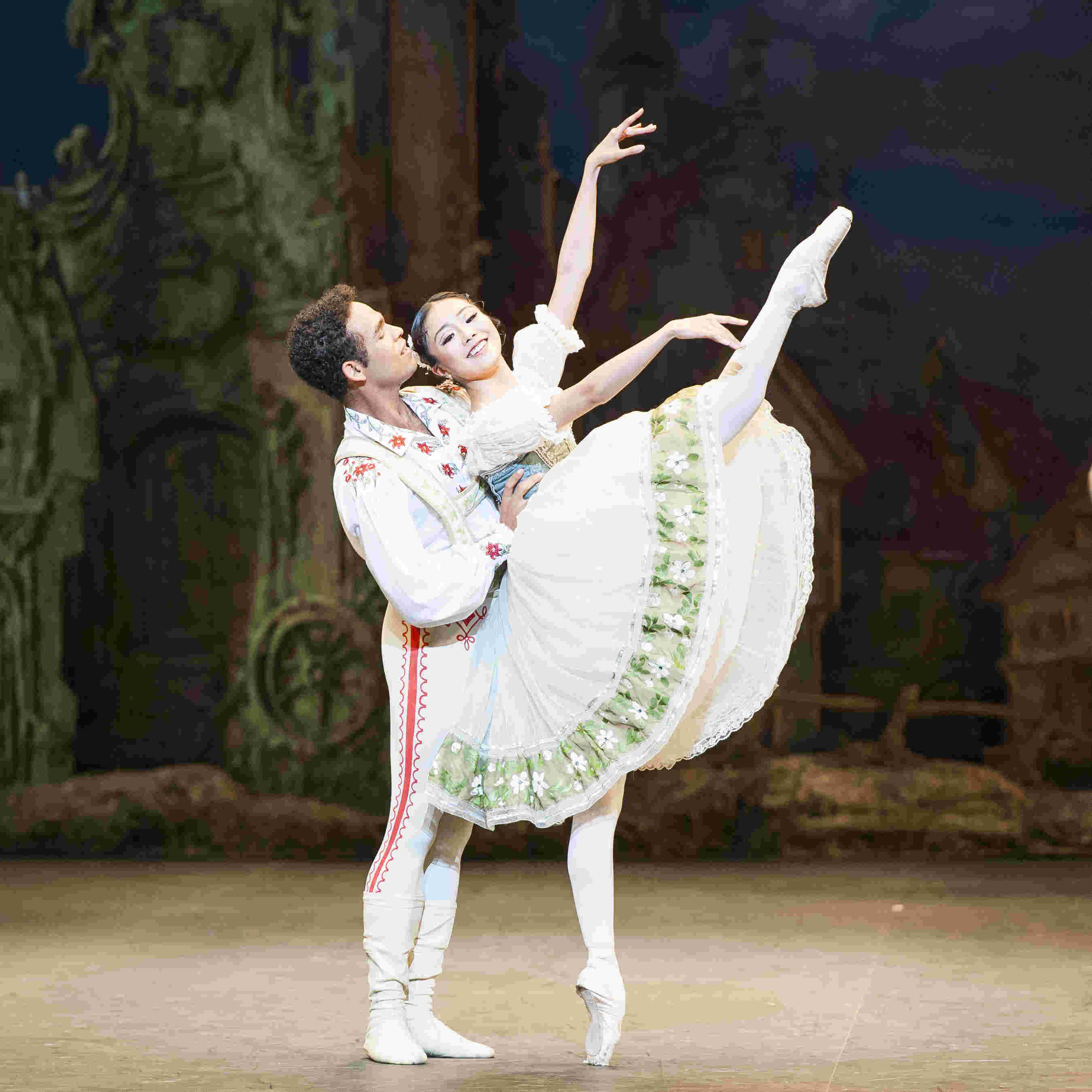 Shiori Kase and Yonah Acosta (pictured right) were making their débuts in the main roles of Swanilda and Franz last night. Acosta, who in a recently announced round of promotions leapfrogged from the rank of Junior Soloist to Principal, has a ready charm as the good-natured almost-philanderer, rolling his eyes to mime his innocence, carrying a ladder with caper-movie "stealth", or throwing off crisp, carefree jétés and grands pas de chat. Kase, who was promoted a more quotidien single step up to First Soloist, is equally charming, and ever so poised: she doesn't put a foot wrong in her Act I solos, and looks like she's having a marvellous time throughout. Both are a touch wobbly by Act III, with the odd fluffed landing and some insecure partnering showing they haven't mastered the principal's art of keeping some strength in reserve for a bravura finish. Never mind; it will come, and I'm looking forward to seeing them both develop as they progress towards star status.
ENB have a clutch of very strong women at the Soloist and First Soloist level, and seeing them trotted out as harlots, odalisques or cygnets is fast becoming a pleasure I anticipate as much as the main action when I go to see the company. True to form, Crystal Costa, Laurretta Summerscales, Senri Kou, Ksenia Ovsyanick, Alison McWhinney and Madison Keesler are a joy as Swanilda's friends (with Summerscales, as always, standing out for her gorgeously soft arms). They are equally capable of executing pure dance numbers with panache and solid excellence, and of hamming it up with sparkling glee, as when when they have to venture into Dr Coppélius's thrillingly creepy, steampunk-macabre workshop. As the mad doctor, Michael Coleman (pictured above left) engagingly walks the line between pathos, creepiness and harmless eccentricity, with a decided weight on the latter towards the end (you shouldn't have any nightmares on your hands if you take the little ones).
The dancers are charming and the orchestra means business: yet again, ENB have given us a thoroughly delightful evening at the ballet, full of good, clean fun, and honest giggles. No, it won't bring world peace – but it might send you on your way a little happier.
English National Ballet are performing Coppélia at the London Coliseum until 27 July and then on tour in Southampton, Oxford and Bristol in October and November 2014.
Both dancers and conductor beam as they hover flirtatiously on the brink of a downward-swooping phrase
rating
Share this article