BBC Young Dancer 2015, BBC Four |

reviews, news & interviews
BBC Young Dancer 2015, BBC Four
BBC Young Dancer 2015, BBC Four
Impressive talents in remarkably gimmick-free Beeb competition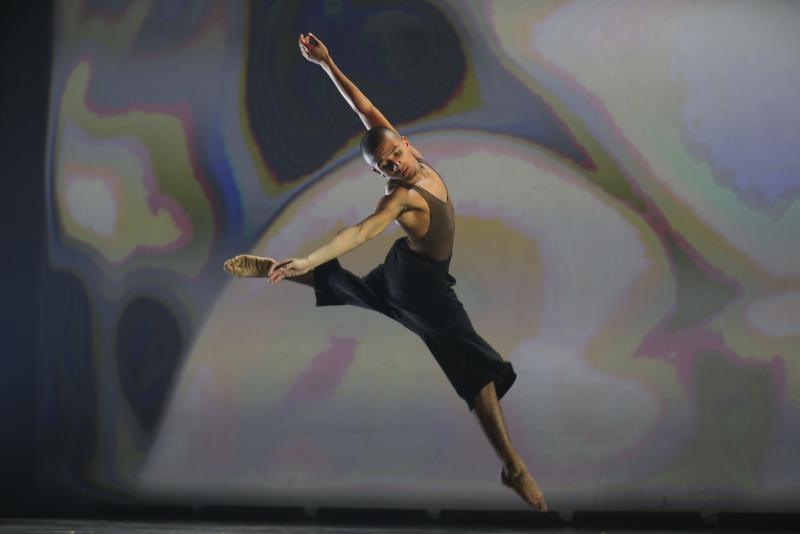 Jacob O'Connell, winner of the contemporary category and the first contestant through to the grand final of BBC Young Dancer 2015.
Lest the BBC Four imprint prove not strong enough a signal, I'll say it loud and clear: don't go into this expecting Strictly, kids. On the evidence of last night's contemporary dance showdown, the first of four section finals, the brand new BBC Young Dancer competition is light years from the razzmatazz, sparkling scoreboards and celebrity judge infighting of the BBC One dance flagship.
The first minutes offered the briefest sketch of contemporary dance's history and a couple of major choreographers as talking heads: distinctly more documentary than docu-soap. The ever-thoughtful and articulate Akram Khan earned a fangirl thumbs-up from me for his soundbite, that "in contemporary dance there are rules – but you have to make them up yourself", and also for rocking a cardigan (who doesn't love a nice cardi?) It was all very brief and introductory, but it was also unforced and almost entirely free from bulls**t. That may seem like faint praise, but it's a nice change to watch an arts documentary without having to yell at the screen for egregious over-simplification, heavy-handed atmospheric narration etc etc.


This concept was simplicity itself: the bulk of the programme was given over to watching the five young contemporary dancers doing their thing, each preparing for and then performing two solos and a duet at the final in Newport in front of judges Kenneth Tharp, Jasmin Vardimon and Mark Baldwin (senior dance world figures all; evidently the industry is embracing the competition). Brief introductions early on made it clear that the standard was high, and offered tantalising glimpses of exciting talent, particularly in the person of the youngest contestant, 16-year-old Connor Scott from Northumberland (pictured right).
When we got to see him properly, Scott didn't disappoint: even on a small screen his charisma and fantastic physical ability had me exclaiming out loud in admiration. His Northern origins and relative lack of professional dance training compared to some other contestants makes Billy Elliott comparisons all too easy to make, but Scott's combination of pale eyes, skinny frame, intense focus, and immense talent also reminded me of Vadim Muntagirov, the current Royal Ballet principal we first met as a stammering teenager in 2011's Agony and Ecstasy. Like Muntagirov, this kid is clearly going places; he may not have won this round, but he must be a strong contender for one of the wild card tickets to the grand final.

The Beeb is still capable of making TV that is neither over-produced nor hopelessly dumbed downLike most of the contestants, Scott's inexperience told in his choreography, which, though a sparky showcase for his physical gifts, didn't really transcend the schoolroom. That's not a condemnation – choreographing your own stuff for a televised competition shows great chops and dedication, and all the contestants deserve high praise for daring it. But the eventual winner, Jacob O'Connell must have been helped to his victory by the gripping, mature choreography he had developed in collaboration with dance partner Jason Mabana (also a talent to watch, I'd wager). Their tender duet was one of my highlights of the programme, and the first thing I looked up on the competition website (where there's a gallery of clips so you can watch in full the numbers abbreviated for the broadcast).

O'Connell is a student at Rambert, the most prestigious of the dance schools represented among the contestants, and it's hard not to think that gave him a head start in confidence, as well as a useful disciplinary framework through the school's dual focus on ballet and contemporary. Lack of discipline is probably what let down hip-hop-trained Kasichana Okene-Jameson, despite a duet full of interesting moments, while elegant, ballet-loving Diana Patience needed a bit more confidence to stare the audience down. Kai Tomioka was a surer performer, but the sparkle factor was greater with both O'Connell and Scott.

We only saw the judges' praise, not their criticism, of each dancer, adding to the impression that this competition is very much concerned with the young dancers themselves, rather than with entertaining the viewer. While it's good to see the Beeb is still capable of making TV that is neither over-produced nor hopelessly dumbed down, I'm going to hope that next week's hip-hop final is just a bit more toe-tapping. If this honest broadcast of dance is going to do the industry any good, it needs to convey the magic of a live performance, and the thrill that gets such young people so very, impressively, focused.
Finals in different dance disciplines for the BBC Young Dancer 2015 will be broadcast on BBC Four at 8pm on Fridays for the next three weeks. The live grand final airs on BBC Two on Saturday 9 May.

Further information about the schedule and the contestants on the competition website