Dancing Cheek to Cheek, BBC Four |

reviews, news & interviews
Dancing Cheek to Cheek, BBC Four
Dancing Cheek to Cheek, BBC Four
Len Goodman and Lucy Worsley trot gently through dance history
Tuesday, 18 November 2014
A certain amount of charm: Len Goodman and Lucy Worsley get to grips with the social history of dance
I am picturing a scene in BBC4's highly fortified underground headquarters, a conversation between its mastermind-in-chief and a hapless minion. "What do we do well, Stanley?" "History documentaries, boss." "And what do people, according to the immutable proofs furnished by viewing figures, actually like?" "Ballroom dancing programmes, boss. Costume dramas. And unashamedly populist, good-looking young historians." "Correct, Stanley.
So waltz yourself over to the phone to get Len Goodman and Lucy Worsley to do us a three-part series on the history of ballroom dancing. I want Len in tights, Dr W in a corset, and a feelgood Monday night slot in the run-up to Christmas. BBC1 won't know what's hit them."
So we have Dancing Cheek to Cheek: An Intimate History of Dance, in which lovable Len'n'Lucy have to trot us through the social history of dancing, starting with last night's episode on the 17th (Puritans vs country dancers) and 18th (minuetting gentlefolk) centuries. Len is not a natural documentary presenter and Lucy is not a natural dancer – but they have an easy rapport and a certain amount of charm, which helps them to carry the rather thin history lessons they must give. It's historical documentary of the jolly illustration, rather than searching analysis kind: so we see RADA students enact peasant maypole dances of the early 17th century, modern-day trainee barristers dancing po-faced recreations of the country dances we are told became popular in the Restoration – dances which were, Len informs us with a touch of Our Island Story outrage, "a home-grown success", before being exported abroad and forgotten about by their tradition-deserting British inventors.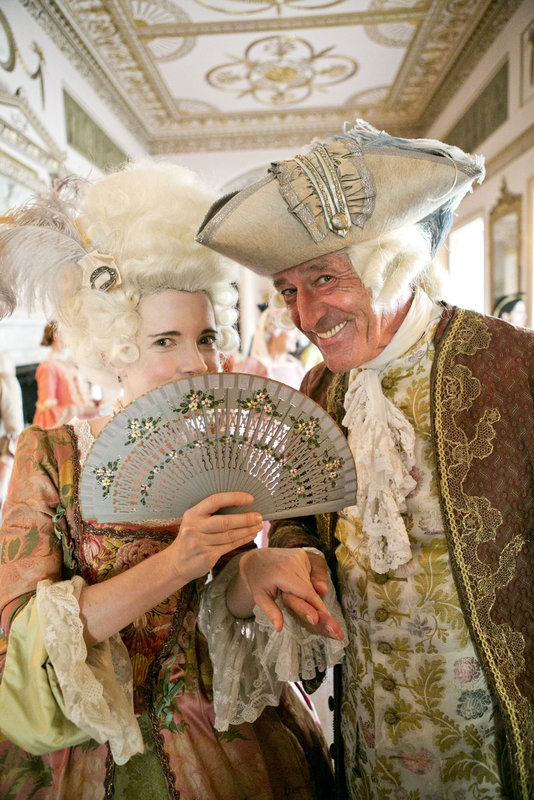 In between the factual parts, our intrepid co-hosts (pictured right) attempt to learn the minuet in order to dance it at a leaden recreation of an 18th-century ball, which looks more dreary and more sober than the average Year 8 disco. There's no trace of all the flirtation and frisson-laden brushing of wrists we've been so convincingly told was the attraction of this dancing business. Watching Len and Lucy muddle their way through the minuet is painful and unedifying – we learn much more from watching the graceful deportment of their teachers, Darren Royston at RADA and Dr Ricardo Barros at the Royal Academy of Music.
The best segments were those in which we got a feel for the bodily habitus of the minuet and sarabande, those now very alien forms of courtly dancing. Helen Persson from the V&A explained to Len that because early 18th-century heeled shoes lacked the metal shank that modern shoes use to distribute weight evenly from heel to toe, you had to walk almost on tiptoe in them, in order not to break the heel. Aha – the front-footed, bendy-legged stepping of the minuet makes a bit more sense now. And then Lucy, getting rigged up in a paniered dress, discovered that you had to wear a busk, a carved wooden stick, "between your breasts", which was not only a bit salacious – as she chummily pointed out – but made it impossible to bend the upper body forward. Aha – now we can see just why Baroque dance had a very still, upright carriage.
We can look forward to more revelations of this sort in the next two episodes, which cover the 19th and early 20th centuries. And let's hope that Len'n'Lucy, who're not going to be let off the dancing hook, find the polka, the waltz and the tango easier to deal with. Just – please – don't make us watch them twerking.