The Ballets Russes Return to Russia |

reviews, news & interviews
The Ballets Russes Return to Russia
The Ballets Russes Return to Russia
Legendary lost ballets recreated to recapture the spirit of 1912
Ninety-nine years ago, there were sights and stars seen upon the ballet stage as had never been dreamed of. A young genius of 32 was the driving engine of Diaghilev's Ballets Russes - the choreographer Mikhail Fokine, who created fantasies of radiant Blue Gods, of murderous and erotic goddesses, and tapestries that came to life and sucked dreamers into them. His stars were to become immortals: Anna Pavlova, Vaslav Nijinsky, Tamara Karsavina, Ida Rubinstein… the most beautiful divinities of the stage, their names living on.
For Nijinsky's vehicle, Le dieu bleu, the ultimate stage colourist Leon Bakst unleashed eye-scalding visions - fiery cliffs, ultramarine skies and fiery cliffs draped with gigantic snakes (his set pictured below). Fokine complained that the spectacle gave his choreography no chance, though probably even more at fault was Reynaldo Hahn's French salon music. In a fortnight in May during that 1912 season in Paris, Diaghilev whipped the covers off three astonishing ballet spectacles: Le dieu bleu was followed seven nights later by Thamar, a vehicle for the heartbreaking Tamara Karsavina as a terrifying, irresistible goddess, dealing out death to her lovers. Nine days later Diaghilev's star youth, Nijinsky, premiered his own first ballet, L'après-midi d'un faune, thrilling and scandalising the public with his embodiment of a feral satyr satiating himself upon a nymph's dropped scarf.
For all these immortal nights, the air was heavy with incredulous expectations and hallucinatory wonders. To recapture this atmosphere is the ambition that Andris Liepa, the former Bolshoi leading man, has set himself this week in London, with three nights of stagings at the Coliseum that hope to resonate with echoes of the magic of a time when ballet had become the supreme crucible of theatre art, lush in design, lavish in theatricality, adventurous in music, thrilling in concept.
Liepa, who is on a mission to bring Diaghilev back to his countrymen long decades after his memory was obliterated by the Soviet era, has joined forces with the Kremlin Ballet of Moscow, and will show seven ballets whose names redole of the pinnacle of Ballets Russes glamour. Some will be revivals, others will be new stagings of Diaghilev works, their aim being to let us once again see - or seem to see - those scenic sights, hear the music, glimpse the starriness.
Legendarily lost ballets will walk again, in a modern guise, their designs and historical lustre challenging today's choreographers to try to match the landmarks that remain - alongside the familiar Faune, Firebird and Sheherezade, the Blue God and Thamar will be resurrected from their coffins, and the lovers Rinaldo and Armida will step out from their tapestry in choreographic versions by Wayne Eagling (of English National Ballet) and Jurijus Smoriginas (of the Lithuanian Ballet). The one potentially "authentic" recovery may be that of the first ballet to Ravel's Bolero, that from 1928 by Nijinsky's genius sister, Bronislava Nijinska, with a gypsy woman dancing hormonally on a table. In contrast to Nijinska's pared-down Minimalism of Les noces, this is said to be uninhibitedly arousing, almost an old-fashioned gypsy bacchanale.
The performers this week include the Bolshoi star Nikolai Tsiskaridze, who despite his statuesque size will recreate key roles of the diminutive Nijinsky, and two dramatic ballerinas, Irma Nioradze and Ilze Liepa, interpreting roles associated with Karsavina and Ida Rubinstein. (Two Blue Gods above: Tsiskaridze for the Kremlin Ballet, and Bakst's design for Nijinsky.)
There will be other changes too - the music for Le dieu bleu will not be the charmingly dansante Hahn score (the composer, an ardent follower of Mozart, found himself at sea with the increasingly rampant Bakst visions) but a new replacement by a medley of Scriabin, with his breathless Poem of Ecstasy at its core, and a doubling in length for the once concise Thamar.
But then, as Liepa explained to me last week, this season is less about chasing authenticity - where authenticity to the letter is impossible - than about recapturing an aspiration, an inspiration, a time when anything, no matter how outlandish, was possible only in ballet.
Quick guide to the ballets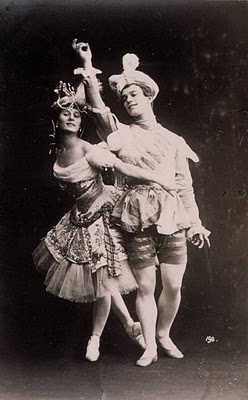 Le Pavillon d'Armide - 25 November, 1907, Imperial Ballet, St P (revived in 1909 by the Ballets Russes, Paris). It was originally performed as a bonne bouche after Swan Lake - a very long evening - and starred Pavlova and the 18-year-old wonder-boy Nijinsky (pictured right). To music by Tcherepnin and designs by Benois, it told of a troubling erotic dream. A magician puts a young Vicomte (Nijinsky) under a spell, and he dreams of walking into a tapestry summoned by the beautiful Armida. He wakes to find a "real" relic of hers beside him. It was no dream. The ballet was lost; in 2009 Jurijus Smoriginas created a new choreographic version for Kremlin Ballet, using the original music and designs. (Saturday, Sunday)
Sheherazade - 4 June, 1910, Ballets Russes, Paris. It starred the stage artist (not much of a dancer) Ida Rubinstein as the Shah's favourite concubine, and Nijinsky as the Golden Slave who is her lover. Discovering them in flagrante delicto, the Shah has both of them killed. With music by Rimsky-Korsakov and Fokine's orgiastic choreography - much adapted and embellished by various hands since - this production will have new Russian designs "based on Bakst". (Thursday, Friday)
The Firebird - 25 June, 1910, Ballets Russes, Paris. One of Stravinsky's most glorious and picturesque scores, designed originally by Golovine, with Fokine's choreography, it starred the dark beauty Tamara Karsavina as the mysterious Firebird (in a special Bakst costume and headdress) who helps Prince Ivan (Fokine himself) overcome the evil magician (whose soul is inside an egg) and marry a captured Princess, very grandly indeed. The Royal Ballet has a venerable and trusted choreographic text, handed on from the Ballets Russes, on which this production is based. (Tuesday, Wednesday)
Le dieu bleu - 13 May, 1912, Ballets Russes, Paris. A story of how Krishna, the Blue God, helps two young lovers unite was intended by Diaghilev to enshrine Nijinsky's "divinity" as a dancer. With demure, 19th-century-style music by Reynaldo Hahn and scorchingly vivid designs by Bakst, Fokine's choreography was swamped, and only the designs survived, in which Bakst outblazed even himself in a most fantastic Oriental style, coloured in blazing orange, ultramarine, turquoise, purple, white, yellow, and with vast headdresses, turbans and pearl necklaces. In this new creation by Wayne Eagling for the Kremlin Ballet, with a different score, a medley of Scriabin, only the recreated designs look back faithfully to the 1912 sensation. (Tuesday, Wednesday)
Thamar - 20 May, 1912, Ballets Russes, Paris. This was a stupendously barbaric star vehicle for Tamara Karsavina, as a lethal, voluptuous goddess with a unibrow, who stabs her young lovers to death as she seduces them. (Portrait of Karsavina as Thamar by John Singer Sargent © Harvard.) The colourful music by Balakirev survives, and Bakst's luxurious, mysterious sets, with a cushion-filled tower, veiled Bayaderes and warriors, were once again acclaimed to the rafters. A great hit in its day, its Fokine choreography was lost, and in 2006 Jurijus Smoriginas made a new staging for the Kremlin Ballet, with sets and music as in their day. (Thursday, Friday)
L'après-midi d'un faune - 29 May, 1912, Ballets Russes, Paris. Nijinsky's first choreography, an experiment in Modernism to Debussy's brief, haunting score. The story is from a Mallarmé poem: in a forest a faun (Nijinsky) plays flute, nymphs pass by, he fancies one of them, she drops a scarf, leaves, he dives in ecstasy onto it. The choreography survives more or less intact, and Bakst created Nijinsky's most immortal image as the piebald, sexually charged Faune. (Saturday, Sunday)
Bolero - 26 November, 1928, Ida Rubinstein company, Paris. This was the first choreography to Ravel's most celebrated 14 minutes of music, created for the stage star Rubinstein by Nijinsky's younger sister, Bronislava Nijinska, celebrated for her earlier ballets Les noces and Les biches. Rubinstein was lushly dressed as a gypsy, dancing on a table to men's delight. Diaghilev saw the premiere and was appalled: "The whole thing was astonishingly provincial, boring and long-drawn-out." He also dismissed Benois's tavern designs: "Benois seems to have lost every atom of colour and taste…" This reconstruction was made in 1995 in the US (pictured right, Ilze Liepa). (Saturday, Sunday)
Diaghilev was the first person who decided to work for stars - he developed a star system
ISMENE BROWN: Were you drawn to the personalities of the Ballets Russes in selecting? The people associated here are very much Nijinsky and three amazing women: Karsavina, Pavlova, Ida Rubinstein.
ANDRIS LIEPA: It's amazing you pointed that out, because actually today theatres work like factories, they stage a ballet without seeing who is performing and what kind of repertory to put them in. Diaghilev was the first person who decided to work for stars. He created ballets for Karsavina, Nijinsky, for Ida Rubinstein - he started to develop a star system. So I went in the same direction as Diaghilev. He had the incredible personality of Nijinsky in his company and created Blue God for him, with sets and costumes by Leon Bakst. And this is the first time for more than 100 years that this ballet is reappearing. It's with the same visual look as Diaghilev intended.
Same with Thamar, it was never performed after Diaghilev's death. Nobody used the music for the ballet. The Thamar music is by Mily Balakirev, one of the most interesting composers. Or take Tcherepnin, who created the music for Le pavillon d'Armide, the first ballet Diaghilev brought to Paris - this was the first time European audiences noticed Russian ballet, and it had Nijinsky and Pavlova. Imagine this! Le dieu bleu was lost, unfortunately, so we have here a new creation by Wayne Eagling, who created this for the Kremlin Ballet and Tsiskaridze, who today is the equivalent of Nijinsky. It was shown on the stage of the Kremlin Palace.
Which have been the hardest to find? Why not take the ones that exist? Les sylphides, Les noces, Petrushka, Spectre de la rose?
We realised that people would be very interested in seeing the Victoria and Albert museum Diaghilev exhibition, and I thought it would be wonderful straight after this exhibition finishes to bring these works alive again. There were a lot of documents and sketches of them in that show. For instance each of our three programmes has something old and something new. The new version of The Blue God and The Firebird, which comes from choreographic sources existing in London and the US. Our Sheherazade staging is sourced from the Boston Ballet and we have a new version of Thamar with it on our second programme. For the third, Le pavillon d'Armide is new, with the known Faune, which is an old version which exists, and then we have the Nijinska Bolero which was reconstructed. We got the sources for those Benois designs from Paris Opera Ballet - they have lots of pictures, about 50. It's a Barcelona tavern, workers after work rest and have a big table, and I think Benois did this in the technique of Goya. (Pictured right, Ida Rubinstein in Bolero, 1928.)
Among those illustrious ballets, the ones that stand out as having had awesome press at the time were Thamar and Le pavillon d'Armide. How do you stage these in anything like their old style when they've been lost?
When I went to St Petersburg to work for the Maryinsky Theatre in the early 1990s I did the creations for Sheherazade and Firebird there for them - these are my productions from 1993. For the lost ones, I have had to find the music, find the sketches, and then find the company, and invite a choreographer to sit with me. I commissioned the two new stagings for the Kremlin Ballet of Le dieu bleu and Le pavillon d'Armide.
Wayne had created several ballets for Rome Opera House, and my sister danced with Carla Fracci in Rome - we've known each other more than 20 years, Wayne knew my father, Maris Liepa. I invited him to do Le dieu bleu because I felt that he lives in the UK, there are a lot of people connected to India, and he's the kind of talent to bring the Indian flavour to the classical ballet. (Pictured left, Bakst's sketch for the Bayadère costumes.) And he did it amazingly well. We sat together watching videos of Indian dance and pictures of the Diaghilev era. I have around 36 hours of documentaries in my library of that period. You can see how Fokine rehearses, Sheherazade, Polovtsian Dances, Chopiniana. It was silent, but it's amazing when you can see Fokine himself dancing.
You've changed the music for Le dieu bleu.

Reynaldo Hahn's music we found - he was chief conductor at Paris at the time and I do think it was probably a political move. The music was not successful, and if the music isn't successful, isn't the equal of the choreography and costumes, the ballet doesn't stay. The Hahn music was not exotic, and it was weak, in terms of being danceable. Our conductor Alexander Titov told me to look for people who were in contact with Diaghilev - and one of the first people we discussed was Alexander Scriabin, who was involved in the first two Russian music seasons in Paris in 1907 that Diaghilev presented. The Poem of Ecstasy is one of the most amazing symphonic scores I've ever heard. Scriabin was also a dear friend of Nikolai Roerich, [the designer of the Ballets Russes sensation The Rite of Spring], who introduced him to Indian culture, and Scriabin was thinking when he wrote his score that it would appear in a shrine in India. So it was highly suitable. If you remember he was trying to write a piece incorporating light… today technology gives us a chance to use all these things. I added to it the last part of his third symphony, "Le divine poème".
Same with Thamar; the original Thamar score by Balakirev was 20 minutes long, and we've doubled its length with the piano concerto. Yevgeny Svetlanov made an anthology of Russian music, which is how I found the music. You'll find it incredible. There's an incredibly oriental type of melody in both composers.
Listen to Balakirev's symphonic poem Thamar
Russian people never saw those Russian stars - yet they were the best age of Russian art, a golden age for culture
It's difficult to recreate something of legendary impact when so much is lost… What is really possible in recapturing the Diaghilev style?
I think the most important thing is energy. Diaghilev was using different types of dancers. He started with Maryinsky, but then in 1911 formed his own company in Monte Carlo, and this year is the 100th anniversary of the founding. Before they were all trained from one company, but later he used new sources from European ballet and dancers - the date it became cosmopolitan. All those ballets were created for the West. From 1909 to 1929 Diaghilev toured Europe, North America, South America - and created more than 200 productions. It was a revolutionary thing for European art. Picasso, Miro, they were working with him, young Prokofiev, George Balanchine.
And after the Revolution all those people left Russia, the West got lucky. Balanchine went to the UK, Fokine worked in American Ballet Theatre, Tamara Karsavina stayed in London, Kchessinska stayed in Paris, Ida Rubinstein died in France in 1962. My point is: the Soviet Union and Russian people never saw those Russian stars - they were the best age of Russian art, a golden age for culture. My mission is to bring these back to Russia and perform here. Every winter we have 10 cities on a circuit around Russia that we take those to: Perm, where Diaghilev studied, Novosibirsk, Kazan, Yaroslav. I am a re-creator. I am trying to bring back to Russia what belongs to us. (Pictured above, Tsiskaridze as Nijinsky's Faune.)
How many countries do you tour this season to?
We have been three times in Paris and we're planning next year to bring it to Italy, Spain and the US, we hope at the same time as the big Washington Diaghilev exhibition. Diaghilev toured his company in the US in 1916 and 1917. Imagine how difficult it was to travel with sets and orchestras then. Nobody had done that before.
Can you cover the costs? These are expensive productions.
Yes, but we have the same as Diaghilev - we have supporters who really care about them. Diaghilev died very poor; Coco Chanel and Serge Lifar paid for his funeral. But to get costumes from the Diaghilev period you have to pay many thousands of dollars. We have already 10 productions recreated - next year we plan to recreate Cléopatre.
What about authenticity? How close do you aim to get to what the public saw then?
We can't know what was authentic when there are no notations or videos. Everything we do in a ballet is given from one leg to another. I feel everything I'm doing is for people to see these productions and go further in their own way to the next step.
Explore topics
Share this article