Michael Johnson: Survival of the Fastest, C4 |

reviews, news & interviews
Michael Johnson: Survival of the Fastest, C4
Michael Johnson: Survival of the Fastest, C4
Controversial subject handled deftly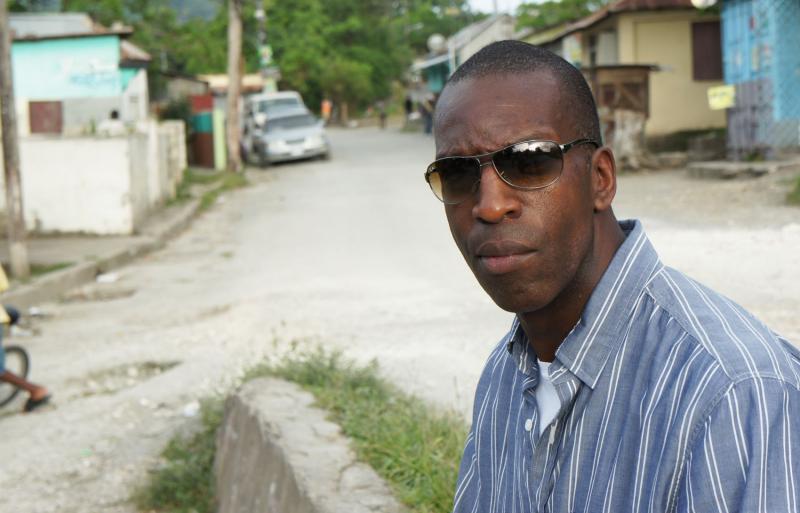 Michael Johnson in Jamaica, where he tried to discover the secret of its sprinters' success
What a dicey subject for debate Michael Johnson opened here, one that has scuppered the career of academics and social commentators alike, and which will have made many of his audience feeling deeply troubled. Johnson, now 44, competed at three Olympic Games between 1992 and 2000, won four Olympic gold medals at 200 metres and 400 metres, and still holds the world record for the latter.
The starting point was his realisation that, at the Beijing Games in 2008, the eight sprinters who lined up for the men's 100m final, who hailed from four countries, were all descended from West Africans by way of the slave trade; two were African Americans, three from Jamaica, two from Trinidad and Tobago and one, a Dutchman, was born on the former empire island of Curacao (Usain Bolt winning pictured below).
One young Jamaican sprinter put her country's athletic success down to eating bananas and yams
Did being descended from slaves somehow give these men a genetically inherited advantage? The argument goes that only the fittest Africans were in the first instance chosen by the slave traders to be sent on the slave ships; only the fittest of those survived the appallingly inhumane conditions across the Atlantic (in which in some cases less than 10 per cent of the human "cargo" made it to the New World); and then only the strongest were bought at market; and to add to the long list of astonishing indignities bestowed upon these people, slave owners would make their strongest male and female slaves "mate" to produce the next generation of sturdy workers. Thus, the argument goes, descendants of slaves have inherited some tremendously strong genes and, in the case of men, a discernibly higher level of testosterone.
Wowser. If true, it's a very contentious argument that plays straight into the black brawn/white brains view of race. It has some seemingly straightforward facts to support it: while East Africans regularly win medals in long-distance events (which science can easily explain due to physical type, diet and climate), West Africans don't win sprint medals, but their descendants do. It's particularly noticeable in the case of Jamaica which, despite its tiny population and scarce economic resources, punches well above its weight in athletics terms; it won five gold medals in the men's and women's sprints in Beijing, when Bolt and Shelley-Ann Fraser-Pryce breasted the tape first in their 100 metres events.
Johnson's case was made persuasively enough. He spoke to several academics, who talked about a survival gene and another who explained how we can learn from elephant seals, a species almost extinct a short while ago that has since, with more than a little help from conservationists, recovered to become stronger, bigger and fitter. Cataclysmic events can sometimes be useful in evolution, the expert said, and what could be more cataclysmic for humans than slavery?
In the film we saw Johnson trace his Texan family, Who Do You Think You Are-style, back to its slave origins, and through a DNA test back to Senegal. I find it unlikely that he hasn't traced his family before and that he didn't know he was descended from slaves, nor that he was of West African descent, but no matter, this was a bit of business in an otherwise interesting film. When he presented his findings about his ancestors to his siblings we got to see that they were in no way athletic and clearly enjoyed a glass or several at their jolly family gatherings. It made the subtle point that genes are not everything - things such as determination, hard work, ambition, practice and talent also have a lot to do with sporting success. A scientist also noted that other, negative, things appear to have been inherited by African Americans, such as higher rates of prostate cancer and diabetes, both of which members of Johnson's family have suffered.
A lighter moment was provided when Johnson went to Jamaica and one of the young sprinters he spoke to put her country's athletic success down to eating bananas and yams, although her male colleague thought it was about black athletes trying to prove they were as good as whites. A better investigator would have questioned him more, but the statement was left hanging. An interesting factoid at this point: Usain Bolt comes from Trelawny parish in Jamaica, the same district where Olympic chairman Sebastian Coe's ancestors once owned plantations. Funny old world, innit?
Two things were missing from this programme, enjoyable though it was - any real science beyond academics positing a view, and a counter argument. But as we wait to see next month if Usain Bolt can be the first man since Carl Lewis to defend his 100-metre Olympic title successfully, as Johnson said about his film, I hope it at least provokes some thought.
Did being descended from slaves somehow give these men a genetically inherited advantage?
Explore topics
Share this article