Beautiful Thing, Royal Exchange, Manchester |

reviews, news & interviews
Beautiful Thing, Royal Exchange, Manchester
Beautiful Thing, Royal Exchange, Manchester
Jonathan Harvey's groundbreaking play about teenage homosexuality is now a period piece, but still touching
Tuesday, 15 November 2011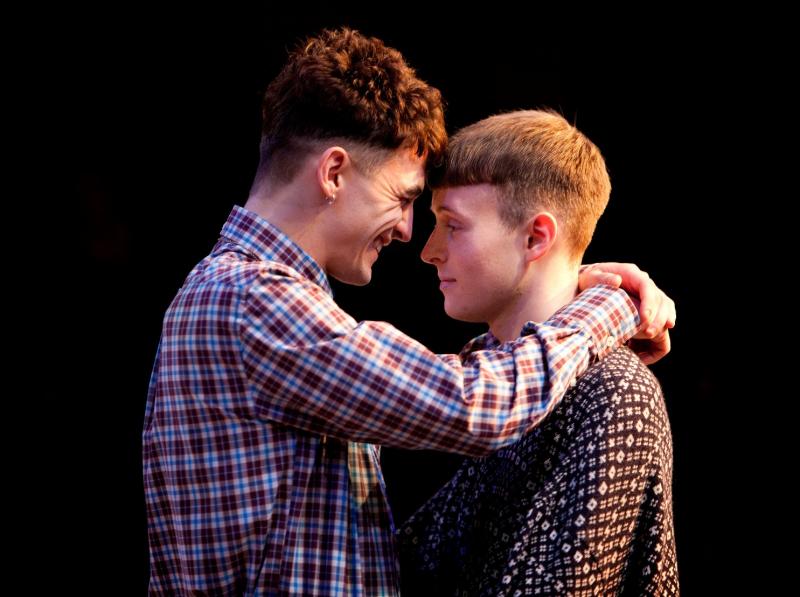 Tommy Vine and Matthew Tennyson in 'Beautiful Thing'
Nearly 20 years have whizzed by since Jonathan Harvey, then a 24-year-old comprehensive school teacher, wrote a play in the school holidays – and caused a stir. That play was Beautiful Thing, dealing with the then (and now?) contentious issue of two 16-year-old schoolboys, next-flat neighbours in the high-rise south-east London council estate of Thamesmead, who fall in love – and overcome prejudices and obstacles, not least their own self-realisation.
It was a daring work. "I wrote it out of anger and outrage," Harvey says in the programme notes. "The age of consent for gay men was 21, whereas it was 16 for heterosexuals." Having grown up in the creatively febrile atmosphere of Liverpool at the time when Alan Bleasdale and Willy Russell were making waves, and having frequented that cradle for new writers, the Liverpool Playhouse, he had determination. The agent Alan Radcliffe, nowadays better known as the father of Harry Potter star Daniel, liked his work – and the play took off at the Bush Theatre in 1993. It was very much of its time, but has now become a period piece. So for this revival director Sarah Frankcom inevitably stays faithful to the original.
What's missing is the sense of stifling claustrophobia
The story centres on Jamie, bullied at school for not being like the other boys and not liking football, who lives with his single mum Sandra. He secretly fancies classmate Ste, who lives next door with his abusive father and drug-dealing brother. His secret is diffidently converted into action when Ste comes to sleep over and they have to share a bed.
Does it still resonate today? Well, yes and no. Yes, because the writing endures. This is still a touching, compassionate and very funny play. The situation may be forced, but it's credible. Neighbours can share dysfunctionality, while harbouring goodness. But times and attitudes have changed in two decades, so the element of shock and surprise has evaporated.
Frankcom has a lively cast with quick-fire repartee, led in fine style by Claire-Louise Cordwell as Jamie's coarse and blousy barmaid of a mum, Sandra (pictured right with Matthew Tennyson), who ultimately finds understanding and generosity. Matthew Tennyson, who graduated from LAMDA this summer, makes a sensitive, emergent Jamie and is nicely partnered by Tommy Vine as Ste, reluctant to admit his persuasion. Their bedroom scenes are gentle and well judged. Tara Hodge makes the most of girl-next-door Leah, the foul-mouthed school drop-out whose worship of Mamma Cass yields a drug-induced impersonation of the lady herself. Alex Price is a laid-back foil to the feisty Sandra as Tony, the latest in her string of boyfriends.
Having to cope with a theatre-in-the-round production creates real problems. Despite designer Liz Ascroft's efforts, even putting wisps of grass between the flagstones, it proves impossible to convey the feeling of crowded high-rise flats, where neighbours are separated by paper-thin walls. Imaginatively, she has created a huge suspended globe, on which railinged flats suggest the locale as well as symbolising that this is their world. What's missing is the sense of stifling claustrophobia - in fact, the place seems rather pleasant and sunlit.
The show ends literally in harmony: the boys openly dance to be joined, astonishingly, by Sandra and Leah doing likewise – and, finally, as glitter balls descend from above, the vast Manchester Lesbian and Gay Chorus takes over, singing in four-part harmony Mama Cass's "Dream a Little Dream of Me". It's a neat, heart-warming finale to a tender tale of young love and adult understanding in which anger and outrage are no more.
Beautiful Thing at the Royal Exchange, Manchester until 3 December
Times and attitudes have changed in two decades, so the element of shock and surprise has evaporated
rating
Explore topics
Share this article