Stop Cutting Our Girls: a Comic Relief Special, BBC Three |

reviews, news & interviews
Stop Cutting Our Girls: a Comic Relief Special, BBC Three
Stop Cutting Our Girls: a Comic Relief Special, BBC Three
Compelling documentary investigates FGM in the UK and Africa
Girls from Tasaru Ntomonok Initiative Rescue Centre, which is funded by Comic Relief through Equality Now.
Earlier tonight, I read - on Twitter, so I'm not vouching for its accuracy - that more people have now signed a petition to reinstate Jeremy Clarkson at the BBC than to take stronger action against female genital mutilation (FGM) in the UK. FGM, as actress Zawe Ashton (Fresh Meat) quickly finds out in a moving documentary for Comic Relief, is a hard thing to talk about, because vaginas are hard to talk about.
But as she looks further into the practice both in the UK and abroad - speaking to survivors, activists and even a "cutter" - Ashton discovers that education is already beginning to make some impact in the communities where girls are most at risk.
FGM, sometimes referred to misleadingly as female circumcision, is the ritual removal of some or all of the female external genitalia, frequently without anaesthetic and often when girls are as young as five years old. It is practised in a number of communities irrespective of religious ideology as a rite of passage, supposedly to protect women's modesty. Although it is banned in the vast majority of countries where it is practised, laws are often poorly enforced with the result that three million girls are at risk of FGM across Africa every year - and, here in the UK, as many as 65,000 girls are in danger of being taken from the country during school holidays and having the dangerous rite performed on them.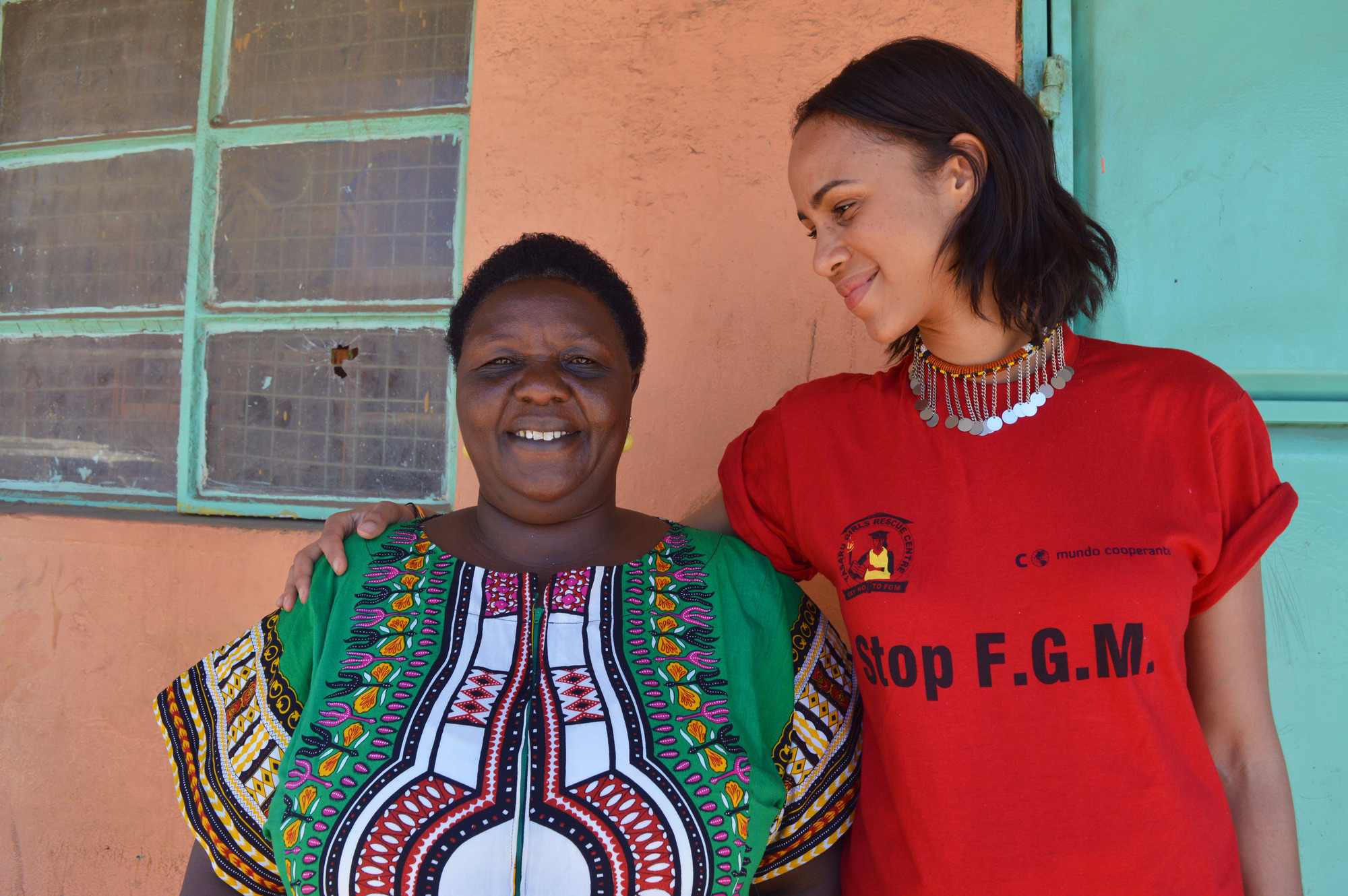 Interspersed with clips in which UK FGM survivors including Nimco Ali and Leyla Hussein dispassionately recount to the camera the horrors inflicted on their bodies with the consent of their families, Stop Cutting Our Girls takes Ashton from East London, where she sits in on groundbreaking pupil-run FGM workshops at a local comprehensive, to Narok in Kenya. At Eastbury Comprehensive, both boys and girls get to discuss the subject openly and frankly, albeit with the requisite giggles. Ashton spends time with Border Force officers at Gatwick Airport whose job is to prevent potential victims from being removed from the country - a task which forces them to put cultural sensitivities aside in order to focus on child protection - and meets a young couple living with the physical and psychological consequences of "type three" FGM.
In Kenya, Ashton confronts her own cynicism about "folk off the telly who go to Africa" when she spends time with Agnes Pareyio (above right, with Ashton), an FGM survivor and campaigner who now runs a rescue centre for girls at risk of FGM and forced marriage in the heart of the traditional Masai tribal community. The centre, which is part-funded by Comic Relief, provides community education and outreach as well as a home for girls who would otherwise have been cut and married off. Pareyio's mission is to give the girls back control over and respect for their bodies, educate them and even set them up for careers, and reuniting them with their families when the feel ready. In one particularly moving scene, 16-year-old Salula visits her family after seven years away to discover that although her father now believes that it was right for her to be removed from the family and educated, her younger sister has been cut and forced into marriage during her absence.
By letting Pareyio and her girls take the lead throughout much of the second half of the documentary, Ashton managers to avoid some of the more condescending tropes of this type of filmmaking while also confronting some of her own prejudices - a frank conversation in Nairobi with a "cutter" who "could be your grandmother" leaves the actress visibly unsettled. The result is a compelling programme which, in its very frankness and accessibility, acts as an excellent awareness-raising tool in the global fight to end FGM.
Watch Red Nose Day 2015 on BBC One on Friday, 13th March from 7pm, or donate online