Orbital, Brixton Academy |

reviews, news & interviews
Orbital, Brixton Academy
Orbital, Brixton Academy
Hartnoll brothers show age is no barrier to raving
Thursday, 24 September 2009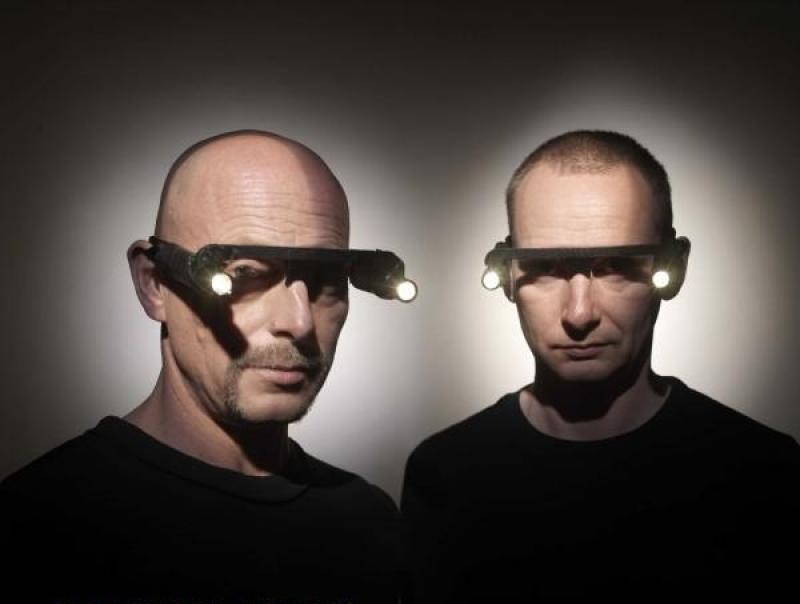 Phil and Paul Hartnoll in headlight drag
Orbital occupy a singular position in the pantheon of Nineties dance live acts that made it to arena-show status. Paul and Phil Hartnoll's trademark shaved heads and specs-with-headlights gave them a massively spoddy image that belied an everyman quality to their music, but although their early releases unquestionably helped form the distinctively British sounds of rave and hardcore, they never quite became part of those scenes.
On the other hand, if their insistence on remaining vocalist-free meant they couldn't match the Chemical Brothers, Underworld or The Prodigy for hit singles after the initial rave boom had subsided, they remained a festival perennial at least as popular as those other acts, with their Glastonbury headline slots in particular sending old ravers goggly-eyed right through until their split in 2004.
Reformed only five years on, there's not much doubt that Orbital are a nostalgia act now. The thirtysomethings gathered at Brixton Academy last night mostly had the air of people who don't get out much nowadays, but though there was little sign of hard raving – or much movement of any kind, in fact – amongst them, they greeted the brothers' arrival behind their consoles of keyboards with exceptional warmth.
And as the first couple of tracks thumped out, we were reminded that in one sense Orbital had in fact always been nostalgic: though their 1989 debut single "Chime" was essentially acid house, the bulk of their rhythms and layered melodies came not from acid or techno, but from the older sound of electro, from Afrika Bambaataa, Kraftwerk and even Jean Michelle Jarre, albeit retooled and turbo-charged for the ecstasy generation.
We couldn't help wondering how many of them had thrown caution to the wind and done a once-a-year pill at half nine on a Thursday night and were now going to have some explaining to do to the babysitter
The visuals projected onto screens behind the Hartnolls, too, filled with cold war technology, Saturn rockets, the plaque from a Voyager probe, underlined this throwback quality, suggesting maybe that Orbital's sound – forward-looking as it seemed at the start of the Nineties – was actually as much a requiem for a time of simpler technology and political certainties as it was a leap into the future.
Not everything the duo released was retro-sounding though. In 1993 the zingy rave riffs and enviro-panic voiceovers of "Impact (The World Is Burning)" sounded very much of the here and now. And when those same riffs rang out through the Academy's soundsystem, the entire crowd's Pavlovian reaction was astonishing: a sea of hands shot ceilingwards as they clearly had 16 years ago, creaky limbs began to loosen up, and rudimentary dance moves began to be seen.
From there on in, it was plain sailing for Orbital, who wisely didn't deviate from playing the classics, but tweaked them just enough to avoid the going-through-the-motions feel that old bands can get. "Chime" and the lushly melancholy "Belfast" - for which the whole of the Academy was showered in the dancing light from four huge mirrorballs - in particular were made fresh and sparkly, a reminder of Orbital's genuine "liveness", and if their old festival trick of blending "Halcyon" into samples of Belinda Carlisle's "Heaven Is a Place On Earth" and Bon Jovi's "You Give Love a Bad Name" sounded hoary, it didn't stop the thirtysomethings from bouncing and hollering wildly when they did it. So much so, in fact, that we couldn't help wondering how many of them had thrown caution to the wind and done a once-a-year pill at half nine on a Thursday night and were now going to have some explaining to do to the babysitter.
But that's Orbital. They're not cool, really, and they're not exactly wild. They did what they always do, with no attempt to adopt any hip younger styles, and played almost the same set list they might have done 10 years ago. But their way of tying two or three simple melodic riffs together into a memorable track is so unerring that even now that they are essentially museum pieces, those tracks do have the ability, beyond their pure nostalgia value, to make people forget what they're supposed to be doing and focus purely on the moment. It sounds like an easy trick and it's easy to laugh at those who fall for it, but it's impressive when it happens and it takes a singular act to carry it off.
Orbital's way of tying two or three simple melodic riffs together into a memorable track is unerring
Explore topics
Share this article