Listed: Pop tributes to pop icons |

reviews, news & interviews
Listed: Pop tributes to pop icons
Listed: Pop tributes to pop icons
Pop and rock legends who have served as muse to fellow musicians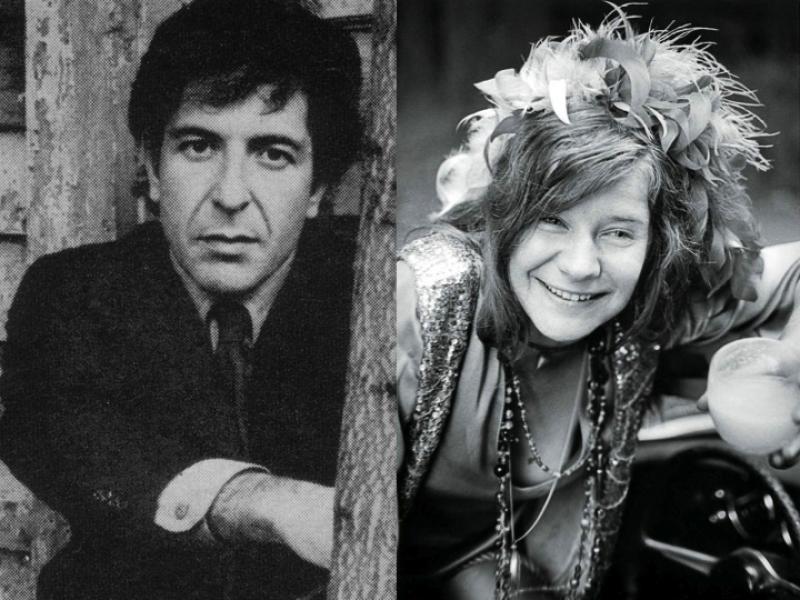 Although not named in the song, Leonard Cohen famously wrote Chelsea Hotel about his fling with Janis Joplin
Leonard Cohen sang, somewhat indiscreetly, about Janis Joplin "giving head" on his unmade bed, Bob Dylan penned a song to his hero Woody Guthrie, and Don McLean famously sang "the day the music died" about Buddy Holly. The list of pop tributes to pop icons – whether the subject is a distant hero, a dead lover or a good friend – is long.
If one were to compile a list of all the songs written about Elvis that list alone would exceed the number below (as it is, I've pushed the boat out by including 4 Elvis-inspired songs among the 14, including one penned by Clive James during his folk music heyday with Pete Atkin – who knew?).
Here, in no particular order, are some of the best I could think of, as well as a few that were really never destined to become classics – the James/Atkin number as well as a rap tribute to Michael Jackson by Usher and Co certainly fall into the latter category.
But the Jackson tribute at least has the distinction of being the most recent. Don't musicians write decent songs about musical heroes any more? Maybe there are just no more heroes left. But that's a different song, one by The Stranglers. Here are the songs by and to pop legends of the past.


Leonard Cohen, Chelsea Hotel #2, 1974
Leonard Cohen meets Janis Joplin in an elevator at the Chelsea Hotel in New York, where he's living. They flirt in the lift and have a brief fling. Cohen recounts the story in amusing detail in the clip below, but the song itself is, natch, haunting and full of sorrow, as well as containing the odd wry quip: "You told me again you preferred handsome men/ But for me you would make an exception". The song ends abruptly, like a question left hanging, with the line: "That's all, I don't even think of you that often."
Joplin died from a heroin overdose aged 27 in a Hollywood hotel in 1970 and Cohen would later come to regret revealing her as the subject of his song, claiming it was "the sole indiscretion of my life." In a BBC interview he said, "Looking back, I'm sorry I did it because there are some lines in it that are extremely intimate."
Don McLean, American Pie, 1971
Fans have been poring over the lyrics to this song for decades, and when once asked what they meant McLean apparently replied that "It means I never have to work again." He later said that the lyrics were "beyond analysis – they're poetry".
Though he isn't named, the song pays tribute to Buddy Holly, whose death in 1959 in a plane crash aged just 22 – alongside Ritchie Valens and The Big Bopper (Jiles Perry Richardson, Jr) – is noted with the line "The day the music died." And McLean did indeed first learn of the singer's death while delivering newspapers as a 13-year-old paperboy: "But February made me shiver/ With every paper I'd deliver/ Bad news on the doorstep/ I couldn't take one more step". Holly's "widowed bride" was pregnant when she heard the news of her husband's death on television. She miscarried the following day.


The Waterboys, A Girl Called Johnny, 1983
Mike Scott, who founded the Scottish band in 1983, wrote a tribute to Hank Williams in the style of the country singer. This catchy number is a stomping tribute to Patti Smith, with a long sax section that doesn't sound at all like Patti Smith. "I remember a girl called Johnny/ black as hell and white as a ghost/ 'Don't talk about life or death,' she said 'I've had enough of both'."
Bob Dylan, Song To Woody, 1962
This is one of the first songs Bob Dylan ever wrote and it's the 12th track on his eponymous 1962 debut album Bob Dylan. A year earlier the 19-year-old Dylan had arrived in New York, eager to track down his hero Woody Guthrie to his hospital bed, where the "dustbowl troubadour" was suffering from Huntington's, a disease that was to kill him six years later. Dylan played him the song, which he liked.
The line "that come with the dust and are gone with the wind" quotes the line "we come with the dust and we go with the wind" in Guthrie's song "Pastures of Plenty", while the tune is clearly based on Guthrie's "1913 Massacre". The song also references Dylan's other musical icons: Cisco (Houston), Sonny (Terry) and Lead Belly – "and to all the good people that travelled with you". Ten years later, David Bowie wrote "Song For Bob Dylan" (see below). But it ain't as good.
Paul Simon, The Late Great Johnny Ace, 1981
The largely forgotten rhythm 'n' blues singer Johnny Ace died in 1954 aged just 25, reportedly playing Russian Roulette. It was, Simon recounts, "the first violent death I remember", though, the song was, in fact, prompted by John Lennon's murder in 1980 (as well as Lennon, it mentions the death of John F Kennedy).
The song was first performed live during the Simon & Garfunkel reunion concert in Central Park in 1981 (see video). Near the end of the song an audience member rushed the stage, causing Simon to pull away from the mic. Visibly shocked, Simon nonetheless seamlessly finishes the song after the man is quickly removed. Playing it a year later on The Dave Letterman Show Simon joked that the song is probably jinxed, after it was again interrupted at the same spot when a string on Simon's borrowed guitar gets caught.
The album version, on the 1983 Hearts and Bones, includes a one-minute coda by Philip Glass.
Simon & Garfunkel, The Only Living Boy in New York, 1970
Amazingly, "The Only Living Boy in New York", with its oh-so-sublime echo chamber background vocals, was left off Simon & Garfunkel's 1972 Greatest Hits, released two years after the duo split. And it was also only a B-side to "Cecilia". How so? I personally rate it over the orchestrally overblown "Bridge Over Troubled Water", from which titular album – the duo's fifth and final studio album – this song comes.
The Tom of the lyrics is, of course, Artie Garfunkel. As teenage recording stars, styling themselves on The Everly Brothers, Art and Paul had assumed the stage names Tom and Jerry. Simon wrote the song for Art after Art got a part in Catch-22, which was filming in Mexico. Left behind in NYC to write his songs, Simon echoes his loneliness as "the only living boy in New York" and tells Artie that "I know you've been eager to fly now. Hey, let your honesty shine, shine, shine…Like it shines on me." You'd have to be dead for this song not to pierce your heart in two.
Roy Orbison, Hound Dog Man, 1979
The Big O wrote this tribute to his dear friend Elvis Presley two years after the Hound Dog man's death ("Hound Dog" was a hit for Elvis in 1956). Elvis himself once stated that Orbison possessed the greatest voice he'd ever heard.

Emmylou Harris, Boy From Tupelo, 2000
Elvis Presley was again the inspiration for this song penned by country singer Emmylou Harris. The King was, of course born and raised in Tupelo, Mississippi. Songs about Elvis with Tupelo in the title are two-a-penny, but this is surely the best.

Pete Atkin and Clive James, Apparition in Las Vegas, 1973
What can one possibly say about this odd little number, with lyrics by the talented and versatile Clive James, in collaboration with folk musician and singer Pete Atkin? I knew about James's Frank Sinatra obsession, but this little gem (in fact his whole musical career – Atkin and James collaborated on six albums in the Seventies) comes as a complete surprise. It was the NME that described it as perhaps the best song ever written about Elvis and his fans (well, how many songs are there about Elvis's fans?). If the thought of a rockabilly Chas 'n' Dave rocks your boat, then this song is for you.

David Bowie, Song For Bob Dylan, 1971
The song is styled on Bob Dylan's 1962 homage to Woody Guthrie, "Song To Woody" (see above) but while Dylan opens with the line "Hey, hey, Woody Guthrie, I wrote you a song," Bowie addresses Dylan by his real name: "Hear this, Robert Zimmerman, I wrote a song for you," and goes on to describe Dylan's voice as "like sand and glue." The song appears on Bowie's 1971 album Hunky Dory, which also features a song about Bowie's other idol Andy Warhol – though here one notes, the Pop artist isn't referred to as Andrew Warhola.
Paul McCartney, Here Today, 1982
John Lennon had been dead for less than two years when McCartney penned this moving tribute to him. It takes the form of an imaginary conversation the pair might have had, and didn't, to McCartney's regret. "And if I say I really loved you/ And was glad you came along/ Then you were here today."
The song is from McCartney's 1982 album Tug of War, which reunited him with legendary Beatles' producer George Martin, who produced the disc. Although string sections have been employed on lots of McCartney songs, both with the Beatles (most notably on "Eleanor Rigby") and post-Beatles, "Here Today" is only the second time McCartney enlisted a string quartet (the first was on "Yesterday").
Joni Mitchell, Rainy Night House, 1970
Though not quite as indiscreet as her former lover (see above), and hardly a "tribute" (rather "inspired by" and beautiful all the same), Joni Mitchell wrote a few songs touching upon her brief but intense relationship with Leonard Cohen. This lovely, melancholy number appears on Mitchell's third album Ladies of the Canyon, and was written about their break-up.
Game, Usher, Chris Brown, Diddy, DJ Khalil, Pollow da Don, Mario Winans, Better on the Other Side, 2009
A rap tribute to Michael Jackson that was written and recorded in a day – in fact, the day after the singer's death. It opens with the lines, "I remember the first time I seen you moonwalk/ I believed I could do anything," whispered reverentially. It then proceeds with spot of extended yodelling that even outclasses Mariah Carey. It's bad, as Michael Jackson himself might have sung. But not in a good way.



Frank Zappa, Elvis Has Just Left the Building, 1988
OK, this is probably more satire than tribute, though so worth listening to. Zappa took the phrase from an announcement used at the end of Elvis concerts to discourage members of the audience from lingering in the hope of meeting their hero. This live version, with full orchestra, was performed after Zappa's death in 1993.