Harry Brown |

reviews, news & interviews
Harry Brown
Harry Brown
Caine and able as Sir Michael squares off against the yobs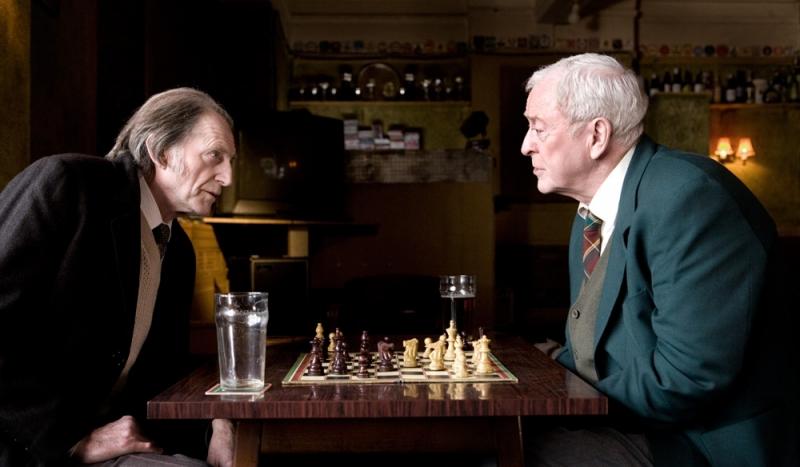 Raising Caine: David Bradley and Michael Caine square off against London thugs
Michael Caine squares off against some of south London's hardiest hoodies in Harry Brown, a UK variant on the once-iconic Death Wish franchise that proves Sir Michael has plenty of life left in him still. Caine bestrides the film like someone who long ago marked out his terrain: no wonder the dope-fuelled no-hopers in his midst soon give way.
The same admiration is unlikely to be afforded a movie - the first feature from one-time commercials and ad whiz Daniel Barber - that often plays like a Daily Mail wet dream about life in thug-filled England today. (Think of it as a cinematic cue for leader writers in high dudgeon whose cautionary screeds have already begun to appear.)
I don't doubt that there are estates, and worse, to match those Elephant and Castle environs, London SE1, put seamily on view here. But Barber and his writer, Gary Young, seem so determined to press every available emotive button that they have overlooked one crucial fact: the movie as a whole makes very little sense, and it comes from a place of hysteria as opposed to any genuine consideration of human behaviour.
Caine plays the eponymous Harry, an ex-Marine who is less the gun-toting "dirty Harry" of Clint Eastwood lore than a war-weary pensioner reduced to taking up arms to mete out the justice with which UK officialdom on this evidence cannot or simply will not bother itself. Having lost a daughter many years before, Harry goes on to bury his ailing wife at the start of the film. His daily routine from that point on is marked by a quiet observance of the anti-social behaviour proliferating around him and shared grievances over games of chess at the pub with his buddy, Len (David Bradley).
Len admits to being scared pretty much non-stop, so it's no surprise when he is fatally assaulted in a nearby subway. That, in turn, prompts Harry to ready himself for revenge, his awakening into violence monitored by a pair of detectives and putative allies whose arms are bureaucratically tied. "As far as I'm concerned, Harry Brown is doing us a favour," the junior cop (Charlie Creed-Miles) says to his superior (Emily Mortimer, effecting varying looks of anxiety throughout). The higher-ups think differently, as represented by Iain Glen in fine form as the smug face of police immovability.
Eventually, it is Harry, inhaler and a halting gait notwithstanding, who forces a confrontation with the thugs. Demonstrating a bravery bordering on madness, he infiltrates a local drugs lair only to be met with what in this telling of events presents the lower depths as so much performance art: the sequence has a surreal tinge at odds with the would-be realism of proceedings elsewhere.
Or maybe not. The film moves toward a kind of urban apocalypse all its own, with Harry evidently the last decent man standing amidst a sea of scum. (Spoiler alert: even the local publican, Liam Cunningham's fierce-eyed Sid, is up to no good.) The script pays lip service to any considered explication of society's freefall into the abyss. Harry muses aloud that the Troubles were better because at least that violence had a cause as opposed to the mere "entertainment" that such activity represents to yobs today.
And so the attraction lies in watching a physically enfeebled man, old enough to be these miscreants' grandfather, going on the rampage: a hero with nothing left to lose who takes action where too many of us might turn a blind eye.
That the film takes a lurid view of all this is to be expected from a narrative whose tabloid-style captions are implicit in every frame, cameraman Martin Ruhe's visuals as washed-out and grey as the sodden terrain staked out by the script. (Needless to say, it's almost always raining.) Caine rises elegantly to the challenge as if this were his very own Gran Torino, the actor never once succumbing to sensationalism or an audience-baiting case of the cutes.
As for the thing as a whole? Well, we're meant to be impressed upon being told near the end that crime on the estate has dropped 30 percent. How could it be otherwise, given the pile-up of corpses? I trust at least a few baddies have been kept on reserve; otherwise, Harry Brown holds out little hope of generating a sequel.

We're meant to be impressed that crime on the estate has dropped 30 percent. How could it be otherwise, given the pile-up of corpses?
Explore topics
Share this article