La Bête, Comedy Theatre |

reviews, news & interviews
La Bête, Comedy Theatre
La Bête, Comedy Theatre
Mark Rylance dazzles, but this callow play coasts on the performances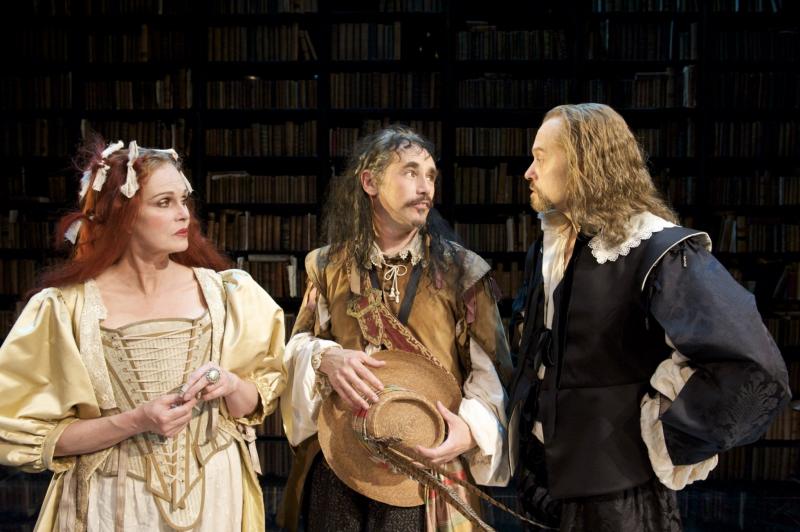 Jeux d'esprit: Joanna Lumley, Mark Rylance and David Hyde Pierce in 'La Bête'
Infamously, the first production of La Bête, David Hirson's literary satire set in 17th-century France and written in rhyming couplets, closed in New York after only 25 performances.
No such bleak fate is likely to attend this London (and Broadway-bound) revival nearly two decades on, powered as it is by three top-octane stars: Joanna Lumley, David Hyde Pierce and, above all,
Mark Rylance
, fresh from
Jerusalem
. Audiences who flocked to see Rylance dominate that play will thrill again to the actor's fabulously showboating turn in
La Bête
as the titular jackass clown. But is the play itself a neglected classic?
Rylance certainly delivers in spades. After a short introductory scene, he blasts onto the stage, boozing, eating messily while spitting fragments of food as his speaks, slurring his words, belching, farting, sniggering constantly at his own jokes, diving off at moments to jot down his best bons mots, at one point briefly disappearing into an alcove to take a dump - and all the while talking, talking unstoppably in a bravura soliloquy which takes up nearly a third of the play's skimpy 100-minute running time, a skull wedged into his armpit like some low-rent Hamlet.
You do feel a bit for poor Hyde Pierce while he stands by contemplating all of the above. Having played second banana for so long as Kelsey Grammer's frustrated, obsessive-compulsive brother in the long-running television sitcom Frasier, he is again cast in much the same mould (and, while the actor is a master of the slow-burning, long-suffering reaction on the small screen, it's considerably harder for him on stage to make an impact).
The subject of Rylance's disquisition: moi, moi, moi. His character, Valere, is a vainglorious fellow whose faux modesty is matched almost exactly by his inflated opinion of his own abilities and his absolute lack of self-awareness. He's a low clown, the author of such works as Death by Cheese and The Fork that Spanked the Spoon (there's a smidgen of sexual dysfunction in the mix too). Now he's vying with Hyde Pierce's very, very serious playwright for royal favours from a capricious princess: Lumley, sporting a carroty fright wig, is fine here though the husky voice seems strained at times and you feel that, as she settles into the role, she will milk more laughs from this character.
La Bête seems intended as a sort of modern (or post-modern) take on Molière's great comedies. Hyde Pierce's character bears the anagrammatic name of Elomire. Another minor figure is named Madeleine Béjart, one of Molière's long-term collaborators. In the play, his patron was originally, as in life, identified as the Prince of Conti, governor of the Languedoc region of South-West France where the story is notionally set, although the action, which observes the unities of time and place, is confined entirely to a library (the Prince has undergone a sex-change for the show in order to accommodate Lumley).
But you wouldn't really want to push these parallels. Far from being a sturdy pillar of the establishment at that time, Molière was in his mid-twenties, fresh out of the clink for bankruptcy, had fled Paris for a 10-year exile in the provinces, felt himself over-shadowed by the two existing giants of the French theatre, Jean Racine and Pierre Corneille, and was still very much an inchoate creature in search of his own dramatic voice. This period is documented, rather freely, in the 2007 French film Molière, in which Romain Duris plays him as a mischievous iconoclast: click here to see him in a scene that riffs on themes from Le Bourgeois Gentilhomme.
There's another unavoidable point of reference. The clash between a self-righteous pointy head and an anarchic buffoon, and their bitter battle for recognition, bears a distinct family resemblance to Peter Shaffer's Amadeus, which pitted Salieri, the well-bred, dull mediocrity against Mozart, the boorish genius. Yet in that play and subsequent Oscar-winning film the dice were loaded much more evenly - in the original 1979 National Theatre production, I was struck by the nice equilibrium between Paul Scofield and Simon Callow in the two main roles (indeed Shaffer has tweaked his play since then to fine-tune the balance even further).
In La Bête the battlelines are cruder. Here the play is directed with great intelligence and brio by Matthew Warchus (who collaborated so brilliantly with Rylance on the much more entertaining, unassuming Boeing-Boeing), but he can't entirely paper over its elemental thinness. The big, smug themes are high culture versus dumbing down, lofty endeavour versus compromise, and it's not hard to guess where our sympathies are supposed to lie. And yet it's also weaselly and woolly; it doesn't define the limits of its playing field. We're uncertain whether Valere is a clown with the true common touch or just a vulgar opportunist, and whether Elomire is a superb, subversive writer à la Molière or a pompous perfectionist whose plays no-one wants to see (we never get the faintest taste of any of his writing).
MARK RYLANCE'S BIGGEST HITS ON STAGE AND SCREEN
Bridge of Spies. Spielberg's warm-hearted Cold War thriller is lit up by Tom Hanks and Mark Rylance
Endgame. In Complicite's homage to Beckett, Rylance's Hamm is an animated, self-lacerating lout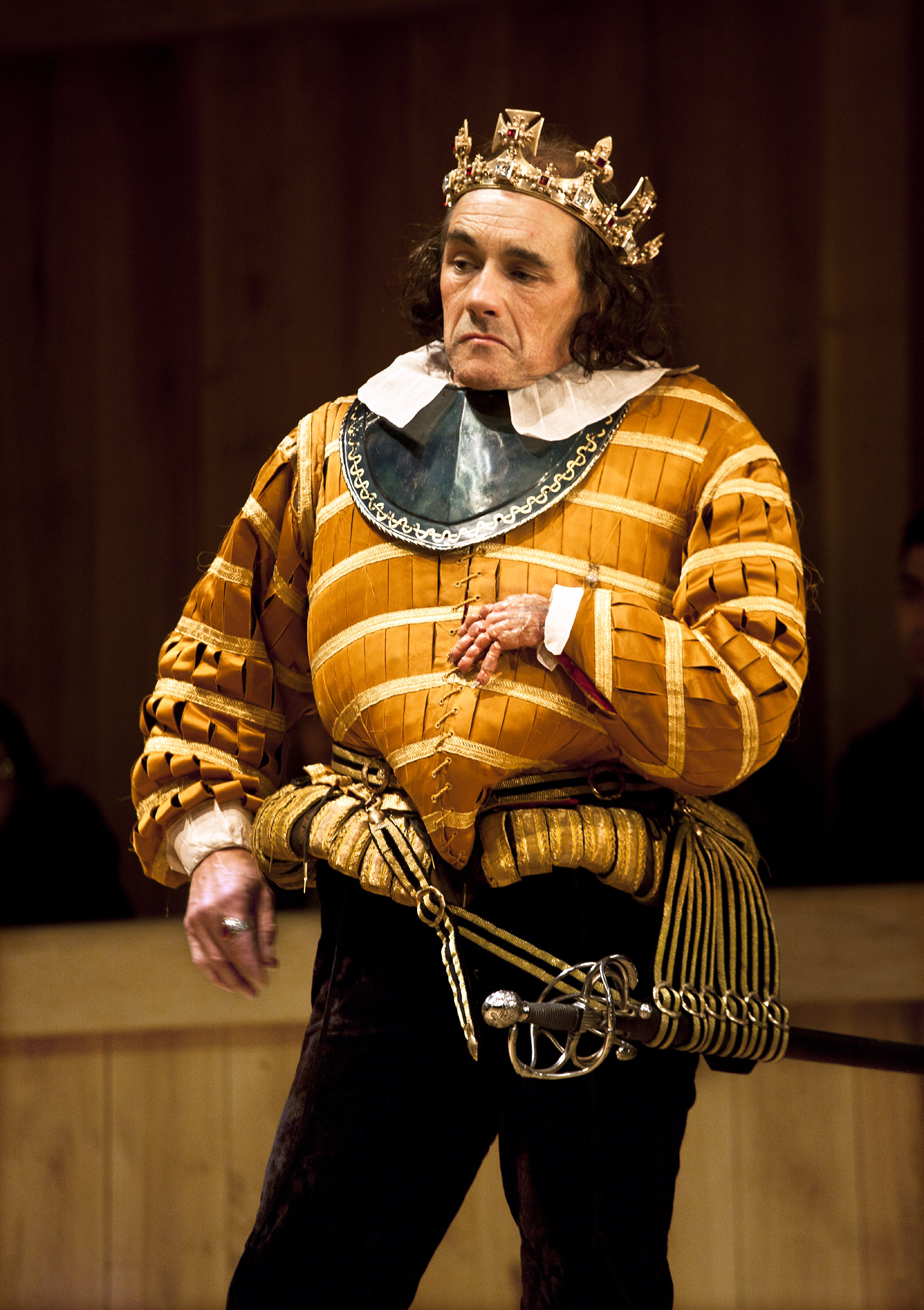 Farinelli and the King. A witty and moving new play is a timely reminder of just why art matters
Jerusalem. Rylance is unforgettable as Johnny Rooster Byron in Jez Butterworth's smash Royal Court hit
The BFG. Rylance lends moments of the sublime to standard issue Spielberg
Nice Fish. Rylance is waiting for cod-ot in this absurdist West End trifle
Twelfth Night/Richard III. Rylance doubles up as Olivia and the hunchbacked king for Shakespeare's Globe
Wolf Hall. Rylance works rare marvels as Hilary Mantel's scheming Tudor fixer

PLUS ONE TURKEY
Much Ado About Nothing. Rylance's Old Vic staging of Shakespeare's romantic comedy with elderly leads gets lost in translation
Explore topics
Share this article