Edinburgh Fringe: Josie Long/ Josh Widdicombe |

reviews, news & interviews
Edinburgh Fringe: Josie Long/ Josh Widdicombe
Edinburgh Fringe: Josie Long/ Josh Widdicombe
Naive politics and inoffensive stand-up
Last year, Josie Long, famous for her whimsical comedy and fey delivery, decided to get serious. Disheartened by the election result, she started to do political comedy, but sadly her level of analysis was along the lines of: "Anyone who voted Tory in May's election is a fucking cunt." One year on in The Future is Another Place, the level hasn't been raised.
It speaks volumes that someone who broadly shares my politics can be so irritating, but suggesting that royalists dying is worth a whoop is just plain mean. Her suggestion that if, were the 95 per cent tax rate to be brought back, the super-rich left this country then everything would be fine because "we can make our own clothes and stuff" is political naivety on a grand scale.
Long is patently a nice person, who gets herself out of the holes she digs by doing a kind of "tra la la, I'm just silly old me saying this" line when she feels she's losing the room, but at the Fringe she's preaching to the converted; if you are going to be hard-hitting, write some decent, provocative and thought-provoking material that makes us question our attitudes and opinions. And how liberal is it to suggest that those whose opinions differ from yours are "scum"? I suggest she tries replacing the words "those who love the royal family" or "Tories" with "black people" or "Jews" and see if she thinks the "jokes" are still acceptable.
Meanwhile, if Long is intent on continuing with what she calls political comedy but which would embarrass the average six-year-old in its ignorance, there's a set of books she can borrow from her local library (which she rightly cares passionately about). It's called Politics for Dummies, Economics for Dummies, etc. Until 28 August
Josh Widdicombe, Pleasance Courtyard ***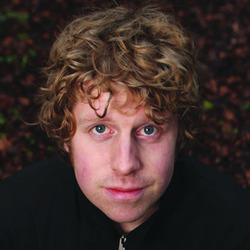 Josh Widdicombe is one of the inoffensive, mild comics you can happily take your proverbial maiden aunt to. His material is observational, ranging from the Co-op offering legal services to the perils of sharing a flat, and what's for sale in the shop at the National Railways Museum at York. He's making his Fringe debut and he is a very assured performer, and one whose interaction with the audience is consistently good.
There's a warmth and pleasing straightforwardness about Widdicombe even if the material never quite matches his delivery. The show is titled If This Show Saves One Life, but it's not high concept and essentially is an hour of a nice bloke chatting away. Until 28 August
Share this article