'You have to be willing to kill your darlings': conductor Clark Rundell on advice from composer Louis Andriessen (1939-2021) |

reviews, news & interviews
'You have to be willing to kill your darlings': conductor Clark Rundell on advice from composer Louis Andriessen (1939-2021)
'You have to be willing to kill your darlings': conductor Clark Rundell on advice from composer Louis Andriessen (1939-2021)
Fascinating insights into working with the great Dutchman, who has died aged 82
Louis Andriessen at home on Amsterdam's Keiersgracht
It's taken me a day to try to find some words to share at the passing of my dear friend, mentor and guardian angel Louis Andriessen and I'm grateful to theartsdesk for giving me the space. It is such a profound loss because of the profound gifts he gave us. His fabulous music is deep, tender, highly personal and achingly beautiful but also funny, ironic, joyful and deliciously vulgar.
Generations of
composers
will attest to the inspiration and encouragement he gave, challenging performers and creators alike to reach new heights. He was unbelievably kind to me and the faith he showed in me literally changed my life.
Perhaps an example of this kindness and a couple of anecdotes might give a flavour of this extraordinary being. In 2002, I organised a festival of his music at Manchester's Royal Northern College of Music in which we played many works, including the epic and seminal de Materie. It was a glorious week together. A few months later the South Bank also mounted a festival, the culmination of which was a concert performance of his opera Writing to Vermeer (cover of the Nonesuch recording pictured left). It is an incredibly beautiful work - "my feminine daughter", he used to call it - which has large stretches of purely orchestral music. At the reception afterwards, not knowing then what I know now about Louis' aversion to orchestras (tomato protests included), I naively suggested to Janis Susskind of Boosey & Hawkes that Louis should create an orchestral suite. She smiled at me and said he'd never do that but that he liked me and suggested that I should do it.
A few weeks later I plucked up the courage to write to him with the suggestion. Louis responded with the most charming fax saying it was a lovely idea and that he'd love to work with me, but that there were a couple of stipulations which might mean that a lot of work would lead to nothing. First, I couldn't just stitch together the orchestral bits. I had to incorporate and arrange some of the sung passages as they comprise the most important music in the opera. I could also not add or change the orchestration. That, he said, might be the most problematic and then mentioned that this was indeed the problem when Stravinsky asked him to do a suite from The Rake's Progress: how can one do an aria of Tom Rakewell without a trombone, he said?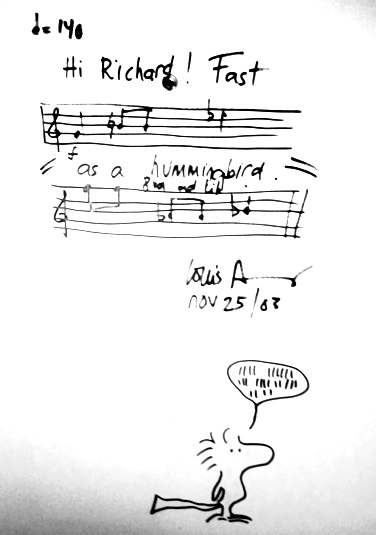 A few months later I sent him a first draft of the cuts and he suggested I come to his beautiful flat on Amsterdam's Keizersgracht to talk it through. Nervous as hell to discuss with this master of structure how I had chopped his 120 minute masterpiece down to half an hour, I found Louis helpfully responsive: "I love what you've done….you do the beginnings and the endings and cut out all the crap in the middle. Very Dutch." We had several unforgettable sessions on Vermeer pictures and I learned so very much. "You have to be willing to kill your darlings" remains my favourite bit of advice from him. Pictured right: Louis came to Manchester a number of times and greatly enjoyed meeting with Richard Wigley, the then head of programming. Louis drew this on the wall of his office in the RNCM and I'm delighted to say it's still there as a piece of proper history.
There are so many amazing memories, but another striking one was when we were working on Rosa's Horses, the suite we created from his opera Rosa. We'd done some extremely detailed work on which instruments would take over various bits of singing: "just think about which instrument might say those words" challenged my imagination wonderfully. After this highly forensic work we came to a brilliant part of the score which had no singing, so I was about to skip this, but Louis stopped me. He simply said that this music is interesting enough if the audience has the stage to look at but that we must add a bit more irregularity in order to keep the interest of a concert audience. What a lesson. Whilst focusing on one leaf he still had a view of the entire forest, such was his instinct and passion for the actual performance of music.
We remained close until the disease that finally claimed him truly took hold. The picture above my late wife Kathy took of the family after the Concertgebouw premiere of Rosa's Horses is so typical of radiant, generous Louis. I owe him so much and, like many, shall remain dedicated to his music for as long as I live. My heart goes out to all of those closest to him, to the musical world of the Netherlands which he did so much to shape, and especially to dear Monica, whom he loved so deeply. Thank you, Louis.
I shall remain dedicated to his music for as long as I live
Explore topics
Share this article